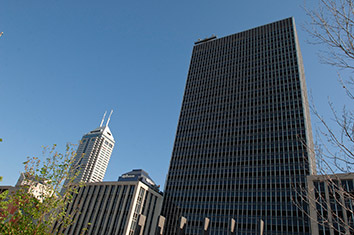 In-person early voting picked up this week with thousands of Marion County residents casting ballots.
So far for the 2019 election, 6,158 voters have cast ballots in person, which is higher than the number of people who voted early in person at the same point in 2015 and 2011.
And that's significantly up from just one week ago when only 1,816 individuals had voted early in person.
Total early voting for 2019—in-person plus absentee by mail, traveling abroad and military—is at 11,810, which is more than double 2015, which had seen 5,213 at this point. But it's lower than the overall total for 2011, which was at 13,031 at this point.
In 2011, thousands more voters cast early ballots by mail as opposed to in person, which helped the total surpass 2019 numbers so far.
Early voting has been available at the Marion County Clerk's Office in the City-County Building and, as of Saturday, at four satellite locations—Krannert Park in Speedway, Perry Township Government Center, Warren Township Government Center and Washington Township Government Center.
The clerk's office is open from 8 a.m. to 7 p.m. and the satellite locations are open 11 a.m. to 7 p.m. Friday for early voting.
Voters can also cast ballots this weekend—10 a.m. to 5 p.m. Saturday and Sunday at the clerk's office and satellite locations. On Monday, early voting is available 8 a.m. to noon at the clerk's office.
Election Day is Tuesday, and early voting is available today through Monday.
This is the first general election in Marion County with vote centers and expanded early voting access. Prior to 2019, early voting was only available at the clerk's office.
Early voting has also attracted thousands of voters in the surrounding counties:
In Hamilton County, more than 2,700 individuals have voted early in person, plus 933 mail-in ballots have been received. Early voting is available at the Hamilton County Judicial Center and three satellite locations.
In Boone County, where voters have had four locations to vote early so far with a fifth location opening Saturday, 1,804 ballots have been cast so far.
In Johnson County, nearly 2,300 people had cast ballots early, as of Thursday afternoon. Early voting is available at the county courthouse, plus four satellite locations. "Some places are going good," Johnson County Clerk Trena McLaughlin said. "Other places are really slow. Of course, we always want more than we get."
Please enable JavaScript to view this content.