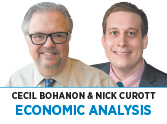 The most recent jobs report was an unexpected dumpster fire. Last month, the economy added only 266,000 jobs, far below the 1 million analysts were projecting. Consequently, the official unemployment rate increased from 6.0% to 6.1%.
In healthy economic times, 266,000 added jobs is good news. But not now, when the total number of jobs is still 8 million fewer than before the pandemic. Last month's job gains barely put a dent in this unemployment. The percentage of adults between the ages of 24 and 55 who were employed pre-pandemic was 80.5%. Now, the percentage is only 76.9%, meaning 3.6% of prime-age workers are sitting on the sidelines.
The problem is not so much a lack of available jobs. The number of unfilled open jobs fell precipitously last year and hit rock bottom in April 2020. But job openings bounced back quickly. Currently, there are 7.3 million unfilled jobs, a tad higher even than before the pandemic started. The main problem is that not enough workers are being hired into available jobs. Hires peaked in May 2020 and subsequently have been trending down. The fact that job hires have not been keeping pace with job openings indicates deep structural problems in the economy.
The $300-a-week federal unemployment supplement is certainly part of the structural malaise—42% of unemployed workers are earning more on unemployment than they earned when employed. It's understandable why these workers are slow seeking new jobs.
Unfortunately, this issue has become politicized. On Friday, President Biden stated the unemployment supplement has nothing to do with the weak jobs report. Some conservatives act like it's entirely to blame. A productive discussion requires recognizing both the value of easing hardships of unemployed workers and the downside of motivating unemployment.
Efficient policymaking requires managing these tradeoffs. Gov. Holcomb announced that he will sign an executive order to reinstate a work-search requirement to receive Indiana unemployment benefits. This should provide more incentive for unemployed Hoosiers to find jobs without causing undue hardship. Holcomb is also considering withdrawing Indiana from participation in the federal pandemic unemployment programs. This is more debatable but deserves thoughtful discussion.
Fixing the economy's structural problems requires far more than reforming unemployment policy. Many parents still cannot work due to school closures. And ongoing COVID-19 health concerns interfere with many jobs. But it's a good place to start.•
__________
Bohanon and Curott are professors of economics at Ball State University. Send comments to ibjedit@ibj.com.
Please enable JavaScript to view this content.