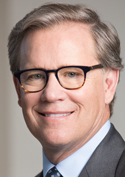 Santa Clara, California-based eHealth Inc., which opened a regional headquarters on the north side of Indianapolis a year ago, said it plans to add 150 full-time Medicare sales agents through August in its latest round of hiring.
The company said the new employees will work from home during the pandemic, just like the firm's existing local workforce of 190.
eHealth announced last year that it would invest more than $10 million through 2022 to establish Indianapolis as its Eastern U.S. technology and operations headquarters. It signed a lease to take over the 81,515-square-foot building at Priority Way West Drive—north of the Fashion Mall at Keystone.
The company said it would hire up to 500 workers locally by the end of 2023. Based on the job-creation plans, the Indiana Economic Development Corp. offered eHealth up to $11.3 million in conditional tax credits and $200,000 in training grants.
The company is led by CEO Scott Flanders, a former Indianapolis executive and a graduate of Ben Davis High School and the Indiana University Maurer School of Law.
Sales agents at eHealth help customers sort through numerous options under Medicare available from more than 180 health insurance carriers across all 50 states. The company trains new workers to become licensed insurance agents.
The company declined to say how much the new hired would be paid, but said wages would be on "high end of typical salary ranges for these jobs in the Indianapolis area."
When announcing its deal with the IEDC last year, the firm said average wages at the headquarters would be $88,000 a year.
Founded in 1997, eHealth sold the first online health insurance policy in the United States.
The company last week announced second-quarter revenue of $88.8 million, a 35% increase over the second quarter of 2019.
eHealth suffered a loss of $3.4 million during the quarter, an improvement over the $5.8 million it lost a year ago.
Shares of eHealth were trading at $73.91 on Tuesday, down from a peak this year of $146.09 per share.
Please enable JavaScript to view this content.