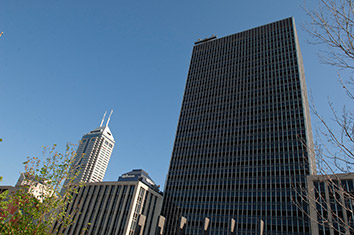 For the first time since Unigov took effect nearly 50 years ago, Democrats have overwhelming control of the City-County Council, rendering nearly powerless the party that created that government structure.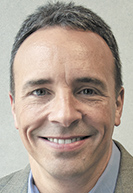 Political observers say shifting demographics all but guarantee Democrats a long-term reign, forcing Republicans to work with Democrats to see any GOP proposals take flight. And new, young Republican councilors say they're eager to work across the aisle.
Republicans successfully consolidated city and county governments in 1970, a restructuring that gave them control as they absorbed GOP-leaning suburbs. They've also since redrawn district maps in their favor. But the party became much less important Nov. 5 as Democrats grew their council majority from 14-11 to 20-5; any proposal the Democratic caucus introduces can now pass with or without Republican support. (Republicans actually won 12 seats in 2016, but one member changed parties in 2017.)
Republicans held their iron grip on the council until 2000, at one point holding 23 of the 29 seats (the Legislature has since eliminated four at-large positions, dropping the council size to 25). But since then, control has volleyed back and forth, meaning proposals usually need support from members of both parties to pass.
Political observers say the 2019 results were predictable because the city has been leaning Democratic for years and Democrats led the ticket with a likable mayoral candidate whose first term wasn't mired in controversy. They also say it could take decades for the GOP to retake control.

Councilors from both parties and Mayor Joe Hogsett—who easily defeated Republican challenger State Sen. Jim Merritt for re-election—have already said business in Indianapolis will continue as usual: in a bipartisan way that seeks to address the problems the city faces without letting politics get in the way.
But Democrats already appear to be flexing their super-majority muscle. This week, Democrat Monroe Gray Jr.—who has served on the council for three decades—introduced a proposal that would more than double councilor pay, which hasn't increased since 2002. It immediately drew criticism from the GOP and even Hogsett, who said he'd veto the proposal if approved.
However, if the proposal carries over into 2020, Democrats could override that veto with their super-majority. Gray, who has introduced similar measures in the past, seems sure this proposal will pass.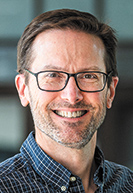 "There's going to be 20 Democrat councilors," he said. "I don't think this is a fight that the mayor wants to start the year with."
Shifting demographics
Robert Vane, who served as Republican Mayor Greg Ballard's deputy chief of staff and once helped run elections in Marion County, said the political results of shifting demographics started in 2003, when Democrat Bart Peterson won re-election with more than 60% of the vote.
Ballard, who beat Peterson in 2007 in the midst of a controversial property tax hike, was the "perfect candidate for the time," Vane said. He was re-elected four years later on an incredibly good record, Vane said, noting that, essentially, Republicans got lucky.
Since Ballard's re-election, no Republican has carried a county-wide race in Marion County. And that year, Democrats won control of the council, despite Ballard's holding onto the Mayor's Office.
"It's not that the demographics are changing [now]; it's just that they changed 10 years ago, at least," Vane said. "At a certain point, you just simply cannot fight the numbers."
He said Ballard's two wins gave Republicans a false sense of what they can accomplish in Marion County.
"Ballard's win in '07 is almost unfathomable in this day and age," he said. "In my view, the only way we can be competitive again—that's not win, just be competitive, at the county-wide level—would be a combination of significant and sustained corruption along with a very, very wealthy and willing-to-self-fund candidate."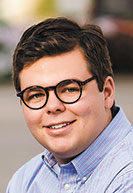 Republicans are going to have to find candidates who can change voters' attitudes toward Democrats if they're going to win back offices, he said. And they need a strong mayoral candidate who can articulate a message and raise money "like there's no tomorrow."
Merritt, who has won eight elections to the state Senate, never got his mayoral message off the ground the way Republicans had hoped, said Andy Downs, director of the Mike Downs Center for Indiana Politics at Purdue University Fort Wayne. He also couldn't match Hogsett's fundraising success.
As a result, Republicans faced an uphill battle from the start this election cycle, which resulted in no coattails for them, Downs said.
Democrats, however, won down-ballot races, picking up seats where Republican incumbents were running for re-election.
In council Districts 2, 4, 6 and 15, incumbent Republicans, including veterans Mike McQuillen and Janice McHenry, lost to Democratic newcomers.
Cindy Kirchhofer, a state representative who was chosen to lead the Marion County GOP in August, said she was shocked by the results.
"I knew that we had maybe a seat or two on the council that was vulnerable, but I never thought we would lose [six seats]," she said.
Kirchhofer said several factors were responsible, including voters who are savvier and identify with individual candidates rather than a party. But she also said the screen that offered voters the option to vote straight party was confusing (nearly 70% of the straight tickets cast were for Democrats).
But Republicans have to carry the blame, she said.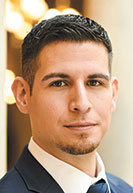 "Voters will align with candidates who represent conservative values and that's how we grow the party—by finding candidates that voters can identify with," she said. "We have nowhere to go but bigger and better."
Not going out of style
Downs predicted that it won't be doom and gloom for Republicans forever. At some point, the pendulum will swing again, and as long as a minority party stays active, it can take advantage of that swing, he said.
"The main thing is, the Marion County Republican Party has to stay vibrant and vital somehow," he said.
Marion County Republicans enjoy the unique benefit of proximity to the state party, he said. Republicans in far-flung counties don't have that advantage.
Newly elected young Republican councilors said they're ready to get to work and that there are plenty of young people rising in the party.
Nov. 5 "did not mark the death of our party," said Republican Paul Annee, who won the District 23 race to replace Republican Danielle Coulter. "In fact, it marked a new era of Republican leadership here in Indianapolis."
While a Facebook page dedicated to Indy Young Republicans hasn't been active since 2015 and has fewer than 400 likes, Annee, 22, said when he attends township GOP meetings across the county, he meets young Republicans who want to become active in the party. "I don't think Republicans are going out of style."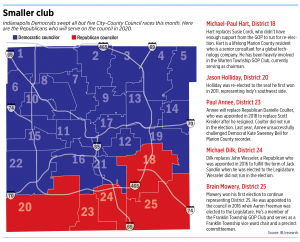 During the next four years, the five GOP councilors will work closely with Democrats across the aisle and build coalitions to get important work done, Annee said.
Michael-Paul Hart, a Republican who won the District 18 council seat, said he looked at every candidate's website during the campaign and found their priorities were similar.
"It was always infrastructure, always crime and always education," he said.
That means Democrats and Republicans already have found common ground identifying issues facing the city. Now, they need to work together to form solutions, said Hart, 30, adding that the local Republican Party needs to organize and market itself better.
Hart said his party will do better in 2023 if members set goals and objectives now and get to work achieving them.
"What I'm going to do as a Republican leader is get my feet on the ground for this party throughout the next four years to set an example for the next 40 years," he said.•
Please enable JavaScript to view this content.