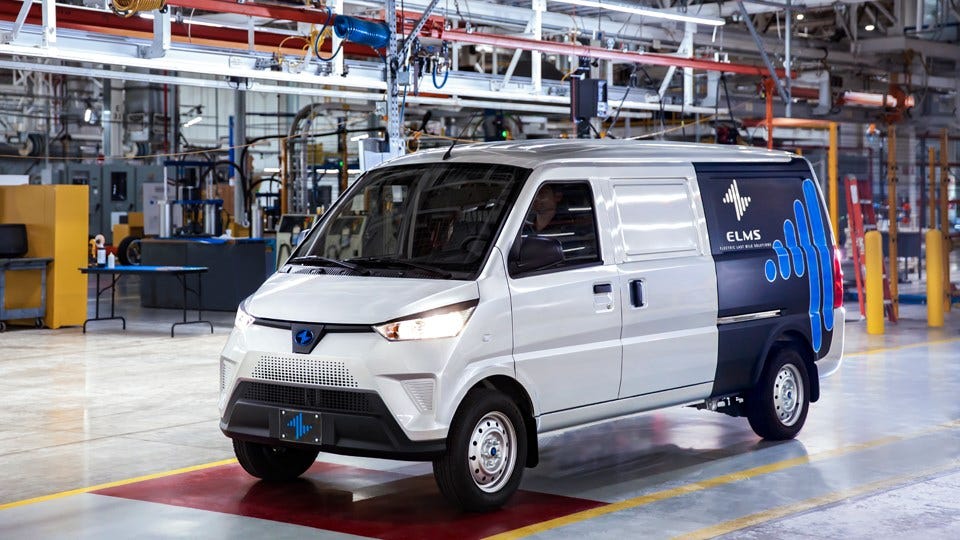 Electric vehicle startup Electric Last Mile Solutions Inc., a publicly traded company that aimed to manufacture battery-powered delivery vans in Mishawaka in northern Indiana, is filing for Chapter 7 bankruptcy.
The filing will make Electric Last Mile Solutions, or ELMS, the first of the EV startups that merged with special purpose acquisition companies to go out of business amid the recent market slump, Bloomberg News reported.
The decision to liquidate, announced Sunday, comes less than a year after the EV company went public via a merger with SPAC Forum Merger III Corp. at an approximately $1.4 billion valuation. The move also comes four months after former CEO Jim Taylor and former Executive Chairman Jason Lua stepped down amid accusations of improper share purchases ahead of the IPO, following an internal investigation.
"Based on the findings of the same board-initiated investigation that led to the resignations of Mr. Taylor and Mr. Luo, ELMS was forced to withdraw financial guidance and declare the company's past financial statements unreliable," the company said in a news release. "The compound effect of these events, along with a pending SEC investigation initiated this year, made it extremely challenging to secure a new auditor and attract additional funding."
In February, the board of director hired a new leadership team to review its products and commercialization plans, and it ability to reach previously announced production targets.
"For the past several months, the ELMS board and the new ELMS leadership team have worked nonstop to address legacy financial, governance and operational matters at the company, and enormous progress was made, including toward vehicle certification" said Brian Krzanich, ELMS board chairman. "Therefore, it's extremely frustrating that we must take this route, but it was the only responsible next step for our shareholders, partners, creditors, and employees."
In December 2020, ELMS announced plans to restart a 650,000-square-foot auto plant in Mishawaka to manufacture "last mile" battery-powered, urban delivery vans. Up until 2009, the factory produced consumer-grade sport utility vehicle Hummers.
The Troy, Michigan-based company announced at the time it would initially launch with 140 workers, increasing staffing to 450 workers when it reached full production. The company forecasted it would employ nearly 1,000 workers within four years, as it expanded to other models.
The plant sits adjacent to the AM General plant that still produces military Humvees.
"Obviously, the last few months have been difficult after their 'hiccup.' That action caused stock prices to plummet and create several class action lawsuits," said Jeff Rea, president and CEO of the South Bend Regional Chamber of Commerce. "We were concerned they were up against the ropes."
Despite the uncertainty earlier this year, ELMS said it continued to work on raising new sources of capital, while working closely with advisers to assess and improve its liquidity position. However, those efforts were unable to steer the company back on course and ultimately led the board to pursue bankruptcy.
"Unfortunately, there were too many obstacles for us to overcome in the short amount of time available to us. I could not be prouder of what our team has been able to accomplish under very challenging circumstances," said Shauna McIntyre, who was named interim CEO and president in February. "This is a viable and essential technology, and I am confident that many of our talented employees will play a future role in this energy transition effort."
Since General Motors stopped production on civilian Hummers 13 years ago, the massive building has seen three other suitors for possible auto production, but none have reached a deal.
In 2017, AM General sold the plant to SF Motors, a subsidiary of China-based Sokon Industry Group, to build electric vehicles. But no vehicles ever rolled off the assembly floor. SF Motors still owns the building.
"It hasn't been without challenges," Rea said. "And, we think, nothing related to the building, the workforce, the community, the Indiana business, climate, all those are factors that attracted people here. But it's just really been things beyond our control."
Meanwhile, economic development officials in St. Joseph County are still hopeful the property will attract a user.
"The building, which is nearly 21 years old, has seen millions of dollars of investment over the last 5 years and should be well-positioned for a new auto- related use," said Bill Schalliol, director of economic development for St. Joseph County. "While disappointed this project did not work out, we do see a bright future for the site."
When plans for the new company were announced in late 2020, the Indiana Economic Development Corp. offered ELMS up to $10 million in conditional tax credits and up to $200,000 in conditional training grants based on the company's job-creation plans. It also offered up to $2.8 million in conditional tax credits from the Hoosier Business Investment tax credit program based on the company's planned capital investment in Indiana.
A spokesperson for the IEDC said ELMS has not "drawn down" any incentives.
Please enable JavaScript to view this content.