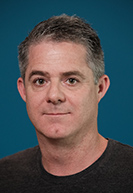 Indianapolis-based venture capital firm Elevate Ventures Inc. has hired longtime local entrepreneur Christopher Day as its new CEO, the business announced Wednesday.
Day's first day on the job will be July 18. He succeeds Chris LaMothe, who will be stepping down from the role July 15. When LaMothe announced his departure in December, he intended to leave at the end of March, but he ended up extending his departure date.
"I'm excited to be tapped to lead entrepreneurship to new heights in Indiana," Day, 51, told IBJ.
Elevate Ventures is a not-for-profit organization that serves as a venture capital firm for the Indiana Economic Development Corp., the state's public-private job-creation agency.
Day has a long history in both entrepreneurship and venture investing.
He has cofounded or launched eight business over the past 25 years, in industries ranging from technology to entertainment, investment banking and real estate. He currently serves as CEO of Indianapolis-based DemandJump, a marketing-tech firm he cofounded in 2015.
Day is also a founding member of the Indiana Technology and Innovation Association, a trade group for the state's tech industry; and he serves on the boards of both the Indiana Chamber of Commerce and Indianapolis-based not-for-profit TechPoint.
Currently, Elevate focuses its investments on early-stage startups. One of Day's first projects will be to get the organization involved in growth investing—a goal that the organization has been mulling for the past several years. Growth investing generally focuses on what's known as Series B funding, investments that might range between $10 million and $30 million, in companies with $5 million to $10 million in annual recurring revenue.
Traditionally, Day said, most of the growth funding for Indiana companies has come from out-of-state investors. That means the returns on those investments are also going out of state.
Day said Elevate hopes to make its first growth investments next year, although the organization hasn't yet set goals for the amount or number of such investments.
Elevate will continue to invest in startups and early-stage companies, Day said.
Elevate board member Barbie Wentworth, who was a member of the search committee that selected Day, said Day's mix of experience and his leadership skills made him the best person for the job.
"We really feel that Christopher is just the ideal candidate to take Elevate where it needs to go," she said.
The organization engaged Carmel-based search firm Medallion Partners Inc. to conduct the search. Medallion vetted more than 350 applicants for the CEO role, Elevate said.
Please enable JavaScript to view this content.