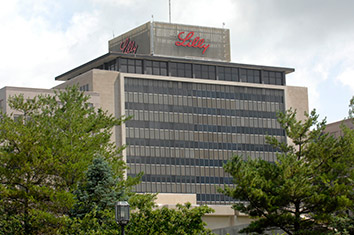 Indianapolis-based Eli Lilly and Co. on Tuesday said enrollment of participants in a clinical trial of its antibody treatment for COVID-19 has been paused because of a potential safety concern.
Lilly said it made the decision on recommendation of the Data and Safety Monitoring Board.
"Out of an abundance of caution, the ACTIV-3 independent data safety monitoring board (DSMB) has recommended a pause in enrollment," Lilly spokeswoman Molly McCully said in emailed statement to Reuters. "Lilly is supportive of the decision by the independent DSMB to cautiously ensure the safety of the patients participating in this study."
The company didn't provide say what caused the data panel to recommend the pause. Temporary stoppages of large medical studies are relatively common.
Shares in Lilly dropped 3.5% in afternoon trading, to $148.96 each.
Lilly said on Oct. 7 that it asked the government to allow emergency use of its experimental antibody therapy, based on positive early results from a study that suggested the drug reduced symptoms, the amount of virus, hospitalizations and ER visits for patients with mild or moderate COVID-19.
The drug is similar to one that President Donald Trump received from Regeneron Pharmaceuticals Inc. These medicines supply concentrated versions of specific antibodies to help the immune system clear the coronavirus that causes COVID-19. They're given as a one-time treatment through an IV.
Lilly scientists developed the treatment using an antibody identified by partner AbCellera Biologics Inc. of Vancouver from a blood sample taken from one of the first U.S. patients who recovered from COVID-19.
The antibody therapies are not vaccines and they are not cures, but they are among the most promising therapies being tested for treating and preventing coronavirus infections.
Andrew Adams, a vice president at Lilly who is overseeing all of the Indianapolis-based drugmaker's COVID-19 research, told IBJ on Friday that Lilly is working "around the clock" to get data on clinical trials for its experimental antibody therapy for COVID-19 to federal regulators, and hopes to hear back within weeks whether the medicine is deemed safe and effective to distribute to patients.
Please enable JavaScript to view this content.