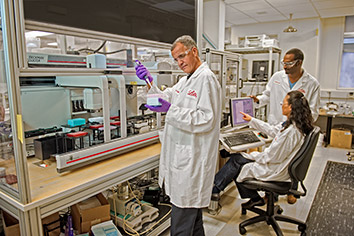 It was supposed to be smooth sailing for Eli Lilly and Co.'s new experimental drug for Alzheimer's disease. Instead, the skies have suddenly darkened, at least for a while, for one of the Indianapolis-based drugmaker's biggest prospects.
Just last October, Lilly began filing its application for the drug, called donanemab, to the U.S. Food and Drug Administration, which had agreed to give it an expedited review.
The accelerated reviews are normally given for drugs intended to treat serious conditions when preliminary evidence shows they could offer substantial improvement over existing treatments.
Analysts predicted that Lilly's drug could become a blockbuster seller in two or three years and become one of the company's top-selling products within a decade. Around the world, doctors and families of patients are clamoring for new treatments to help slow or stop progression of the disease, which robs people of their memories and abilities to do daily tasks.
But in the past few weeks, the drugmaker has tapped the brakes. In a conference call Feb. 3 with analysts, Lilly executives said they would not complete the regulatory filing until sometime later this year, rather than in the first quarter, and said they were disappointed they would not be able to help patients faster.
The problem: Although the FDA has agreed to speed up the review, another federal agency, the Centers for Medicare and Medicaid Services, last month issued a draft policy that would, in effect, restrict reimbursement payments for Alzheimer's drugs like donanemab to only patients enrolled in clinical trials.
If the decision sticks, that could be a serious blow to Lilly. Older people covered by Medicare represent the vast majority of the Alzheimer's disease population.
Lilly executives have expressed frustrations that the two federal health agencies seem to be working at cross-purposes, with the FDA pushing for speedy review while Medicare tightens its grip on reimbursement.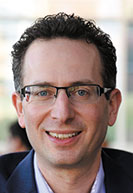 "The purpose of accelerated approval is to try and get medicines to help patients faster," Dr. Dan Skovronsky, president of Lilly Research Laboratories, told analysts. "Without access, that benefit is mainly negated, unfortunately, and clearly, a very frustrating period for patients to have approval of a drug and no reimbursement."
Lilly has not yet announced the sticker price for donanemab, assuming it gets approved. But some analysts have estimated the injectable drug would cost $50,000 a year—too pricey for most elderly patients without Medicare picking up most of the tab.
Sounding the alarm
Some analysts began sounding warnings to investors. "We continue to see elements of risk, given the various uncertainties surrounding donanemab, relative to the meaningful value that we believe continues to be attributed to the drug," Goldman Sachs analyst Dr. Chris Shibutani wrote to clients.
Shares of Lilly fell as much 3.9% on Feb. 3, the day of the conference call. On the same day, the company announced that fourth-quarter profits climbed 8%. Earnings per share missed Wall Street's estimates by 2 cents.
The setback is the latest big bump in a long road for Lilly, which has spent more than $3 billion over three decades to develop an Alzheimer's disease treatment.
Two of the company's high-profile efforts—drugs called semagacestat and solanezumab—failed in expensive, late-stage clinical trials when patients did not get better.
For a while, the defeats seemed to slam the door on Lilly's efforts to find a treatment that would actually help patients and pass muster with regulators.
But early last year, Lilly surprised many outsiders when it said it was working on a new drug for Alzheimer's disease that had slowed mental decline of patients in an early, small trial. Shares of Lilly stock jumped 14% on the news.
Lilly said the drug, called donanemab (rhymes with "banana-mab"), slowed decline in cognition and daily function 32% in patients with early symptoms of Alzheimer's disease, compared to a placebo, in a trial of 272 people.
The drug also cleared large amounts of sticky plaque, known as beta amyloid, from the brain, as measured by imaging. The plaque, a telltale protein that builds up between the nerve cells of the brain, is one of the hallmarks of Alzheimer's disease.
Lilly also said it had begun a second trial in June 2020 to further evaluate the safety, tolerability and efficacy of the drug. The trial was set up to assess patients with high levels of the protein tau, which shows up in the brain cells as twisted, tangled fibers. The first trial assessed only early-stage Alzheimer patients with low-to-mid levels of tau.

The next step
That second trial is key to what Lilly does next. The company said the late stage of the trial, known as Phase 3, is fully enrolled, and the company will have the results by mid-2023.
Lilly is betting that the results of that trial, known as Trailblazer-Alz 2, could be a game-changer if data shows unmistakable benefits to patients. If that happens, the company thinks the Centers for Medicare and Medicaid Services, known as CMS for short, could back down.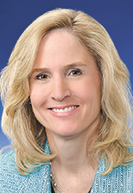 "I believe the pushback from the patient community, from their caregivers and from those that advocate for them would be significant and CMS would have, we believe, no choice but to change" its policy, Anne White, president of Lilly Neuroscience, told analysts.
No question, the "patient community" is sizable and is growing by the year. An estimated 6.2 million Americans age 65 and older are living with Alzheimer's dementia, according to the Alzheimer's Association.
And unlike other diseases, such as heart disease, which have seen the number of deaths attributed to them fall in recent years, Alzheimer's disease, with no cure and no effective treatment, continues to soar. From 2000 to 2019, the number of deaths from Alzheimer's disease as recorded on death certificates more than doubled, the association said.
Skovronsky, who has repeatedly pledged that Lilly would never give up on finding a treatment for Alzheimer's disease, struck the same notes as White did with analysts last week, hinting at an uprising of physicians and caregivers to demand that Medicare cover treatments.
"Given the impact of this devastating disease, we believe that, if Trailblazer-Alz 2 provides positive confirmatory data, we can't see a scenario where there's not global reimbursement, patient access and broad use of donanemab," Skovronsky said.
Biogen's impact
In one sense, Medicare's pushback is not aimed primarily at donanemab, but at another drug made by competitor Biogen.
Last summer, in one of its most controversial decisions in recent years, the FDA overruled its internal statisticians and an external advisory panel and approved Biogen's drug, called Aduhelm, despite serious questions over safety and effectiveness. The FDA gave the drug a wide label, meaning almost anyone with Alzheimer's disease could take it.
Following weeks of intense criticism, the FDA narrowed the label to patients with milder forms of the disease. (The label is just a recommendation, and physicians have wide latitude to prescribe drugs to patients for any purpose.)
Several insurers have declined to cover Aduhelm, and several big hospitals, including Cleveland Clinic and The Johns Hopkins Hospital, refused to offer it, saying it provided negligible benefits.
For months, the Alzheimer's disease community waited to see whether Medicare would cover the medicine, priced at $56,000 a year.
Finally, on Jan. 11, CMS delivered its preliminary answer, with a blunt announcement. The agency said it would cover FDA-approved Alzheimer's disease drugs in the class of monoclonal antibodies that target amyloid only for patients enrolled in qualifying clinical trials.
Today, Biogen's Aduhelm is the only drug on the market that meets that description. But several other Alzheimer's disease drugs in development, including Lilly's donanemab, are also in the class of monoclonal antibodies.
CMS said it would announce its final decision by April 11, but Lilly executives aren't holding their breath for good news.
"We believe more than likely the final [national coverage determination] in April may not change very much," White told analysts. "Really, what matters most to us is ensuring rapid availability of donanemab for patients with that confirmatory Phase 3 data."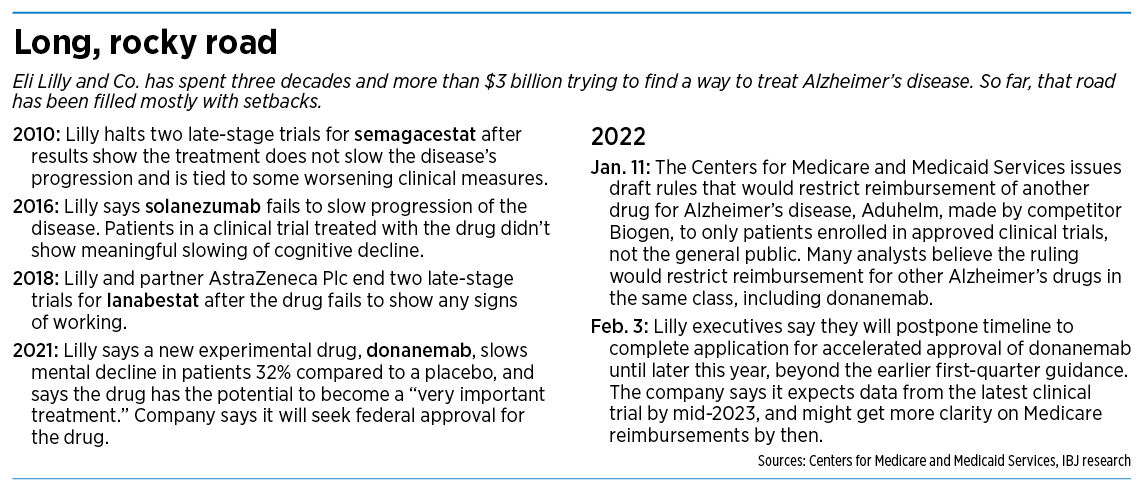 Broad brush?
Some researchers say they agree with Medicare's decision to limit reimbursement for Aduhelm treatments to only patients in late-stage clinical trials. But they say it's unfair to lump all the Alzheimer's disease drugs in this class under the same sharp restriction.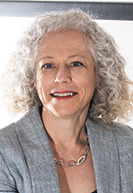 "That part of the decision assumes that all other biopharma companies will produce the same level of incomplete science as Biogen, and that the FDA will make a similarly poor decision regarding what constitutes adequate evidence of efficacy despite the strong blowback they received from their decision on aducanumab," said Dr. Andrea Bozoki, professor of cognitive and behavioral neurology at the University of North Carolina.
She added: "I believe that the CMS coverage determination should limit itself to [Aduhelm] and evaluate the data regarding other members of the class individually on its merits."
Several analysts predicted that the Lilly drug will eventually get approved by CMS for reimbursement, even if patients, physicians and investors are nervous about it now.
"We think this nervousness is unwarranted, as Lilly continues to plan for the regulatory submission this year," BMO Capital Markets analyst Evan David Seigerman wrote to clients. "…Getting a robust data package for accelerated approval is much more important than an extra few quarter sales in a low-access environment."
He predicted that donanemab, if approved, could ring up sales of $1 billion by 2024 and $5.5 billion by 2032, which he said would make it the company's second-highest-selling product, behind only tirzepatide, another experimental drug still in development for diabetes and obesity.
JPMorgan analyst Chris Schott has called Lilly the "best-positioned growth story" among major pharmaceutical companies. He predicted that donanemab will have a slow rollout but could ramp up sharply in 2024 after Lilly publishes data in the Trailblazer-Alz 2 study "and reimbursement is in place."
"Overall, our view of the donanemab opportunity," he wrote to clients, "remains largely unchanged."•
Please enable JavaScript to view this content.