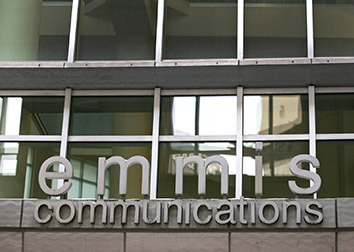 Emmis Communications Corp. plans to delist its stock from the Nasdaq Stock Market and drop its public reporting obligations.
The Indianapolis-based media company, which has been a publicly traded business since 1994, said Friday that it was pursuing the delisting to save money.
Emmis shares fell 30% Monday morning, to $1.27 each, even though the overall Nasdaq index was up more than 1%.
"We've undertaken a detailed and thoughtful review of the costs and benefits associated with being a Nasdaq-listed and SEC reporting company," Emmis CEO Jeff Smulyan said in written remarks. "After careful consideration, our board of directors unanimously decided to voluntarily delist from Nasdaq and deregister with the SEC as we believe the expected savings of more than $1 million per year outweigh the advantages of continuing as a Nasdaq-listed and SEC reporting company."
Emmis said it was eligible to deregister is Class A common stock under the Securities Exchange Act of 1934 because it has fewer than 300 shareholders of record.
The company said it planned apply for the delisting on or about May 4 and expected the last day of trading to be on or about May 13.
The stock would be eligible for trading on over-the-counter market in one or more brokers makes a market for the shares.
"There can be no assurances regarding any such trading," Emmis said.
Emmis, which Smulyan founded in 1980, once owned more than 20 radio stations in markets across the country but is now down to six stations in Indianapolis and New York City.
Revenue in its most recent reported quarter was $10.7 million, down from nearly $60 million in the same period just four years ago.
Smulyan pitched plans to take Emmis private three times from 2006 to 2016 but was overruled by shareholders.
The company also has faced delisting from Nasdaq several times over the past dozen years when its stock fell below $1 per share.
Emmis last week told IBJ it has no plans to return a $4.8 million Paycheck Protection Program loan, despite pressure by the Treasury Department on public companies to do so.
In a statement to IBJ, Emmis spokeswoman Kate Snedeker said the company—which employs 449, including 238 in Indianapolis—believes it met the criteria to participate in the program, which is intended to help small businesses survice the COVID-19 pandemic.
Please enable JavaScript to view this content.