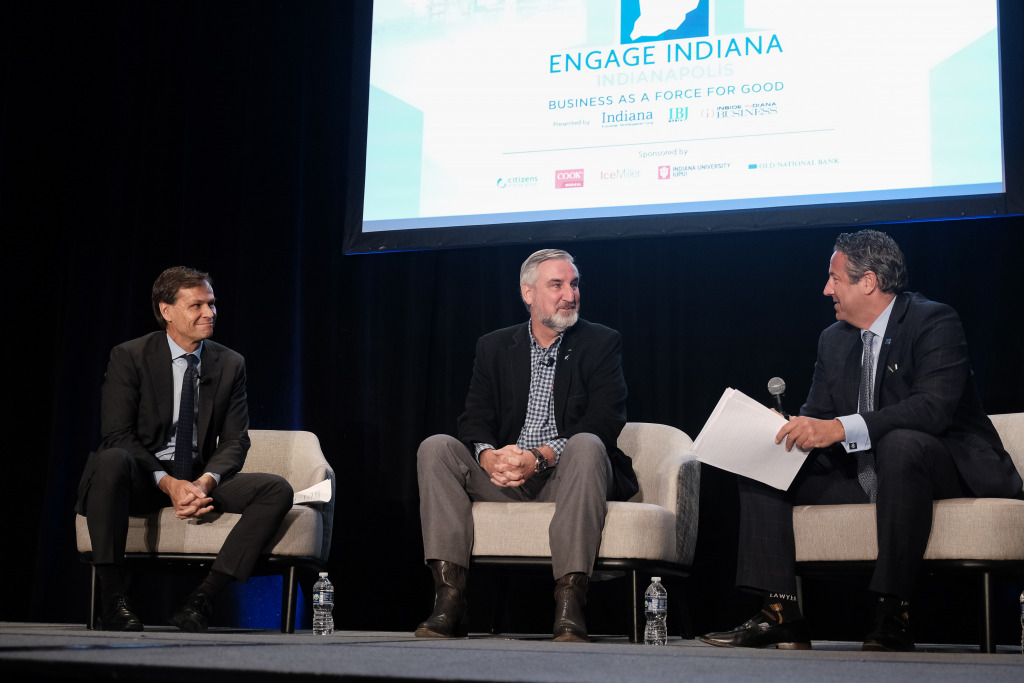 Despite the declining number of Hoosiers pursuing a college education, the state's poor public health rankings and the possibility of a recession on the horizon, Gov. Eric Holcomb says he remains "bullish" about Indiana's economic future.
His comments came Tuesday in downtown Indianapolis during IBJ Media's Engage Indiana event, which brought together executives, community leaders and business professionals from across the state.
Brad Chambers, secretary of commerce and president of the Indiana Economic Development Corp., said the state legislature must continue to play a role in Indiana's economic growth, as it did when lawmakers approved the Regional Economic Acceleration and Development Initiative, or  READI, which dedicated $500 million in state appropriations to economic development projects throughout the state.
That investment is expected to bring $7 billion in economic impact statewide, according to IEDC officials, and Holcomb said he plans to ask the legislature in his 2023 budget request to authorize more funding for that program.
And while many economists are sounding the alarm on a possible economic slowdown next year, Chambers and Holcomb said Indiana is well-positioned to take advantage of a "manufacturing renaissance" in the United States.
"I am super bullish about what the next few years look like," Chambers said. "The macroeconomy is a little choppy. We've got severely inflated costs across the board that's leading to inflation, and the workforce challenges that every state has to focus on, but even with that, the economy is poised for continued robust growth."
"I would echo those bullish thoughts," Holcomb added. "We have such a wealth of talent constantly being groomed right here. We have to improve on that, recruit on our college campuses and don't let them slip away."
Indiana saw a record number of economic investments in 2022, including 218 projects totaling $22 billion in projected economic impact, according to the IEDC. Those investments are expected to result in more than 24,000 new jobs that pay an average hourly wage of $34.
But civic and business leaders fear there won't be enough qualified Hoosiers to fill those high-skilled jobs.
The state has seen its college enrollment levels slip dramatically over the past five years, with just 53% of 2020 high school seniors enrolling in college—which is 10 percentage points below the national average.
The Governor's Workforce Cabinet released a list of 30 recommendations last month for how Indiana can address its workforce development needs, including incentivizing science, technology, engineering and math, or STEM, degrees, increasing funding for adult education programs and encouraging schools and employers to offer work-based learning opportunities to high school students.
Higher education institutions play a key role in the development of the state's talent pipeline, said Michael Huber, who was recently named vice president for university relations.
"We have to be more competitive in filling these gaps in STEM and research and development," Huber said during a panel discussion at Tuesday's event. "It feels like a very entrepreneurial time for higher ed."
Indiana University President Pamela Whitten announced Friday the planned development of a science and technology corridor on its downtown campus, which will focus heavily on STEM students and faculty.
Aleesia Johnson, superintendent of Indianapolis Public Schools, said the district has expanded its college and career pathway offerings across its 54 schools.
"We went from about 12 pathways to now having 29 across our schools, all of them aligned to what we know to be high-demand, high-wage career opportunities for our students," Johnson said.
Indiana is also reckoning with soaring health care costs and a public health crisis, with one report ranking Indiana 48th in the nation in public health funding.
Kalen Jackson, vice-chair and part owner of the Indianapolis Colts, said the team's focus on mental health has helped reduce the stigma attached to anxiety and depression, but barriers to access remain widespread.
"The reality is, the infrastructure is broken. The system is broken," Jackson said.
Several Republican lawmakers plan to introduce legislation next year to fund public health and mental health.
Rep. Greg Steuerwald, a Republican from Avon, plans to carry a bill to address funding for mental health, while Sen. Ed Charbonneau, a Republican from Valparaiso, will sponsor legislation to increase funding to county health departments.
During Tuesday's event, Allison Melangton, senior vice president of Penske Entertainment Corp., received IBJ's 2022 Michael A. Carroll Award, an honor given in memory of the former deputy mayor and civic leader who died in a plane crash in 1992.
Please enable JavaScript to view this content.