Indiana University will create a science and technology corridor in downtown Indianapolis in an effort to boost STEM degrees as part of its ongoing restructuring of its 536-acre campus in central Indiana.
The IU SciTech corridor will begin at the corner of Michigan and West streets, one of the main entrances of the downtown campus, and will encompass about four blocks, housing both IU and Purdue programs, IU President Pamela Whitten announced Friday during a board of trustees meeting.
The proposal draws on specific requests outlined in a recent report from the Governor's Workforce Cabinet, which urged Indiana leaders to adopt digital technologies to bolster STEM, or science, technology, engineering and math, education to meet the needs of high-tech employers involved in battery technology, semiconductors and microelectronics.
"By collaborating seamlessly with state and business partners, we will advance certificate and research programs that meet targeted regional workforce needs and further establish Indiana University as a cornerstone partner to the state and to the business community in reaching economic and workforce development goals," Whitten said.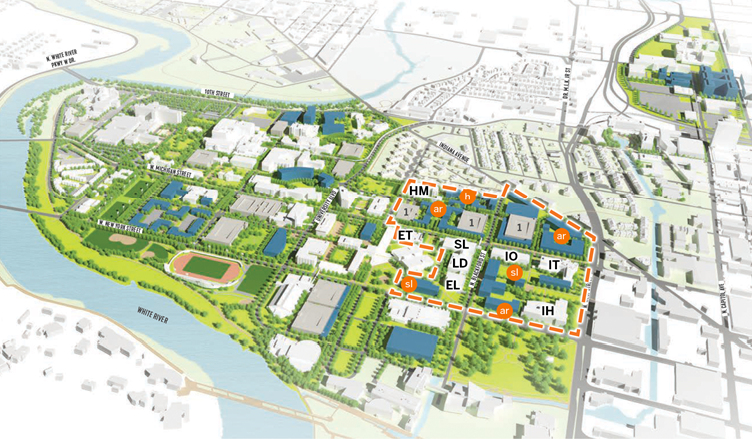 Victor Smith, a partner at Bose, McKinney & Evans and a former Indiana secretary of commerce, will oversee the project, which won't necessarily require construction of new buildings, Whitten said.
The corridor will complement the existing 16 Tech Innovation District and leverage expanded research programs, new laboratory space and STEM degree options for IU students to attract faculty talent and grow enrollment in STEM programs.
"The announcement by IU marks the latest addition to the growing innovation ecosystem in downtown Indianapolis," Emily Krueger, president and CEO of 16 Tech Community Corp, said in a written statement. "As IU increases its research programs and capacity in Indianapolis, 16 Tech is poised to help IU commercialize technologies, advance their commitment to industry partnerships and accelerate job creation for the Indy region."
IU is also planning to expand cross-disciplinary research projects that involve the new IU Indianapolis School of Science with the IU School of Medicine, the IU School of Nursing and other health science schools, Whitten said.
The creation of the corridor coincides with the transition of IUPUI to IU Indianapolis in 2024. In August, trustees at both universities agreed to ditch the IUPUI name and expand their operations in Indiana separately. IU said it would rebrand the campus as Indiana University Indianapolis, a move intended to bolster enrollment and establish IU as one of the country's premier urban research universities.
Since that announcement, a group of 10 task forces have been meeting regularly to facilitate that transition, Whitten said. The university has also established a "dream team" of business and civic leaders, led by Julie Magid, Executive Associate Dean for Faculty and Research at IU Indianapolis, and Nate Feltman, CEO of IBJ Media.
The transition is expected to be completed by fall semester 2024.
Please enable JavaScript to view this content.