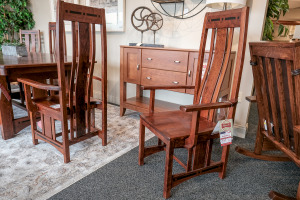 It's hard to find a segment of the U.S. economy that's not hamstrung in some way by the international supply chain gridlock. High fuel costs, backlogs of ships at ports, and labor shortages have conspired to drive the prices for critical manufacturing inputs through the roof—that is, if the supplies can be obtained at all.
Not even Indiana's small-but-hardy cadre of Amish furniture makers has been spared.
"You might have to wait for some items that are made in America, but the real supply chain problems come from overseas," said Clayton Schrock, owner of Schrock's Furniture in Goshen and president of the Northern Indiana Woodcrafters Association.
At first glance, it seems like Amish furniture makers would be more or less immune to such challenges. In most cases, the small shops that dot Indiana's northern third are mom-and-pop operations employing a handful to a few dozen craftsmen who create custom, to-order furnishings for retailers around the country. The labor is local. The wood mostly comes from domestic sources—sometimes from a forest or mill just down the road.
But metal hardware has been in short supply the last couple of years, and one item in particular has bedeviled Schrock and his associates: drawer slides.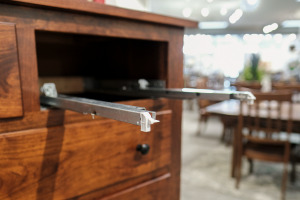 "There's one company in Michigan that makes one type of slide here," Schrock said. "But as for the rest, I'm not aware that any are made in America. They're all made overseas. Some by American companies that took their production overseas."
For the record, a drawer slide is the long, slender thingy screwed to the sides of dresser and cabinet drawers that allows them to open and close smoothly. If you've ever assembled an Ikea dresser, you've handled them. Amish furniture makers go through a lot of them. Though perhaps not quite so many these days as they'd like.
For a very long time, it was cheaper to import drawer slides from God-knows-where, instead of making them domestically. For years and years, this saved a few pennies and seemed like a smart idea. Until suddenly—about the time COVID threw a spanner in the works—it wasn't.
"People would tell us, 'Well, it's here in the country, but it's still sitting at the port for a couple months,'" Schrock said. "Today, it's better than it was, but it's still not back to normal."
Might a future normal include more domestic production? Hard to tell.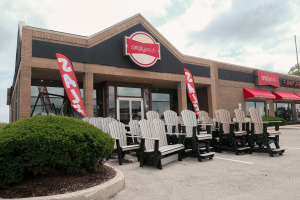 For decades, the American furniture manufacturing industry has enmeshed itself ever more deeply into the worldwide supply chain. Many major "domestic" brands have, at the very least, sourced many of their inputs overseas. Most have gone much, much further. In 2002, less than half of the wood furniture sold in the United States was imported. In 2020, 86% was imported.
Nevertheless, according to the American Home Furnishings Alliance, or AHFA, there are still 50,000 U.S. workers involved in furniture production.
"I couldn't comment on what the labor-force situation is in Indiana, but I'm hearing lots of stories from around the country about the need to bring on additional labor," said AHFA Vice President of Public Relations and Marketing Jackie Hirschhaut.
The domestic nature (aside from hardware) of Amish sourcing and building has been a boon for those makers.
"Most of the wood we use is sourced within 500 miles," said Kevin Kauffman, owner of Simply Amish, which both manufactures furniture at its own Illinois facility and farms out work to Midwestern workshops. "The more locally you're sourced, the better off you were during the last couple of years."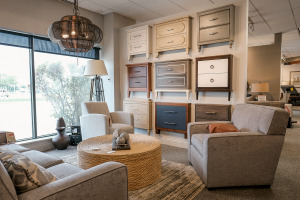 Even domestic lumber supplies have sometimes been hard to access, and prices have seesawed radically. The cost of maple, cherry and other North American staples have whipsawed back and forth, with cherry rising some 25% during the pandemic, and maple as much as 70%. And, of course, nobody can get enough of those elusive drawer slides.
But the price of imported furniture has climbed, too, and steeply. Amish furniture is traditionally more expensive than imports, but not so much now. And delivery times for Amish products are typically shorter because the maker is in, say, Shipshewana rather than China or Vietnam.
Not to mention the fact that, in Kauffman's view (and that of numerous woodworking aficionados), the quality of Amish work is vastly superior to the typical import.
That has caused everyone from restaurants seeking chairs and tables to homeowners looking for cool kitchen cabinets to consider going Amish.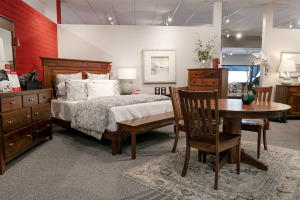 "During the last couple of years, our sales have gone way up," Kauffman said. "At least partially because we can deliver in a halfway decent amount of time. So, even if something took, say, 20 weeks to custom-build, two weeks later it can be in the customer's home, because it's not going that far."
Jerry Miller, owner of J&R Woodworking in LaGrange County, said his shop is so busy that the lead time from ordering one of his custom-built products to receiving it has increased from six weeks to around 35.
Although Miller has had to deal with the same dearth of hardware as everyone else, along with difficulty finding a particular kind of imported plywood, his customers still usually get delivery quicker than for imported furniture.
But will those fat order books persist if international supply chains open up? Miller, for one, isn't sure. Right now, he's seeing men formerly employed by the region's many RV manufacturers stopping by his shop, asking for work. While the early days of the pandemic generated a huge burst of interest in RVs, today's gas prices (and the fact that more conventional travel opportunities are once again available) have popped that bubble.
"Right now, a lot of local RV companies are seeing major slowdowns," Miller said.
Whether Amish craftsmen will hold onto their market gains is as much a mystery as whether a domestic company will start making drawer slides. It would be nice if it happened, but no one who's watched the flock of black swans descend on the world the last 2-1/2 years wants to make a prediction.
"Will it last?" Miller said. "That's a good question. I wonder about that myself."•
Please enable JavaScript to view this content.