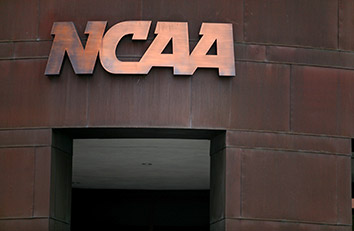 Matt and Ryan Bewley never intended to skip college.
The twins from South Florida received their first scholarship offers from Iowa State University in eighth grade, and by the end of their sophomore seasons they had a dozen offers in hand. They planned to choose a common destination later in their high school careers.
But that was before the coronavirus pandemic, which shut down prep sports, separated the brothers from their teammates and forced college athletes to scramble to find training facilities and solve eligibility concerns. That isolation and those uncertainties, together with the Indianapolis-based NCAA's decades-old resistance to players getting paid, inspired the brothers to reevaluate their dreams.
When Overtime Elite, an upstart developmental league, visited the family around April to pitch a paid pathway to their goals, the calculation changed. The Bewley brothers, at 17, were offered deals to play professionally, with a pledge from the league to provide education, insurance and personalized NBA development. In May, they agreed to become the first American basketball players to sign with a U.S. pro league before finishing high school, exchanging their final two prep years for reported seven-figure deals.
Matt is the No. 3 player in the Class of 2023, according to the composite rankings at 247 Sports. Ryan, a 6-foot-9 forward like his brother, is ranked 16th.
"It's the family environment and the training," Ryan said, adding that with former Connecticut coach Kevin Ollie as head coach, the program will "put us on the right path to make it to the NBA."
This month, the dam finally broke on college athletes getting paid as new state laws took effect and the NCAA scaled back its rules. But as some athletes cash in on that shift, a growing number of young basketball players are forgoing college and even high school to play in upstart leagues that offer the freedom to profit off their celebrity and much more: salaries, education and professional training.
Joining Overtime Elite are the G League Ignite, an NBA developmental team that pays players up to $500,000, and the Professional Collegiate League, which offers salaries between $50,000 and $150,000 per year.
Without an established track record, the new pathways present some risks. But athletes, their advocates and the families traversing this path say it's well worth those risks.
"When I first heard about it, it was kind of crazy," said the twins' father, Prince Bewley. "But then I was like, 'Go for it.' This is a big opportunity."
Signing bonuses
Every summer, a small number of high school baseball stars collect seven-figure signing bonuses to go pro. Soccer stars around the globe cash in even earlier: Chelsea star Christian Pulisic signed with German club Borussia Dortmund at 16. But while phenoms in those sports and others travel well-trodden paths to pro careers, the NBA's 2005 collective bargaining agreement, which raised the minimum age of draft prospects from 18 to 19, restricted America's best young basketball players.
Together with NCAA rules, the age minimum blockaded prospective pros, forcing the best through an obligatory year of college and inspiring others to circumvent college by playing overseas.
The NBA tried with its D League—later renamed the G League—to persuade the latter to return stateside. Latavious Williams became the first player to be drafted from high school to the D League in 2009. Nearly a decade later, the G League offered "select contracts" that paid $125,000 to entice recent and would-be high school graduates to stay stateside, but it failed to attract elite players from the Class of 2019. Most went to college, and three opted for Australia's National Basketball League instead.
The G League announced that it revamped the program last year, creating a developmental team called the G League Ignite, which paid top players higher salaries while offering full scholarships to Arizona State. The Ignite played 16 games during its first season this year with a roster consisting of league veterans and top prospects, including Jalen Green and Jonathan Kuminga, who were rated top-five players in the Class of 2020.
Isaiah Todd joined Ignite's inaugural class after decommitting from Michigan. Although he started just two games as he averaged 12.3 points and 4.9 rebounds, the former blue-chip forward flashed his ability to stretch the floor with his shooting range—and led several prospective parents to reach out to his mother, Marlene Venable, to learn more about their experience with the team, which has added three of the top 20 players in the Class of 2021.
"I tell some of them that the G League might not be right for your family," Venable said. "I just felt like it was a waste of time to go to college for one year when you already know that you have the kind of talent to be one and done and out. Why waste our time when we know what we really want?"
The Professional Collegiate League, another start-up, will vie for less developed college-age players. The league will require its players to be enrolled in college and plans to offer them stipends toward tuition in addition to their salaries. It plans to field eight teams that will play all of their games in suburban Washington during its inaugural season, which will begin in August or September.
CEO Ricky Volante said the league hopes to announce its first player signings this month.
"I think we can all be complementary," Volante said. "That elite of the elite would flow from OTE to the G League Ignite to the NBA draft. That next tier of player would flow from OTE to the PCL to the NBA draft. So that's where I think we become a safety net, because OTE is signing players, and I'm glad that they're getting paid, but there is some risk."
PCL aims to sign as many as 96 players, OTE wants up to 30, and the Ignite signed six to its inaugural class. More than 5,500 played on Division I men's basketball rosters in 2019-20. Within those numbers, Volante believes some future professionals will require different paths that best suit their development.
"There are more Felipe Lópezes than LeBron Jameses," he said. "So the best 16-year-old in the country is not necessarily going to be the best 19-year-old in the country once they're done at OTE. Injuries happen, talent regression happens, maybe they just bloomed too early and then the rest of the field caught up to them."
Betting on upstart leagues
Unbound from the constraints of eligibility rules, Overtime Elite said it hopes to disrupt the current ecosystem by exposing players to a full-time professional lifestyle and offering NBA front offices greater access to evaluate prospective draft picks.
Overtime, the sports media company that announced OTE's launch in March, raised more than $80 million, which it said will help pay player salaries and start-up costs.
Based in Atlanta, the league intends to build a school in the city for its players, who it said will receive about four hours of daily academic instruction and take the requisite courses to obtain a Georgia high school diploma. Maisha Riddlesprigger, a former D.C. Public Schools principal, became OTE's head of academics last month. The league also offers up to $100,000 for college tuition should players decide against a pro career.
So far, OTE has found athletes willing to bet on the upstart league, which will play against American prep schools and international clubs when it launches in September. It already has signed enough athletes to begin holding practices, and it played an exhibition game against an AAU team in South Florida earlier this month. Its roster includes another pair of Florida-based twins, Ausar and Amen Thompson, as well as forward Jai Smith and Jean Montero, an 18-year-old Dominican guard who played professionally in Spain and who some project as a 2022 first-round pick.
"The Bewleys and Thompsons represent a couple players who didn't feel like they wanted or needed the AAU travel schedule," said Brandon Williams, OTE's head of basketball operations. As his group competes for players with blue-chip programs, Williams said, those early commitments "are huge for us."
OTE's and Ignite's recent signings came ahead of the NCAA's abrupt adoption of a temporary name, image and likeness policy. The lifting of NIL restrictions came on the heels of a June Supreme Court ruling that expanded education-related compensation and followed decades of NCAA opposition to broader player compensation.
But despite its recent shift, the NCAA still prevents athletes in revenue-generating sports from profiting off their services. While dozens of athletes reportedly have signed deals this month, many may not benefit based on their school, location or low profile.
"There's still a long way to go," Ramogi Huma, executive director of the National College Players Association, an athlete-advocacy group, said of recent NIL policies. "This does not touch the primary value that players have."
Huma said athletes should be compensated for their services, not just their popularity or social media followings. For top men's basketball players, a group that has helped the NCAA generate billions through its annual tournament, he said G League Ignite and start-up leagues provide "real market value."
"The NCAA has not only monopolized college sports, but it's done so in a way that really exploits college athletes, and that's reflected in the numerous states that have bucked the NCAA system to pass NIL laws," he said. "So to watch some of these opportunities emerge for athletes who are coming out that don't want to be in that system, I'm definitely 100 percent supportive."
Despite the eye-catching salaries, players risk becoming trial subjects for unproven ventures. They also lose the ability to change schools or play high-level college athletics if their chosen option becomes a mismatch.
So far, though, Todd and other Ignite players have said they don't regret their decision to skip college. OTE players who spoke to The Post said they feel attuned to the potential risks, or that they're not taking any at all.
Amen Thompson, a guard in the Class of 2022, said his early interactions with other players and coaches have validated his gamble. Matt Bewley was comforted that Overtime Elite insures him in case of injury, which his high school team didn't.
Huma said he hopes the start-up leagues are transparent about the risks each may pose, although he feels the potential financial cushion may lessen such hazards.
"The idea of going to get at least six figures coming out of high school with a lot of development, and it says that if a player chooses not to pursue a professional path that they would provide up to $100,000, that's a lot of money," he said of OTE. "It can pretty much get you through many colleges."
Matt Bewley said he and his brother's decisions were less about immediate remuneration than a chance to take ownership.
"As athletes, it's not really about the money because we've got the love of the game, but I feel like the NCAA shouldn't be robbing us of what we deserve," he said. "If you have this opportunity as a professional, getting closer to your dream, why not take this opportunity?"
Please enable JavaScript to view this content.