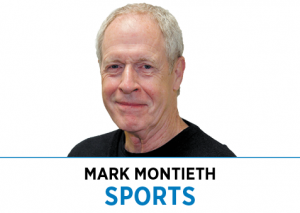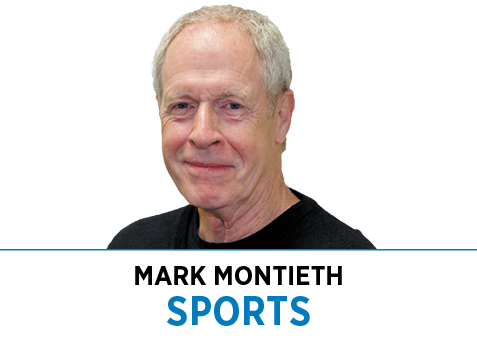 Sixteen-seeded Hartford lost by 24 points to top-seeded Baylor on Friday afternoon, but as the buzzer sounded many of its red-clad fans erupted in cheers. One college-aged kid, in fact, was literally jumping up and down in front of his seat at Lucas Oil Stadium, cheering as if the Hawks had pulled off an upset.
The spread, you see, was 25.5 points, so all the Hartford fans who had bet on their team won money after Briggs McClain hit an otherwise meaningless layup with 22 seconds remaining and Baylor ran out the clock.
Yes, after a one-year hiatus due to the COVID-19 pandemic, the NCAA tournament is back. It's a scaled-down version, with capacity limited to no more than 25% and bands and cheerleaders noticeably absent. Still, most of the elements that make it America's most beloved sporting event were on display Friday in the games played around central Indiana.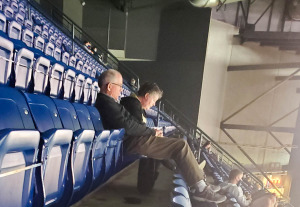 Namely, diehard fans, upsets, individual brilliance and, yes, gambling. There's always something to cheer and more than one way to go home feeling like a winner, no matter who you're rooting for and no matter where you're sitting.
John and Meg Sattler, for example, were seated up in Section 616, Row 13 during the Baylor-Hartford game. That was just a dozen rows or so from the farthest possible vantage point, unless they could have figured a way to get to the catwalk. The McCordsville residents were wearing Purdue garb—he is a 1974 graduate and she graduated a year earlier—so they looked out of place in more ways than one
They didn't feel that way. John had purchased their tickets for $30 each on Ticketmaster before the pairings were announced. Afterward, they would have had to pay $180 to watch Purdue's game so they passed on that one, which was played that evening. And given the result of the Boilermakers' game with North Texas, they made a wise choice.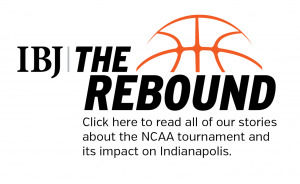 "These are the top 68 teams in the nation, so you know it's going to be a good game," John said. "I just enjoy being downtown and getting a feel for the atmosphere. Downtown is coming back to life. It's fun."
Lucas Oil Stadium officials made every attempt to keep the atmosphere safe. No paper tickets were issued; fans showed a bar code on their phone to get in. They were required to eat at their seats if purchasing food from one of the scattered concessions that were open. Recorded messages in the concourses offered constant reminders for fans to keep their masks on and pulled up over the nose at all times and to maintain social distancing. Signs stuck to the floor designated spots to stand in concession areas and some urinals and sinks in the restrooms were blocked off for the cause.
Baylor is one of the favorites to reach the Final Four, and many of its fans probably didn't view Friday's game as worthy of a long-distance trip, whether from the school's home base in Waco, Texas, or elsewhere. Hartford fans, however, were more like the Sattlers—just happy to be there. The Hawks finished fourth in the America East Conference and had to win four games in the conference tournament to qualify for the school's first trip to the NCAAs.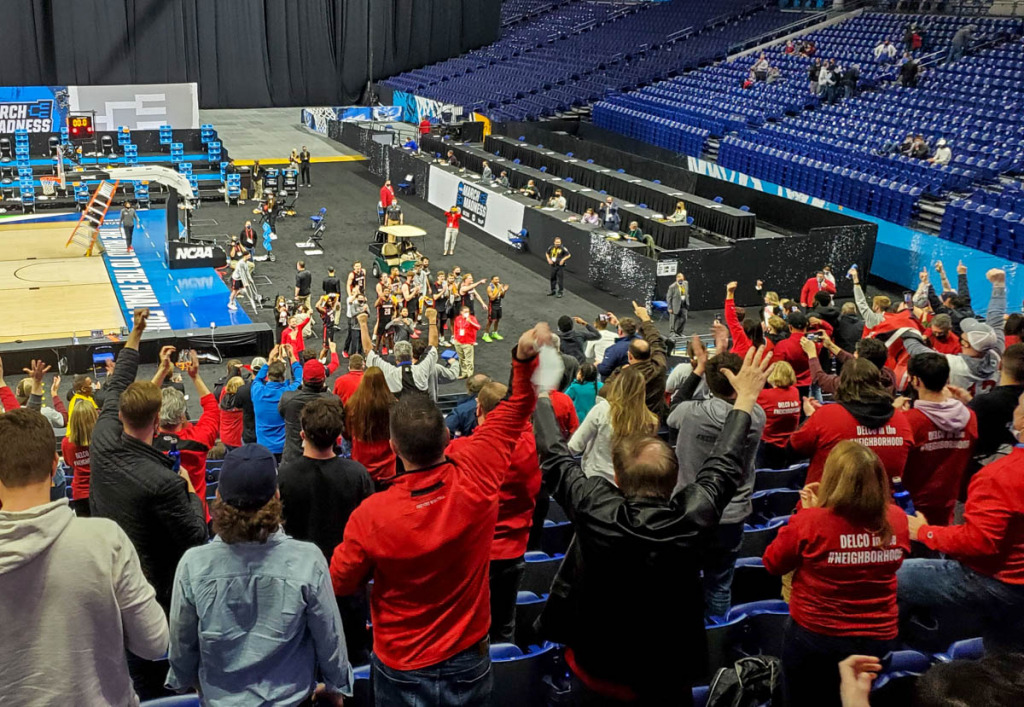 Even those Hartford fans who didn't have money riding on the outcome were happy afterward. They stood and cheered the team as it left the court. The players and coaches stopped and returned the waves and applause, a massive group hug if ever there was one.
There were plenty of smiles out on the concourse as well. There, John Gallagher, the father of Hartford's coach of the same name, was talking with three friends who had joined him at the game: Harry Rosenberg, John McKenzie and Tom Bellew.
"It was the greatest, because the achievement to get here was phenomenal," said Rosenberg, who lives in Los Angeles. The coach "has worked a long time just to do it. When you're in a smaller conference, it's a validation to win the conference tournament and get to the NCAA tournament."
Rosenberg will fly home on Saturday. So will McKenzie, who has a 6 a.m. flight to Philadelphia. He has four kids, he explained, and was quick to add a contingency plan was in place to change his ticket if Hartford had won.
The elder Gallagher and Bellew, both of whom live in Philadelphia, will stick around longer. None of them were regretting the trip.
"Indianapolis and New Orleans are the best places to have a major sporting event," Rosenberg said. "And this city is better for the Final Four. You can walk everywhere and there are great restaurants."
In other words, it's a sure bet.
Please enable JavaScript to view this content.