Jason Foltz, a lifelong Shelby County farmer, never exactly saw himself as an architectural preservationist or the owner of a historic downtown building.
But after his kids headed off to college, he was looking for a new adventure. His buddy Rob Nolley persuaded him to join in the purchase of Blessing's Opera House, a four-story building built in 1869 on Shelbyville's Public Square.
The building already housed several businesses, including Nolley's information technology company Tubesock Inc. on the fourth floor, and it again has a restaurant on the ground level.
Now, Foltz and Nolley have set their eyes on the second floor, developing it as an event center and wedding venue.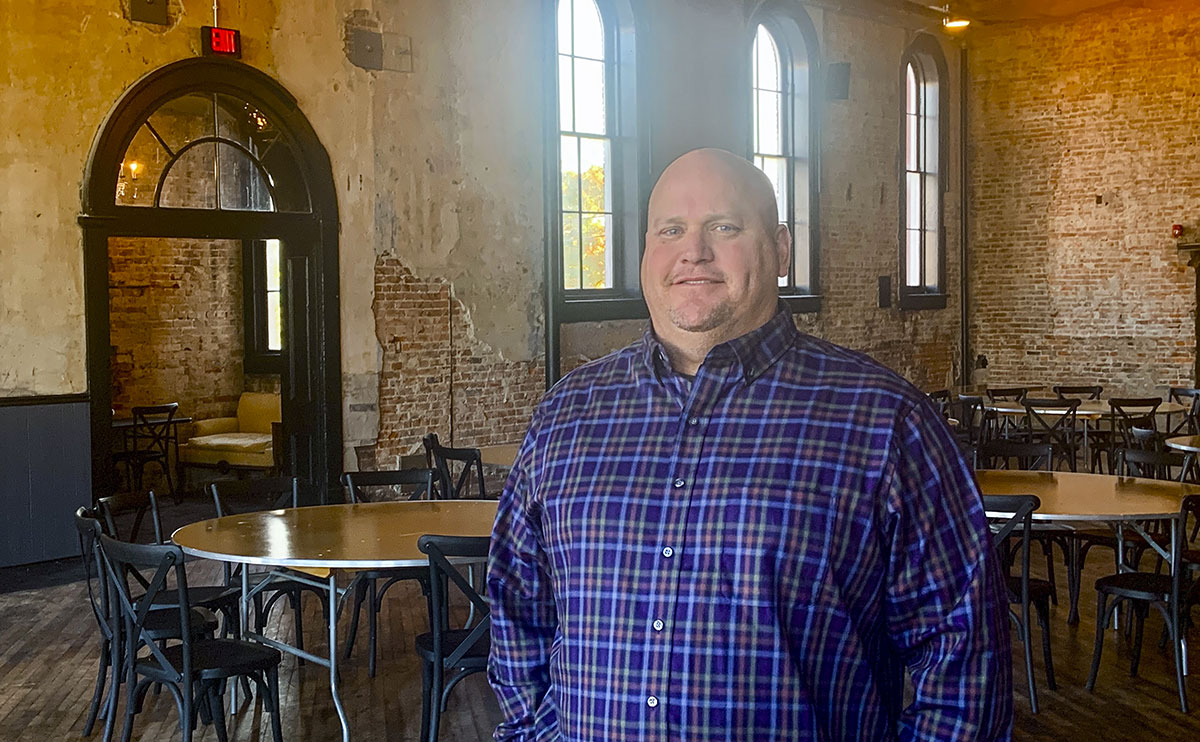 What made you want to buy a 150-year-old building, with all of its maintenance needs?
I just told my wife [Traci] I was always wanting to do something outside of farming, something that would kind of make a mark, give back [to] the community. We're doing it to make money, but it also is something historic. We have never really done anything like it, but I kind of talked her into it. She was a little leery at first, actually quite leery, about doing it and going into debt. But we pulled the trigger. … We wanted to make sure we had enough tenants in the building. It's just shy of 30,000 square feet, and we have all the offices rented except for one. So we're almost 100% full, and that was kind of our goal.
Did you have any experience with historic preservation or restoration when you started?
I did not. I mean, I've done stuff on the farm. As a farmer, we kind of know how to do a little bit of everything, but we're not expert at any of it. But my wife and I and Rob and lots of other friends and family basically just started the project just to kind of get the building in shape to where we liked it.
Tell me about the work you've done on the second floor, which once housed the opera-house stage and had been vacant for decades.
On the second floor, that was a lot bigger decision—a lot more money and time investment. It was home to the opera house and just over 4,000 square feet with 22-foot walls. There was two layers of wallpaper, a layer of contact paper and five or six layers of paint on those walls.
So we spent months scraping to get down to the original artwork that was on the wall … the fresco paintings … and one of the backdrops for a play, painted on the front stage wall that was there from 100 years ago. … We kind of wanted to go back historically. … My wife and I started driving around to salvage yards hunting for a bar and chandeliers and furniture and anything else kind of from that era.
What's the vision for that space?
We just kind of want to make it the center of the community again, like when it was an opera house. … Presidents [Woodrow Wilson] have spoken there, and Frederick Douglass spoke there and Calamity Jane. It's just amazing the different things that have happened in that building, on the stage that was originally there.
We've built another stage there, and a couple of weeks ago we had a band playing. So we're trying to get into bands and weddings and just anything to bring it back to its glory days. We just hosted the county's bicentennial gala, and we're doing a mistletoe market when we come into the holiday season.•
Please enable JavaScript to view this content.