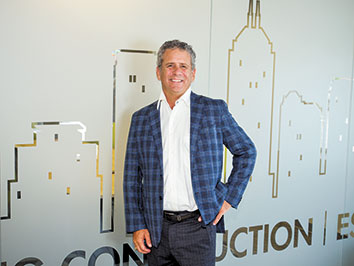 Revenue growth
FY 2016 to 2018: 42%
2018 revenue: $104.8 million
Extensive business: C.H. Garmong Chairman and CEO David Hannum and Executive Vice President Paul Okeson cited a number of reasons for their construction company's growth. Hannum credited "getting established in the larger market of health care and moving out of the landlocked nature of the western side of the state that we've been in for several years." Okeson added that the company's focus on health care—"We work with all of the major systems in central Indiana"—and detentions/corrections facilities also contributed.
Suburban work: Garmong had what Hannum calls "a nice run" last year in downtown Carmel. That includes the Monon & Main office building and neighboring Anthony's Chophouse, as well as two parking structures. The company also built the Chatham Hills Clubhouse for that neighborhood in Westfield.
Other projects: Hannum said Garmong built several projects at Purdue University last year and established itself as a leading detention and corrections builder with two new county jails (in Posey and Greene counties) and five more under contract. "It's awfully exciting to be us right now," he said. "We've become more of a professional construction manager, problem-solving group and less of a traditional general contractor."
New role: Garmong is in the midst of managing construction of a $45 million middle school in Bloomington. "Ten years ago," Hannum said, "that's a project we would have been proud to have a part of. Now we are the leader." His company has done all the preconstruction work, including budgeting and scheduling, and put the project out to bid to other contractors. "We're doing more and more of that, because that's where we can really add value as our staff grows in credentials and experience. We're looking at projects now that are much more magazine-cover stuff that we're proud to be a part of," including the new Marion County Jail.
Looking ahead: Hannum said Garmong's future is both construction management and pre-construction work, specifically in the health care and detention markets. The company is working throughout Indiana, and it's thinking of crossing state lines. "It's been a healthy mix of both privately funded and public work that has enabled this continued growth," Okeson said. "For the next two years at least, I see that continuing. And we will responsibly capitalize on that every step of the way."•
Check out more of IBJ's ranking of Indy's fastest-growing companies.
Please enable JavaScript to view this content.