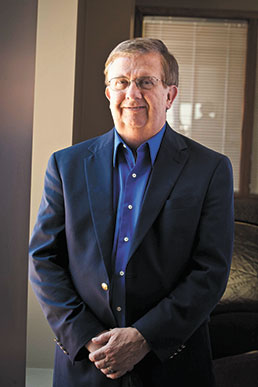 Revenue growth
FY 2016 to 2018: 184%
2018 revenue: $6.9 million
Its work: EGov Strategies LLC designs websites for governments and online payment processing. The latter, CEO Charles "Skeets" James said, is the growth area. The company processes more than $1 billion in credit card and debit card payments and income-based repayments online for cities, counties and states.
New clients: James said eGov's recent growth has come from landing some large contracts processing tax payments for Harris County, Texas (Houston) and Hempstead, New York. Both contracts were won through competitive requests for proposals. "So it shows we're competitive and we have a good product," James said. EGov also works with Conduent, processing child-support payments in 26 states on its behalf. As Conduent adds more states, so will eGov.
Efficiencies: James said another trend that's helping eGov's growth is that municipalities are losing baby boomer employees to retirement. Because of that, they need to improve efficiency—and keeping people out of city hall is one way to do that. So in Hempstead, eGov also does bill presentment. Residents get the bill online and pay it there, too. The town saves money by not mailing bills. And taxpayers benefit by not having to pay their bills in person.
Good reputation: EGov Strategies started in 1999, just before the dot.com bust, and restarted in 2002. Over the years, James said, the company has proven itself on multiple levels. "We're nimble, we've got a scalable product and a good reputation, and that helps," he said. "That reputation is won by the service." In addition, the company goes to great measures to make sure consumer information remains confidential.
Top rated: This year, the Indiana Chamber of Commerce named eGov one of the best places to work in Indiana. James—who got the nickname Skeets as a baby because he had a cowlick similar to the character Skeezix from the "Gasoline Alley" comic strip—is especially proud of that. "We've got a good culture and good people," he said.•
Check out more of IBJ's ranking of Indy's fastest-growing companies.
Please enable JavaScript to view this content.