Revenue growth FY 2018 to 2020: 127%
2020 revenue: $4.3 million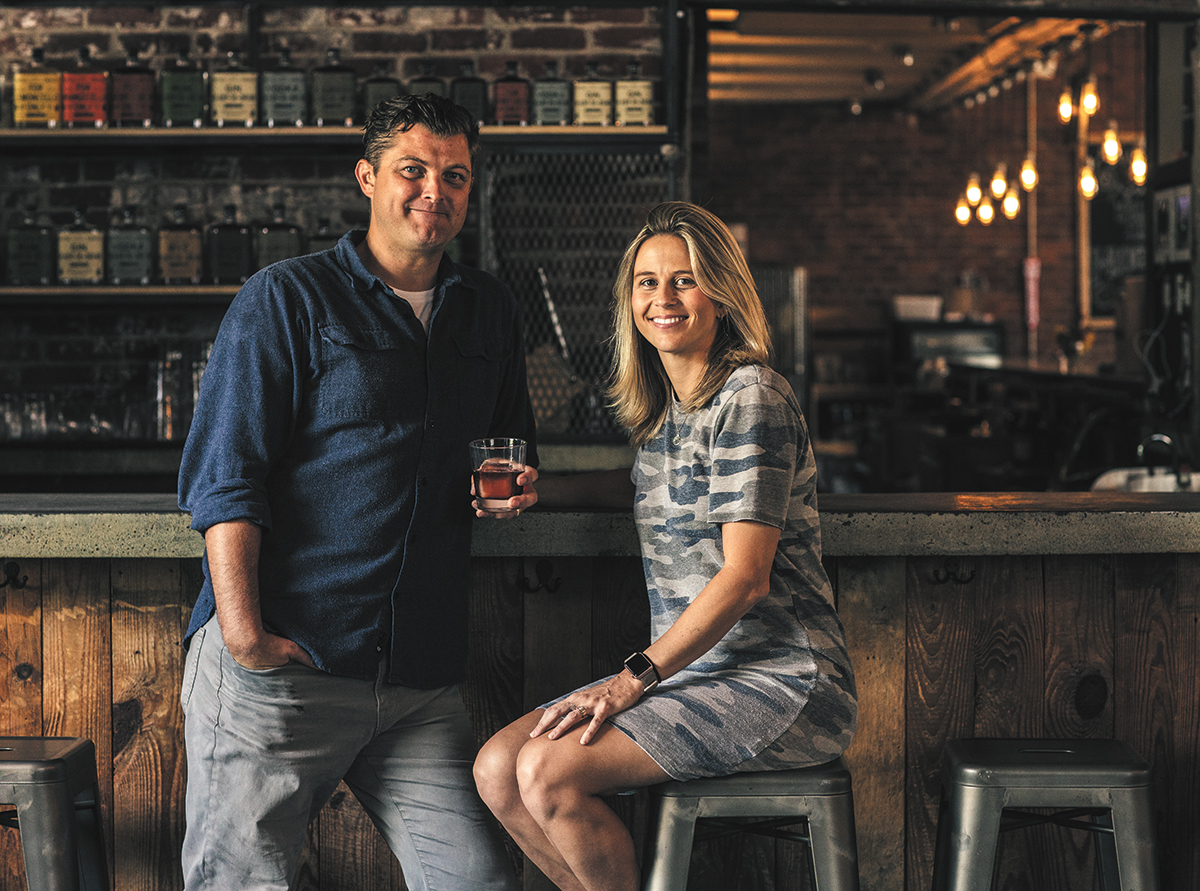 No rooms available: Hotel Tango Whiskey Inc. makes spirits—bourbon, whiskey and rye—"distilled with discipline." The company name honors founder Travis Barnes' military service in Operation Iraqi Freedom and is based on the NATO phonetic alphabet (Hotel for Hilary, his wife and business partner; Tango for Travis). "Our processes, procedures, the way that we actually make it is what separates us from other distilleries," Travis said. "We have a very disciplined approach to making bourbon and our spirits."
Expanding: The brand is growing through distribution sales. When the business started, it had one tasting room where everything was sold. Now, the company has three tasting rooms (Virginia Avenue, Zionsville and Fort Wayne) and distribution in 21 states and on 120 military bases. Credit goes to "a talented and tenacious sales and marketing team doing a great job of hunting and farming for sales and establishing relationships near and far," Travis said.
Switching gears: For about 90 days in 2020, Hotel Tango Whiskey was in a different business—producing hand sanitizer. There was such a shortage, Hilary Barnes said, that the Alcohol and Tobacco Tax and Trade Bureau (part of the U.S. Department of the Treasury) gave distilleries the green light to get into the business of essentially putting high-proof alcohol to a non-drinkable use. They sold everything from 4- to 8-ounce bottles to 275-gallon containers to clients that included schools and military shipyards.
Pandemic life: Though the tasting rooms were hit hard in 2020, Hotel Tango had begun to focus its sales on off-premise accounts—liquor chains, big-box stores, mom-and-pop stores—rather than on-premise, including bars and restaurants. That paid off last year when consumers had only a limited number of places to buy alcohol.
Coming up: The Barneses plan to push into more states and continue to grow in the states they're in. They'll produce about 2,000 barrels this year and do at least 2,500—maybe 3,000—In 2022. "For us, that's substantial," Travis said. "For Jim Beam, it's not." But bourbons, whiskeys and ryes "are the future for a long time to come."•
Check out more of IBJ's ranking of Indy's fastest-growing companies.
Please enable JavaScript to view this content.