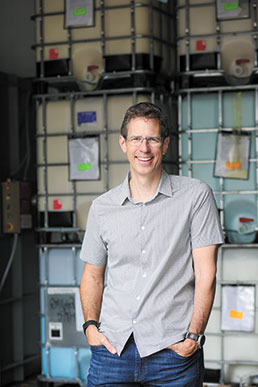 Revenue growth
FY 2016 to 2018: 43%
2018 revenue: $34.6 million
Innovations: Mansfield-King manufactures hair care and skin care products that are sold under name brands. President Charles Haywood said its growth can be traced to the services it provides. "We operate in a variety of high-margin niches that are dependent upon us to provide new products to them that they can sell into the marketplace. That keeps our customers coming back and ordering more."
Innovators: Last year, Mansfield-King launched about 150 products that it developed. Most of the company's work involves products it both develops and manufactures. It's relatively rare that its customers develop their own products and have Mansfield-King do the manufacturing, Haywood said.
Getting the word out: This is a word-of-mouth business, Haywood said. "We don't do any outbound marketing," he said. "People seek you out when they need this kind of capability." And while contract manufacturing is generally thought of as a low-margin business, Haywood proudly said Mansfield-King's profit margins exceed 20%. "We provide a premium service, and we expect to get paid for that service."
New space: In 2018, Mansfield-King spent $3 million overhauling its existing facility. This year, it acquired 80,000 square feet primarily dedicated to manufacturing. That will enable the company to add several manufacturing lines. "We have to have excess capacity at all times," Haywood said. "When you grow rapidly, you don't want to have to turn customers away because you can't fulfill what they want. And you don't want to fall on your face with existing customers."
Growth plans: Haywood said Mansfield-King is on track to do $45 million in revenue in 2019—$11 million more than in 2018. The goal is to continue growing. "We're owned by me," he said. "A lot of companies look to sell off to private equity. We like doing what we do. We have an outstanding team of people who like doing what they do. Our turnover is almost zero. So we're going to keep doing what we do."•
Check out more of IBJ's ranking of Indy's fastest-growing companies.
Please enable JavaScript to view this content.