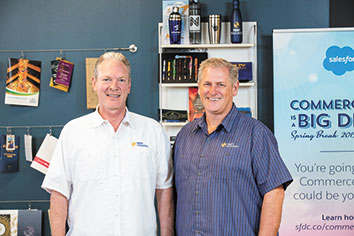 Revenue growth
FY 2016 to 2018: 72%
2018 revenue: $6.4 million
Many ways to grow: A growing customer base, new printing presses and other product-making capabilities, and a successful spinoff brand all helped Print Resources return to the Fast 25 for the second consecutive year, co-owners Tim Browning and Kurt Ellinger said.
Ongoing business: Print Resources' relationship with ExactTarget, which began in the early 2000s, has continued with ExactTarget's acquirer, Salesforce, and much of the business comes from Salesforce's San Francisco office. Print Resources provides it with marketing materials used to generate leads. "Salesforce has figured out that professionals respond very well to getting something physical in the mail," Ellinger said. "They see so much digital content that, when they get something and interact with it, even for a minute or two, they're much more likely to take a call."
New relationships: Nikki Hershik, director of client experiences, said Print Resources has seen a lot of growth on the print side—where new presses can print metallic ink and digital foil stamping—as well as through promotional products and e-commerce. "We're seeing more companies go to that in terms of ways to offer their employees easy access to branded apparel or branded merchandise for employees and their prospects," she said. "I think we're going to continue to stay on top of the trends, get new technology in here, new machines, as we see fit to make sure we're staying relevant."
Succession plans: In the interview for this story, Browning and Ellinger introduced Hershik as "the future of Print Resources." "Kurt and I aren't ready to retire," Browning said, "but we can see retirement." Some employees are beginning to report to Hershik and a few other managers. "It's not going to be about us anymore," he said.
And a spinoff: Last year, Print Resources was promoting Batch, a division that offered handmade, custom-branded gifts made in Indianapolis by local artisans to put in customized print pieces and direct mailers. In June, they spun Batch off into its own company. Chelsea van der Meer, who started the division, is getting orders now from distributors that represent Arby's, Netflix, the Los Angeles Lakers and Honey Baked Ham (ham-scented candles), among others, they said.•
Check out more of IBJ's ranking of Indy's fastest-growing companies.
Please enable JavaScript to view this content.