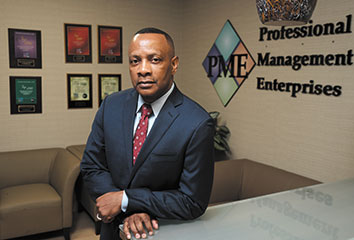 Revenue growth
FY 2016 to 2018: 102%
2018 revenue: $28.9 million
It takes a village: Danny Portee, president and CEO of Professional Management Enterprises Inc., credits Anthem Inc., the state's Indiana Veteran-Owned Small Business program and Merchants Bank of Indiana as the biggest drivers of his company's growth. "There's no way you can do business by yourself," he said. "It's taken many other folks to help us capture the success that we've had."
Last year's success: Over the past three years, PME, which provides IT staffing and support, call-center management and other services, has built its relationship with Anthem. Most recently, it picked up a logistics role for non-emergency medical transportation—managing the contract for Medicaid recipients to have drivers pick them up and take them to their appointments. "That is something typically we wouldn't have done, but based on the mentoring and relationship with Anthem, we entered into a different vertical and have proven to be successful on it with them," Portee said.
Working with the state: PME also has been a beneficiary of the state's veteran-owned program. (Portee is a service-disabled veteran who joined the Army in 1983 and was injured in the Korean DMZ during combat operations.) Portee said PME has grown twofold thanks to the program put into place under Gov. Mike Pence. Through that program, PME is a subcontractor to Anthem, CareSource, Conduent, MDWise, Managed Health Services, KPMG and more.
Money in the bank: Portee said Merchants Bank has been attuned to PME's needs and has looked out for the company at every turn.
His advice: Portee said what he sees from his business partners is what he tries to practice with PME. "Always ensure that your people and clients are always first to you," he said. "You have to build a pipeline of successful networks that you can partner with or learn from—and you need to keep them close to you."•
Check out more of IBJ's ranking of Indy's fastest-growing companies.
Please enable JavaScript to view this content.