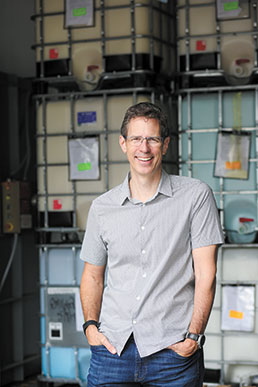 Indianapolis-based Mansfield-King, a fast-growing contract manufacturer of hair care, skin care and beauty products, has been acquired by Downers Grove, Illinois-based PLZ Aeroscience Corp.
Founded in 2005 by Charles Haywood, Mansfield-King develops and manufactures products that are sold under its customers' brand names. The east-side company, at 6501 Julian Ave. near East Washington Street and Arlington Avenue, has 154 employees.
Haywood, who had been the company's sole owner, said he is remaining with the business for now to help with the transition, adding that, "at some point, I'll be making an exit."
Haywood declined to disclose financial terms of the deal, but said Mansfield-King has performed "outstandingly well this year during the COVID-19 crisis." The company is on track to earn $50 million in revenue this year, up about 10% from 2019.
Among other products, the company makes soap and hand sanitizer.
Selling now, Haywood said, helped ensure he could maximize the terms of the deal.
But also important, he said, was finding the right buyer—he wanted to sell to someone committed to retaining and growing the company's presence in Indianapolis. "We did not want to sell to a traditional private equity outfit that would solely be looking to extract value."
No Mansfield-King employees have lost their job as a result of the sale, Haywood said.
Mansfield-King has landed on IBJ's Fast 25 list of fastest-growing private companies numerous times, most recently in 2019. At that time, the company reported $34.6 million in revenue in 2018, up 43% from two years earlier.
PLZ is a specialty aerosol and liquid products manufacturer that produces more than 2,500 branded and private-label items including personal-care products; cleaners and polishes; industrial solvents, lubricants and degreasers; disinfectants; insecticides; and air fresheners for home and industrial use.
"We are very excited to be partnering with the Mansfield-King team," PLZ President and CEO Ed Byczynski said in a written statement. "Mansfield-King is a leading innovator within the specialty personal care market, and we believe they will be a fantastic addition to PLZ as we continue growing our personal care footprint across North America."
PLZ is owned by Pritzker Capital Partners, a private equity firm with offices in both Chicago and Los Angeles.
Please enable JavaScript to view this content.