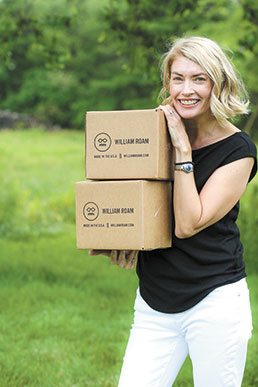 Revenue growth
FY 2016 to 2018: 65%
2018 revenue: $4.0 million
Branching out: After establishing a presence in hotels with its shampoos and personal-care products, William Roam has begun to build a beauty brand with skin care and general beauty creations. CEO Ali Murphy said she sees the company evolving into something akin to L'Occitane, Aesop or Kiehl's. "In terms of our arc as a company, we see ourselves tending toward and establishing ourselves as a beauty brand because of the feedback we're getting from our customers in the market and the way our sales are going," she said.
Getting recognized: The William Roam beauty products have been getting noticed, Murphy said. The brand has been featured in quarterly-lifestyle magazine Departures, Forbes magazine, and on Today.com. "That's been exciting for us to get our name out there and have people respond to what the brand is and that sense of experiential American luxury that we're offering," she said.
Pride in the product: Though word spread through media attention, Murphy said it's the product users' experience that ultimately helps the brand succeed. "The things that stay with people are experiences," she said, "and everything we do in how we present ourselves speaks to that—the luxury of experiences. 'My hair looks great when I'm done. My skin feels wonderful.'"
Giving back: Murphy said William Roam asked employees and customers what causes William Roam should support, and the company ended up giving undisclosed amounts to City Harvest, a New York food-rescue operation; the Yukon Wildlife Preserve; and SAVE Farm, an agricultural vocational training program for veterans.
Always be selling: Murphy was on vacation with her family when this interview took place. The hotel where she was staying was a William Roam client, but she's stayed at places that don't have her products. "It's a great opportunity for me to sell to them," she said. "It's hard to resist when I'm in your foyer with product. 'I'm a guest, and I love everything about your property—but you could do better.'"•
Check out more of IBJ's ranking of Indy's fastest-growing companies.
Please enable JavaScript to view this content.