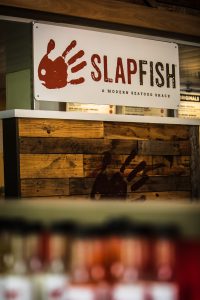 Slapfish, a California-based chain of fast-casual seafood restaurants, plans to open its first Indianapolis location, at 345 Massachusetts Ave.
The 2,600-square-foot Mass Ave space formerly housed Louie's Wine Dive & Mass Ave Kitchen, which closed Monday.
"We're looking to open in May," said Slapfish franchisee Mark Weghorst of Carmel, who is partnering with longtime friend Nick Smith on the location.
Weghorst opened the area's first Slapfish last summer inside of Broccoli Bill's, a grocery store that his father, Bill Weghorst, owns at 15009 Gray Road in Noblesville.
That location, which occupies about 2,000 square feet, has been a big success, Mark Weghorst said. "It went way, way, way better than I could have dreamed."
Slapfish offers a mostly seafood-focused menu, with a focus on sustainably-sourced fish. Menu items include fish tacos, burritos, grilled fish bowls and other items, including a children's menu.
The Mass Ave location will operate as a fast-casual restaurant during lunch hours, Mark Weghorst said, and will offer table service in the evening.
Looking ahead, Mark Weghorst said he has his eye on opening another four to five Slapfish locations in the next two to four years. He's targeting the north side of Indianapolis and its northern suburbs as possible spots.
The Slapfish chain is based in the Los Angeles suburb of Fountain Valley. It has 21 locations: eight in California, four in Utah, two each in New Mexico and Virginia and one each in Arizona, Florida, Georgia, Indiana and Maryland. Two additional stores are listed as coming soon—one in South Carolina and one in London, England.
Celebrity chef Andrew Gruel founded the company in 2011, originally operating out of two food trucks. Gruel has appeared on multiple Food Network television shows, including serving as a judge on the show Food Truck Face Off.
Please enable JavaScript to view this content.