Fast-growing Indianapolis-based digital marketing firm Lev has entered an agreement to be acquired by publicly traded New Jersey-based information technology services firm Cognizant, the acquirer announced Monday.
Terms of the deal, set to close later this month, were not disclosed.
Lev will continue to maintain its local operations and its name, Lev CEO Michael Burton told IBJ on Monday.
Lev, founded as Levementum in 2006, added 92 employees in 2019 and continued adding employees this year, company officials said. The company has more than 200 employees, with just more than 100 working out of its Indianapolis headquarters at 211 N. Pennsylvania St.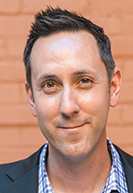 The 2019 hiring spree exceeded Lev's goal of 70 new hires, which it set when it announced the move of its headquarters from Arizona to Indianapolis in February 2019.
Lev, which reported revenue of $19.5 million and revenue growth of 518% last year, was named to the 2019 Inc. 5000 list of the fastest-growing private companies in the United States.
Lev officials said in January that they expected to 80 employees this year. That number will likely grow due to its acquisition, Burton said.
"We fully expect to accelerate our growth," Burton said "We'll certainly grow faster as part of Cognizant than we would have without this deal."
While Burton said the coronavirus pandemic has added an air of uncertainty to previous growth projections, he added that Lev's growth has not yet slowed.
"We've had a lot of good, new sales in the last couple of weeks," he said. We have a diversified customer base, which helps."
Burton said Lev will accelerate its growth by working with Cognizant's "large, global customers" and by taking Cognizant's broader offerings to its customers.
The deal also will help Cognizant—which had $16.8 billion in sales last year—grow, said company officials.
Lev is Cognizant's third cloud-related acquisition this year.
"We continue to significantly invest in [the] cloud as one of our strategic priorities," Greg Hyttenrauch, Cognizant's president of digital systems and technology, said in a statement. "[Lev] will expand Cognizant's consulting capabilities to help marketers implement [the Salesforce] Marketing Cloud, personalize customer connections and, in turn, generate better leads. Coupling this with our deep Salesforce quote-to-cash expertise, we will enable clients to effectively use the cloud to transform their critical lead-to-cash processes."
Please enable JavaScript to view this content.