Local digital marketing consultancy Lev added 92 employees in 2019 and plans to add more than 80 more this year to bring its Indianapolis workforce to 175.
The 2019 hiring spree exceeded Lev's goal of 70 new hires, which it set when it announced the move of its headquarters to Indianapolis in February 2019.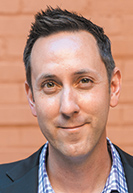 The marketing technology consultancy—which provides implementation, strategy, and support for companies that use Salesforce products—was previously headquartered in Chandler, Arizona.
"Indianapolis' strong talent pool was key to enabling us to continue aggressive growth," said Lev CEO Michael Burton. "We're expecting more of the same this year."
Burton, a former ExactTarget and Salesforce executive, was the first Lev employee located in Indianapolis, starting in 2016. He became CEO of the company in 2018.
While he said one of the key reasons for locating here is to be close to Salesforce, the company also wanted access to Indianapolis' workforce.
"The type of talent we were looking for—marketing and e-commerce—is very strong in the Indianapolis area," Burton said.
Lev—formerly Levementum—this year will be hiring "marketing strategists, technical architects, campaign marketing people and sales and customer support people, account directors and senior level consultants," Burton said. "The majority of those people will be hired in Indianapolis."
Since 2016, Lev has experienced triple-digit revenue growth, Burton said. Though he declined to divulge Lev's annual revenue, he said it's in the eight-figures.
Lev's growth has come from growing its existing business deals and adding new clients, Burton told IBJ. In 2019, Disney, NBC, Pepsi Co., Marvel and Charles Schwab were all added as new customers.
The company's revenue grew 40% last year, Burton said, and the growth continues. "We're projecting 50% revenue growth in 2020," he said.
Burton said Lev, which is backed by private equity, is growing because its "customers' spend in digital is going up exponentially year-over-year."
"In terms of growth, we have more runway in front of us," he said. "We feel we're just scratching the surface."
Please enable JavaScript to view this content.