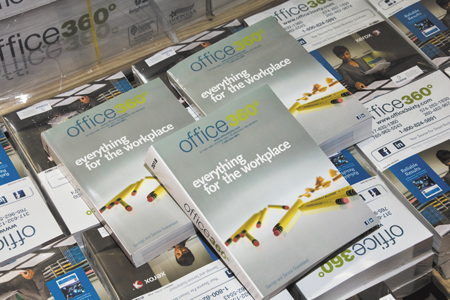 Indianapolis-based Office360—one of central Indiana's fastest-growing companies—announced Thursday that it has acquired Frankfort, Kentucky-based Cardinal Workplace Solutions, a 65-year-old, family-owned office-supply company.
The acquisition is the 10th for Office360 since its launch in 2008 and will help the company expand its footprint in Kentucky and Ohio.
Cardinal, the largest independently owned office supply dealer in Kentucky, has annual sales of $20 million and a warehouse in Lawrenceburg. It has 34 employees and will operate as Cardinal Office360, according to a note on its website.
"All of our employees and existing office and warehouse facilities will remain operating in both Frankfort, Kentucky, and Lawrenceburg, Indiana," the company said on the site.
The companies did not release terms of the deal.
Office360 Principal Steve Nahmias said in a statement that Cardinal "is a great geographical and operational fit made up of talented and committed people that integrates perfectly with our company's values and goals."
"We would like to continue expanding the superior level of service and support offered by the progressive, independent office products dealer and I believe that this new partnership with Cardinal will push us further in that direction," Nahmias said.
Nahmias founded Office360 with his brothers, Scott and Lenny. In 2018, the office-supply company picked up two large accounts, the hospitals and practices of Indiana University Health and Community Health, which drove up its revenue to $43 million that year.
That was a jump of 40% over two years, which landed the company at No. 22 on IBJ's list of fastest-growing private firms in central Indiana. It has been on IBJ's fastest-growing list eight of the past 11 years. The company has about 124 employees.
Nahmias said acquiring Cardinal will allow the company to maximize buying power, increase product offerings, invest in enhanced technology and reduce operating costs while expanding its market position.
Please enable JavaScript to view this content.