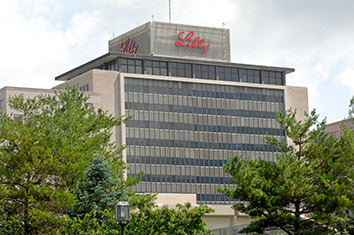 Eli Lilly and Co. just hit another bump in the road in its quest to push deeper into treatments for skin diseases, the third setback this year for the Indianapolis-based drugmaker from the U.S Food and Drug Administration.
Lilly  said Monday that federal regulators have declined to approve its experimental drug for moderate-to-severe atopic dermatitis, better known as eczema, a chronic disease that causes inflammation, redness and irritation of the skin.
The notice from the U.S. Food and Drug Administration cited findings that arose during a "multi-sponsor inspection" of a third-party, contract manufacturing organization that included the monoclonal antibody drug substance for Lilly's drug, known as lebrikizumab.
Lilly did not name the manufacturer or specify the issues that arose in the investigation. It said the FDA did not state concerns about the clinical data package, safety or label for lebrikizumab. Lilly indicated it would work through the issues and resubmit the application.
The company said it had submitted data from several clinical trials, which included more than 1,000 adults and adolescents (ages 12 and older) with moderate-to-severe eczema who were unable to control their symptoms with topical medicines or other systemic treatments.
"We are confident in lebrikizumab's potential to help people living with eczema and in the clinical data that supports our submission package for the medicine," said Patrik Jonsson, president of Lilly Immunology. "We will continue to work closely with the third-party manufacturer and the FDA to address the feedback in order to make lebrikizumab available to patients."
Lilly shares edged down about 1.5%, to $529.03 each, in early-afternoon trading.
The regulatory denial represents the third setback this year by the FDA for Lilly drugs. In January, the agency declined to approve the company's application for accelerated approval of an experimental treatment for Alzheimer's disease due to a limited number of patients that were still on the drug for a full year in clinical trials.
Lilly had been touting the drug, called donanemab, for two years, as a potential breakthrough for slowing decline in cognition and daily function in patients with early symptoms of Alzheimer's disease. But the FDA said it wanted to see data from at least 100 patients who received a minimum of 12 months of continued treatment on the experimental drug.
In July, Lilly released new data that showed donanemab can modestly slow patients' decline by about four to seven months.
And, in April, the FDA rejected Eli Lilly's request to approve an experimental ulcerative colitis drug due to manufacturing issues, delaying the launch of one of the company's top prospects. The FDA didn't raise any concerns about mirikuzmab's clinical profile or label, Lilly said.
Lilly said it would work to iron out the issues with the FDA and resubmit the applications.
Despite the setbacks, Lilly has scored some big wins. Over the past 10 years, the company has launched 20 new drugs for a raft of maladies, from cancer to migraine headaches.
Lilly acquired lebrikizumab in 2020 when it bought Dermira Inc., a California-based maker of dermatology medicines, for $1.1 billion in cash. At the time, Lilly said the purchase would bolster its portfolio of immunology drugs, which includes Olumiant for rheumatoid arthritis and Taltz for plaque psoriasis and stiffening of the spine.
Dermira was a 10-year-old company when it went public in 2014 at $16 a share. Lilly bought it for $18.75 a share. The deal also bolstered Lilly's dermatology product line by giving it access to Qbrexza, a medicated cloth approved by the FDA for the treatment of primary axillary hyperhidrosis, which results in uncontrolled excessive underarm sweating.
Lilly said last November it had submitted lebrikizumab to the FDA for approval. The experimental drug was part of Lilly's ambitious plan to launch numerous products this year and hit $30 billion in revenue, up from $28.5 billion in 2022.
Atopic dermatitis already has multiple treatments available, including those by AbbVie and Pfizer as well as some generic drugs like cetirizine, according to Reuters.
Lilly rang up revenue of $15.3 billion in the first half of this year, and said it expected full-year revenue in the range of $33.4 billion to $33.9 billion. It plans to announced third-quarter earnings on Nov. 2.
In December, the company told investors it planned to submit regulatory applications for five products, include lebrikizumab, as well as initiate six late-stage clinical trials and present data from six other late-stage trials.
So far, the FDA has approved one drug this year, empagliflozin for chronic kidney disease.
Please enable JavaScript to view this content.