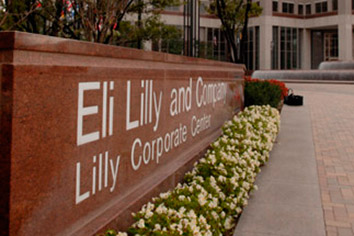 Federal regulators have rejected Eli Lilly and Co.'s application for accelerated approval of an experimental treatment for Alzheimer's disease due to a limited number of patients that were still on the drug for a full year in clinical trials.
The news, announced Thursday, might only be a short-term setback for Indianapolis-based Lilly, which has been touting the drug for two years as a potential breakthrough for slowing decline in cognition and daily function in patients with early symptoms of Alzheimer's disease.
The Food and Drug Administration said it wanted to see data from at least 100 patients who received a minimum of 12 months of continued treatment on the experimental drug, called donanemab.
Lilly said the drug, which is given monthly, was able to target and clear large amounts of a protein called amyloid plaque in the brain, considered a telltale indicator of the disease. That allowed patients in the trial to complete their course of treatment when they reached a predefined level of amyloid plaque clearance. Those patients were given placebos for the remainder of the 12-month trial.
"While the trial included more than 100 patients treated with donanemab, due to the speed of plaque reduction, many patients were able to stop dosing as early as 6 months of treatment, resulting in fewer than 100 patients receiving 12 months of donanemab," Lilly said in a statement.
The treatment's ability to rapidly remove amyloid beta "is a positive attribute" of the medicine, Daniel Skovronsky, Lilly's chief scientific and medical officer, told The Washington Post in an interview. He said the hope, assuming the drug receives full approval, is that patients are able to receive the drug for a short time, get the amyloid cleared "and be done with their treatment."
Lilly said it would continue with another ongoing trial for the drug and expected to issue a so-called "topline readout," or summary results, in the second quarter of 2023.
"We are committed to working with the FDA to ensure the fastest possible path to bring this potential medicine to patients in need," said Anne White, president of Lilly's neuroscience division.
More than 5 million people in the United States and many more worldwide have Alzheimer's. Current drugs only temporarily ease symptoms and do not slow mental decline.
The FDA decision is just the latest stumbling block for Lilly, which has spent billions of dollars over 30 years researching treatments for Alzheimer's disease, only to see them fall short in clinical trials.
Lilly released the news after the markets closed Thursday. Shares of Lilly dipped $4.18, or 1.19%, to $346.90 each in after-market trading.
The company said the news will not result in a change to its 2023 financial guidance.
Please enable JavaScript to view this content.