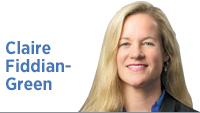 During one recent Thanksgiving Day celebration, my family gathered at a restaurant instead of at a relative's home. As I glanced around at the other restaurant patrons, I was struck by how many people were using their mobile devices instead of engaging in conversation with their loved ones.
A new survey highlighting widening political polarization in the United States could help explain why some people might prefer to avoid contentious discussion topics by looking at their smartphones when gathering with relatives during the holidays. The survey findings also provide inspiration for how we can work on repairing what the report refers to as our "fractured nation."
It's no secret that Americans are increasingly polarized on a variety of issues. Take gun control, for example. In 2019, 88% of Democrats and 36% of Republicans think laws covering the sale of guns should be stricter. In 2001, that divide was much smaller: 61% of Democrats and 44% of Republicans favored stricter laws on gun sales.
Immigration is another issue on which partisan differences have steadily grown. In 2016, 60% of Republicans and 20% of Democrats believed the amount of immigration into the U.S. should be decreased. In 2003, 53% of Republicans and 42% of Democrats held that belief—a difference of only 11 percentage points.
As a nation, as a state, and in our towns and cities, we are stronger when we come together and tackle complex issues with a solutions-oriented mindset. But doing so requires looking beyond our differences and finding common ground. What prevents this from happening more often? Our perceptions of one another appear to be a significant hindrance to building bridges with people who hold different views than we do.
For example, 82% of Republicans believe the Democratic Party has been taken over by socialists. In contrast, 83% of Democrats believe the Democratic Party is trying to make capitalism work for the average American. Meanwhile, 80% of Democrats believe the Republican Party has been taken over by racists, while 94% of Republicans believe the Republican Party is trying to protect the American way of life against outside threats. These widely differing perceptions of one another seem contemptuous and dismissive and certainly don't do much to encourage compromise and unity.
Believe it or not, there are a handful of issues on which Americans agree. In 2019, 89% of Republicans and 93% of Democrats support protecting health care coverage for people with pre-existing conditions. And 79% of Democrats and 74% of Republicans favor eliminating mandatory minimum prison sentences for non-violent offenders so judges can make sentencing decisions on a case-by-case basis.
These areas of policy alignment, while perhaps limited in number, offer a path forward for our country. Instead of engaging in policy warfare on areas where Americans clearly diverge, why not strengthen fraying relationships by developing solutions in areas where we agree? With each success, we would begin to develop the baseline level of trust we need to begin tackling more divisive issues, like how to improve educational outcomes for students or how to decrease health care spending.
Shared successes might also enable us to view the other side as more reasonable than we imagined, and—who knows?—could even help us gain a better understanding of alternate perspectives on key issues impacting our communities.
This holiday season, let's take a step toward healing our fractured nation by building bridges with people who don't think like us. This can start at the holiday dinner table and extend from there.•
__________
Fiddian-Green is president and CEO of the Richard M. Fairbanks Foundation and a former adviser to then-Gov. Mike Pence on education issues. Send comments to ibjedit@ibj.com.

Click here for more Forefront columns.
Please enable JavaScript to view this content.