Over the past decade, the investment firm David A. Noyes & Co. has helped raise money for companies—including Indianapolis-based Digonex Technologies Inc. and Fishers-based SteadyServ Technologies LLC—by persuading its clients to invest.
But such investments, known as private placements, are risky by nature—and Noyes' clients have not always been happy with the results.
Since May 2017, Noyes' clients have filed 12 complaints with the Financial Industry Regulatory Authority, or FINRA, naming three brokers. In the complaints, the clients say brokers steered them into private placements that were unsuitable for them.
Though Noyes is officially based in Chicago, most of the firm's executives work at its Indianapolis office, which opened in 1938.
Noyes President Jim Dickson was out of town on business this week and, through a spokesman, declined to comment for this story. Dickson is also the founder of Sanctuary Wealth Partners, which launched last year as a division of Noyes.
Clients of brokerage firms agree when they become customers to resolve disputes through binding arbitration if they unable to reach a satisfactory resolution through discussions with the firm.
Of the 12 complaints, Noyes settled four for a total of $915,000. Another seven, in which complainants are requesting damages between $60,000 and $1.2 million, are pending. The remaining complaint, lodged in October 2017, was denied by Noyes as being without merit, and the client did not take the matter further.
All three of the brokers named in the complaints—Scott Lindsey, James Kirchner and Richard Stevens—have since left Noyes.
Nine of the complaints, including the four that were settled, are against Lindsey, who left Noyes in 2016 and now works for Philadelphia-based FS Investment Solutions LLC, according to his FINRA broker report.
Of the complaints against Lindsey, seven specifically mention private placements. Some mention specific companies: Digonex, which provides dynamic pricing software to retailers, attractions and other clients, and BLS, a Houston-based software firm that the Securities and Exchange Commission charged with fraud in 2017. The other complaints do not identify the private placements.
One pending complaint, in which the complainant is asking for $1.2 million in damages, says Lindsey sold the client unsuitable investments in three unnamed third-party entities.
And a complaint settled for $400,000 in October 2018 references an alleged "variety of claims" involving unspecified alternative investments.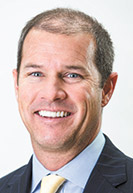 Lindsey said he did not want to talk about the complaints against him. "That's from over three years ago, and I'm not in that business anymore," he told IBJ before hanging up the phone.
But Indianapolis securities lawyer Keith Griffin of Griffin Law Firm called it uncommon for a broker to be the target of so many complaints in a short span of time. "It is rare. Brokers work really hard to protect their record."
The two complaints against Lindsey that mention Digonex involve private placements sold between 2010 and 2014.
L.H. Bayley, a longtime Noyes executive, joined Digonex's board of directors in 2003, according to Bayley's FINRA broker report. The report does not list him as having left the board, although a company executive says he has departed.
Digonex was a stand-alone private company before Indianapolis-based Emmis Communications Corp. bought majority control in 2014. It now owns 84%.
Digonex, founded in 2000, has yet to turn a profit. In its 2019 annual financial report, filed in May of this year, Emmis said Digonex was in need of additional capital to fund operations.
Digonex CEO Greg Loewen, who worked at Emmis before joining Digonex in 2014, said Bayley is no longer on Digonex's board, though he is an investor. "L.H. Bayley has not been with the board at any time since our [Emmis'] investment."
And Digonex has not raised money from third parties since Emmis bought control, Loewen said.
Griffin said private placements are growing in popularity for a variety of reasons—but they can be tricky territory, especially for individual investors and the brokers they work with.
Griffin said private placements typically attract institutional investors like financial institutions or investment funds.
Individual investors often lack the means and financial sophistication required for this type of investment, he said. "That's where brokers and firms tend to get themselves into trouble—because the people investing in [private placements] just don't understand."
A private placement typically involves a privately held startup or emerging company. It's a way for the company to raise capital without going through an initial public offering, which can be a lengthy and costly process.

In the strong economy of the past few years, private placements also have been growing. Companies need more access to capital, Griffin said, while at the same time investors are looking to maximize their returns.
"As the markets have been doing well, and as we've seen sustained upside over the past several years, investors are looking for ways to do even better—to set themselves apart," Griffin said.
Likewise, private placements can appeal to brokers who want to distinguish themselves from the crowd.
"It seems like they're selling these things as a way to really kind of entice their clients that they're special—that they're getting something extra," Griffin said. "Think of it from a marketing standpoint."
The investments also carry significant downside. Private placements are illiquid—often, investors can't get their money back until the company in which they've invested is sold or goes public. And if the company fails, the investment can evaporate.
"You should expect your money to be locked up for 10 years or more. You might get it back sooner. You might never get it back," said Charlotte Lippert, chief investment officer at Indianapolis-based Valeo Financial Advisors LLC.
And because private placements are complicated, a client might not understand the investment even if the broker feels he or she has explained it clearly, Lippert said. That can lead the client to file a FINRA complaint if the investment doesn't work out.
Kirchner, one of the former Noyes brokers, faces two pending FINRA complaints involving private placements. In one case, filed in May, the complainant alleges financial losses of more than $275,000. The other complaint, filed in July, alleges more than $101,000 in losses.
Both of the complaints involve private placements in SteadyServ, Kirchner told IBJ.
The maker of software for bars and restaurants has burned through more than $30 million in capital since its founding in 2000, according to papers filed in connection with its February 2019 Chapter 7 bankruptcy. It was later sold to its largest credit, RBE Investments LLC.
SteadyServ initially focused on a system, known as iKeg, that monitors the amount of beer remaining in kegs at taverns, stadiums and restaurants—and sends digital alerts when levels are low.
About a year ago, its priorities shifted to data-analytics software that bars and restaurants use to boost profitability by their refining their pricing and product mix.
Kirchner acknowledged he lost more than $100,000 investing in SteadyServ. "I had my own money in there, too," he said.
Kirchner said that the clients who filed complaints against him were fully informed of the risks associated with the SteadyServ investment, and both spoke directly with SteadyServ's CEO to learn about the company. "They knew exactly what they were getting into, period."
Kirchner, who left Noyes's Chicago office in November 2018, still lives in Chicago and works for New York-based Cabot Lodge Securities LLC.
IBJ was unable to reach Stevens, the third broker named in the Noyes complaints. The complaint against Stevens, filed in April 2018, alleges that he failed to do proper due diligence on a private placement and failed to fully disclose the investment's risks, causing the complainant to suffer a complete loss. The complaint, which does not disclose the details of the private placement, is alleging damages of $60,000.
According to Stevens' broker report on FINRA, he originally registered as a broker in 1968 and worked for Noyes from 1985 until April of this year.•
Please enable JavaScript to view this content.