Texas Southern beats Mount St. Mary's 60-52 in NCAA opener
BLOOMINGTON—John Walker III scored a season-high 19 points and Jordan Gilliam had 12 to help Texas Southern erase a 10-point halftime deficit Thursday and beat Mount St. Mary's 60-52 in the first NCAA Tournament game in nearly two years.
It's the second straight First Four victory for the Tigers (17-8), who also won in 2018 — their most recent tournament appearance. Texas Southern, the No. 16 seed in the East Region, won its 10th straight game and faces top-seeded Michigan (20-4) on Saturday.
Walker also matched his career high with nine rebounds.
Damian Chong Qui scored 14 points and Mezie Offurum had 10 points and 16 rebounds for the Mountaineers (12-11), who fell to 1-9 in tourney play.
It was the first NCAA Tournament game since Virginia beat Texas Tech in overtime to win the national championship on April 8, 2019 — a span of 710 days. And the atmosphere inside Indiana University's Assembly Hall was alien to the event known as March Madness. Only players, coaches and staff members were permitted on the court level and an estimated 150 people sat in the cavernous lower bowl.
It didn't take long for Texas Southern to change the game after trailing 30-20 at the half.
Walker and Gilliam scored the first 11 points to give the Tigers a 31-30 lead. The Tigers started pulling away with a 12-4 spurt that made it 46-42 with 8:10 to play and finally put the game away at the free-throw line.
—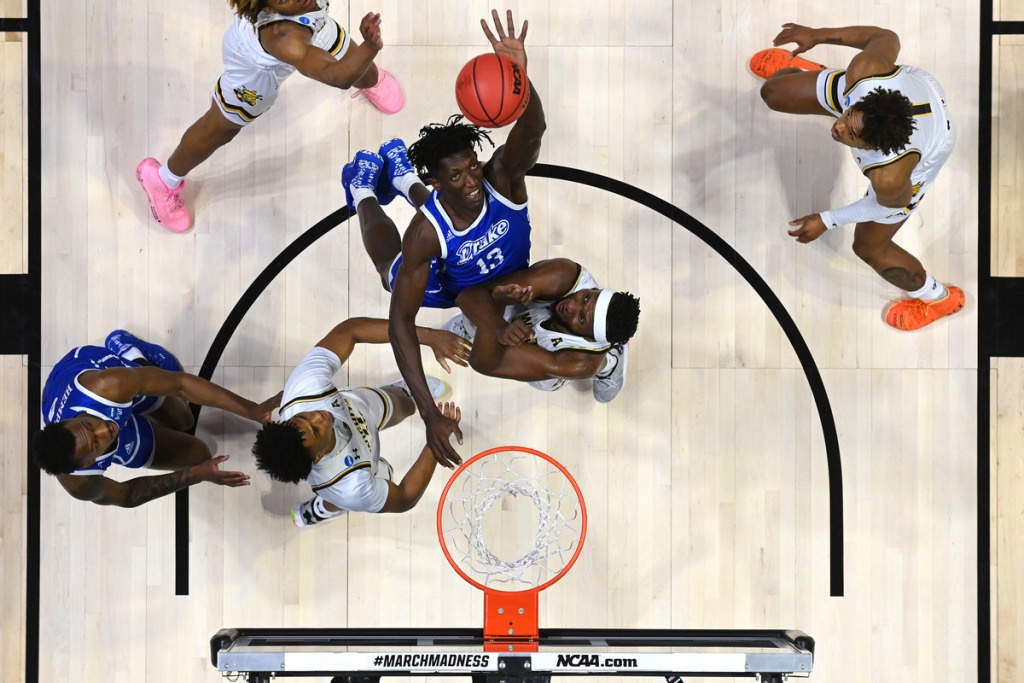 Drake tops Wichita State for first NCAA win in 50 years
WEST LAFAYETTE—Joseph Yesufu scored 21 points and Drake beat Wichita State 53-52 on Thursday night in the First Four, the Bulldogs' first NCAA Tournament win in a half-century.
Drake's previous tournament victory was 50 years ago to the day—March 18, 1971, against Notre Dame.
The Bulldogs were hardly overmatched in this year's tournament field, however—they came in with 25 wins, second most of the 68 teams behind top overall seed Gonzaga, and their tense matchup with a longtime Missouri Valley Conference rival brought some early drama to the pandemic-affected tourney.
Wichita State's Dexter Dennis made a 3-pointer with 8 seconds remaining to trim Drake's lead to a point. The Bulldogs got the ball in to Yesufu, who was fouled. He missed the front end of a 1-and-1 to give the Shockers a chance, but Wichita State's Alterique Gilbert settled for a long 3-pointer that hit the front rim as time expired.
The win was extra validation for Drake coach Darian DeVries, who was rewarded with a contract extension through 2028-29 on Wednesday.
Tremell Murphy added 11 points for 11th-seeded Drake (26-4), which advanced to play sixth-seeded Southern California in the West Region on Saturday.
Morris Udeze scored a career-high 22 points and Dennis added 13 for Wichita State (16-6).
It was the 152nd meeting between the former MVC rivals. Wichita State left for the American Athletic Conference in 2017. Both mid-major powers were given at-large bids into the NCAA field.
Drake missed 10 straight shots as Wichita State built an early 18-6 lead.
The Bulldogs rallied. Yesufu threw down a nasty one-handed dunk over Clarence Jackson on a fast break and then hit a 3-pointer with 7 seconds left in the first half to trim the Shockers' lead to 21-20. Wichita State was scoreless for the last five minutes of the half.
Drake tied the game in the opening minute of the second half on a 3-point play by Darnell Brodie. Wichita State responded with a 9-0 run that included five points from Udeze.
Drake again recovered. Brodie's reverse layup put the Bulldogs up 46-45 with just over four minutes to play.
—
Norfolk State survives Appalachian State 54-53
BLOOMINGTON—Devante Carter made two free throws with 8.6 seconds remaining, and Norfolk State held on to beat Appalachian State 54-53 in the First Four on Thursday night after blowing an 18-point second-half lead.
The Mid-Eastern Athletic Conference champion Spartans completed a sweep by historically Black colleges and universities on the first day of NCAA Tournament play, joining Southwestern Athletic Conference champion Texas Southern, which beat Mount St. Mary's earlier Thursday. Norfolk State advanced to face top overall seed Gonzaga on Saturday.
Jalen Hawkins scored 20 of his 24 points before halftime for the Spartans (17-7), who earned their first tournament win since upsetting No. 2 seed Missouri in 2012.
Justin Forrest had 18 points for App State (17-12), which shot 27% and missed its final 10 attempts.
The Mountaineers pushed ahead 51-45 on Forrest's layup with 5:48 remaining, but its only points after that were two free throws by Adrian Delph with 1:03 left that made it 53-52. Carter, who shot 1 of 10 from the field, answered by making his only two free-throw attempts of the game. App State missed two late shots on its final possession.
—
UCLA beats Michigan St 86-80 in overtime
WEST LAFAYETTE—UCLA showed plenty of fight in its overtime win over Michigan State in a First Four game in the NCAA Tournament.
The Spartans showed some fight, too—among themselves.
After coach Tom Izzo and forward Gabe Brown carried a shouting match into the halftime locker room, the Spartans proceeded to blow an 11-point lead over the next 20 minutes. UCLA forced overtime with Jaime Jaquez Jr.'s three-point play with 3.3 seconds to go, then pulled away in the extra session for an 86-80 victory at Mackey Arena on Thursday night.
The Bruins' Cody Riley hit a foul shot with 26 seconds left and, after the Spartans' Joshua Langford missed at the other end, Jaylen Clark added two more to send UCLA into a first-round game against No. 6 seed BYU on Saturday night.
Jaquez finished with a career-high 27 points, Johnny Juzang added 18 and Riley and Jules Bernard had 11 apiece for the Bruins (20-7), who had backed into the tournament on the heels of four consecutive losses.
Aaron Henry led the Spartans (15-13) with 18 points, five rebounds and seven assists.
Both teams had a chance to end the game in regulation.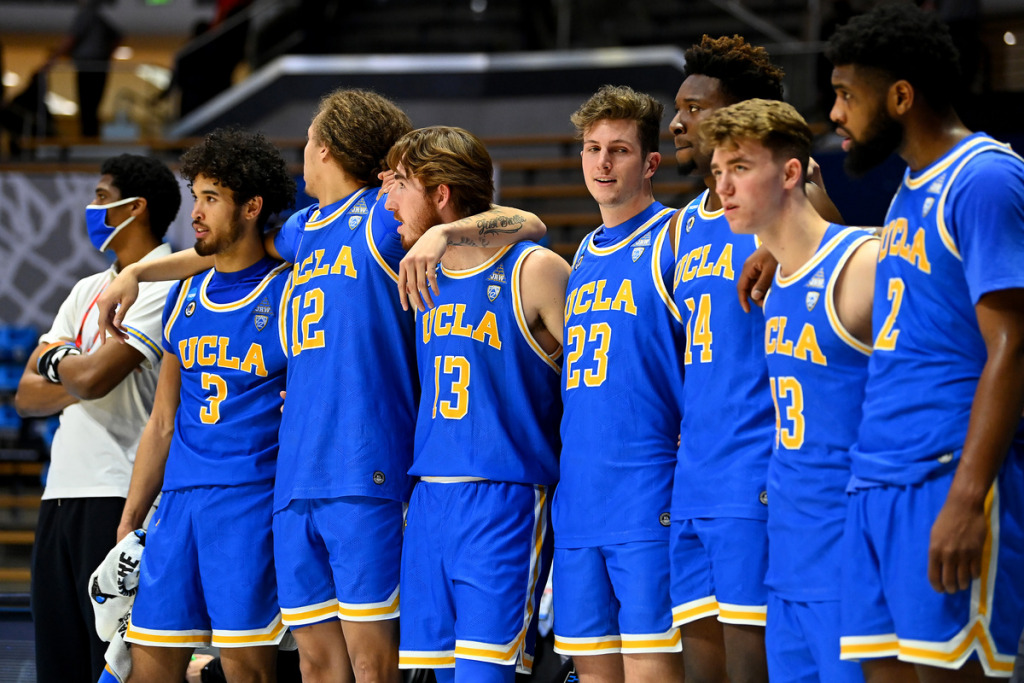 The Spartans regained the lead on Malik Hall's two free throws with 5 minutes to go, then stretched it to five moments later. But after the Bruins came all the way back, and Jaquez's three-point play knotted the game 77-all with 28.7 seconds left, the Spartans' Rocket Watts shot an airball on a 3-pointer with 3.3 seconds remaining on the clock.
The Bruins inbounded the ball and got it to Juzang, whose heave from the midcourt line bounced off the rim.
That merely delayed UCLA's first win over the Spartans in its last three tries.
Just about everything went right for Michigan State in the first half: It used two big runs minutes apart to establish a lead, then slowly extended it over the final 10 minutes, forcing UCLA coach Mick Cronin to burn two timeouts.
Well, just about everything went right.
That 11-point lead would have been more had Brown not blown a defensive assignment on Jaquez, allowing him to hit a buzzer-beating jumper. Izzo stormed out to yell at Brown, the junior forward roared back at his Hall of Fame coach, and Izzo tugged on the back of his jersey as the two continued shouting all the way up the tunnel.
The Bruins took advantage of the suddenly off-kilter Spartans.
With John Wooden's retired Purdue jersey looking down from the rafters, the program he built into a dynasty went on a 10-2 run early in the second half. The Bruins got 3-pointers from Jaquez and Juzang, clamped down on defense and for a long stretch would have made the Wizard of Westwood proud on both ends of the floor.
They did most of it with starting forward Riley sitting with four fouls, too.
Riley was back on the floor for a crucial free throw in overtime, and the Bruins survived to make it a good start to their 50th appearance in the NCAA Tournament.
Please enable JavaScript to view this content.