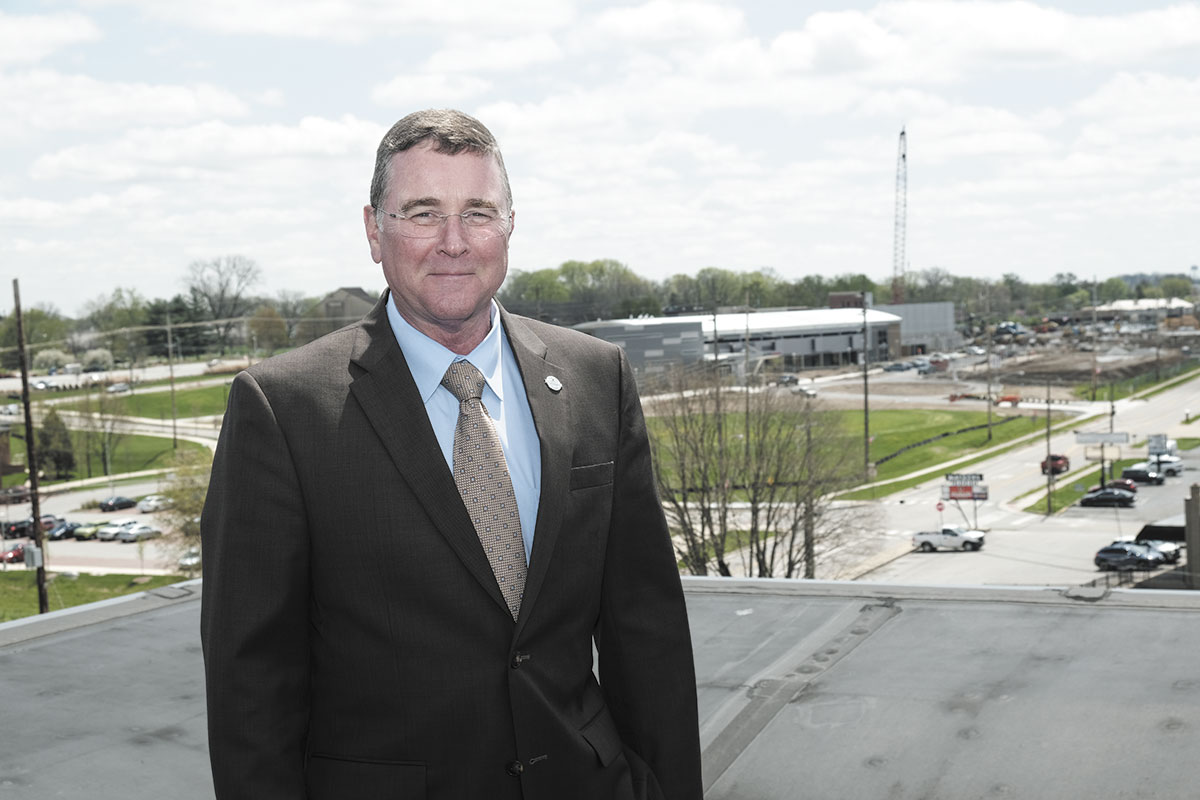 Mayor Mark Myers hopes the Greenwood Fieldhouse will draw visitors to the multi-use development on the south end of the Johnson County city's downtown. (IBJ photo/Eric Learned)
A $92 million, mixed-use redevelopment project—the first of its kind in this city of 64,000—is taking shape on a 19-acre site in downtown Greenwood after nearly a decade of planning.
The development known as The Madison sits just north of Smith Valley Road on a triangular parcel between Madison Avenue and Meridian Street, on the site where Greenwood Middle School once stood at 523 S. Madison Ave.
The first piece of The Madison, a 65,000-square-foot, city-owned sports facility called the Greenwood Fieldhouse, opens Friday.
Construction is under way on four other buildings that will house a combined 329 upscale apartments and 18,700 square feet of retail space, along with a 356-space parking garage. All are expected to be completed from March to October next year.
The project also includes 18 town houses in two buildings, plus a proposed 42 or more condos in yet another building, all of which are slated to begin construction from this August to late next year.
The big-picture goal: Revitalize the city's downtown core, which currently offers little in the way of restaurants and rental housing, even as other parts of the city are booming with commercial and residential growth.
"We know that, if we build these amenities, it will bring people in," said Greenwood Mayor Mark Myers.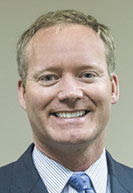 The city began actively planning The Madison project in 2013 and, since 2017, has completed a host of downtown roadwork, streetscaping, parking and park improvements. The city acquired the former middle school property for $1 million in January 2017, released a master plan for the site in late 2019 and last year signed an agreement with private developers CRG Residential and Great Lakes Capital, who are handling the residential and retail portions of the development.
Carmel-based CRG Residential and South Bend-based Great Lakes Capital are investing $68 million in the project, which includes equity capital from both developers plus debt financing from Warsaw-based Lake City Bank and other lenders.
Great Lakes Managing Director Clay Scheetz said his firm was attracted to the project by both Greenwood's growth trajectory and its leaders' commitment to the project.
"All of those folks were really on the same page in terms of their vision for driving business … and also wanting to develop the downtown core," Scheetz said. "It wasn't just pretty words."
According to U.S. Census figures, Greenwood's 2020 population was 63,830—up from 49,791 a decade earlier.
The city of Greenwood contributed $15 million for the parking garage and streetscaping within The Madison. The city also issued $9 million in bonds to pay for the Fieldhouse.
The Fieldhouse, a city-owned recreational facility, offers an array of sports and fitness amenities for both residents and visitors. It occupies what was formerly Greenwood Middle School's north gymnasium—the only part of the school campus that was not demolished after the school moved a couple of miles southwest.
The facility includes two indoor turf fields for team sports like soccer or lacrosse; indoor courts for basketball, volleyball and pickle ball; an elevated indoor walking and running track; and two conference rooms and three golf simulators available for hourly rentals.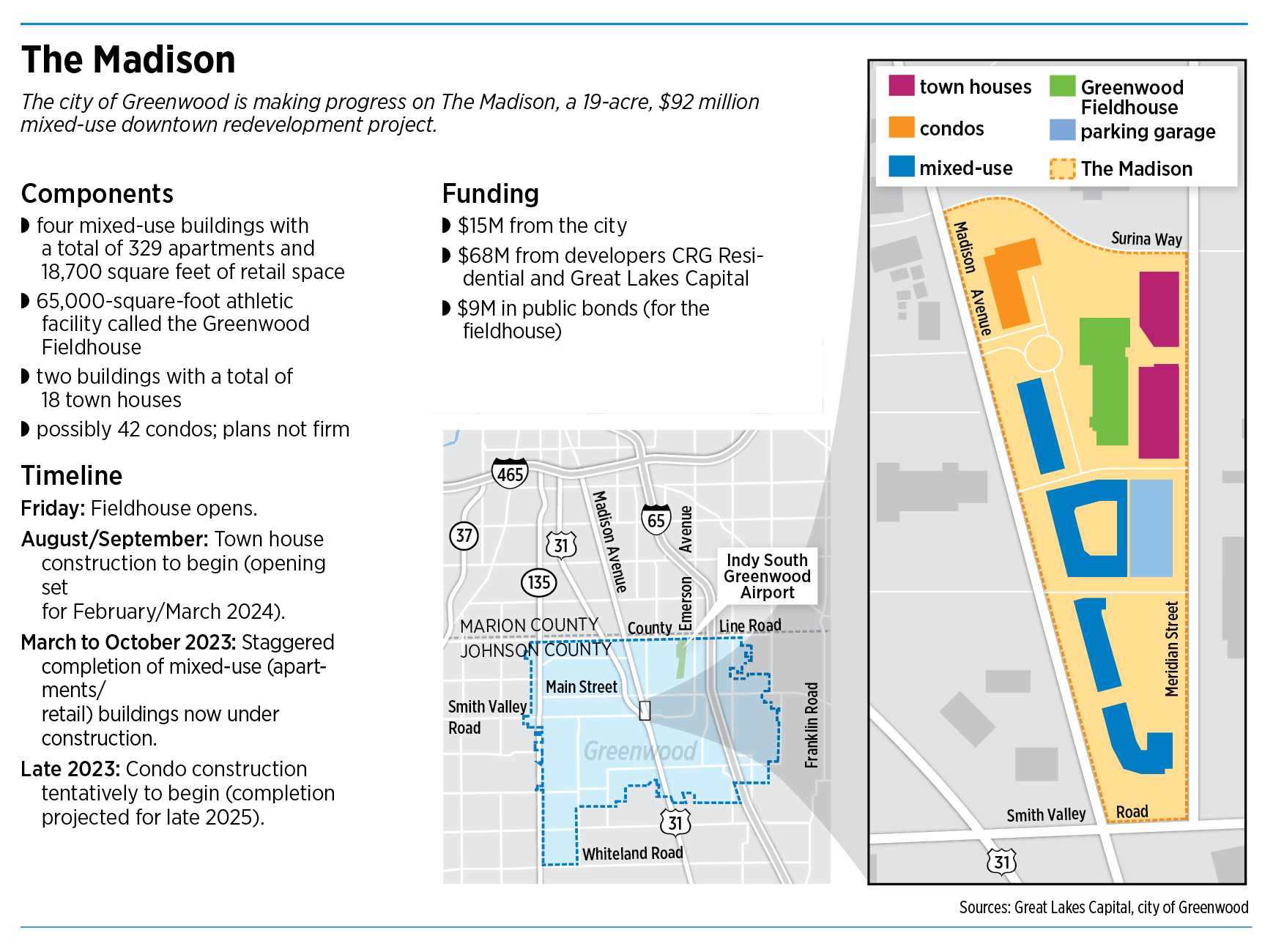 Originally set to open last fall, the Fieldhouse's grand opening was delayed for multiple reasons, including the pandemic and related supply-chain problems.
Myers said he hopes having the Fieldhouse open will draw visitors to The Madison and help attract potential residents once the development's neighboring apartments are complete.
"We wanted to get that [fieldhouse] done as fast as we could, to bring a draw to downtown," the mayor said.
Scheetz said the apartments will be a mix of studios and one- and two-bedroom units, with monthly rents likely in the $1,100 to $1,600 range.
Those rents are on the high end for Greenwood, but outside developers say there is an appetite for housing in that price range.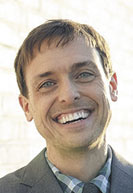 "I think people are going to be surprised about the demand that they find" for upscale apartments in downtown Greenwood, said Matt Griffin, chief operating officer for Greenwood-based developer The Garrett Cos.
Garrett is not involved with The Madison, but the company develops upscale apartment projects around the country, including in its hometown.
In 2020, Garrett completed The Verge, an upscale apartment development at 764 Greenwood Springs Drive, southeast of the intersection of County Line Road and Emerson Avenue and just west of Interstate 65. That site is about three miles northeast of The Madison.
The developer is also in the early stages of construction for The Hangar on Emerson, a 238-unit complex near the southwest corner of County Line Road and Emerson Avenue, near Greenwood's municipal airport. That project is expected to be complete late next year.
Griffin said The Verge offers proof that there is a demand for high-end housing in Greenwood.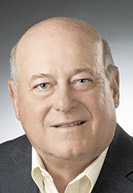 Garrett sold The Verge to Carmel-based developer J.C. Hart Co. Inc. last year. The development offers one-, two- and three-bedroom units, with monthly rents averaging $1,415, said J.C. Hart founder John Hart. The development is currently 97% to 98% occupied, he said.
Hart, whose portfolio also includes several other stand-alone apartment developments in Greenwood and on the south side of Indianapolis, said there is enough demand to make The Madison a success.
Assuming that rental rates are no higher than about $1,600 per month at The Madison, Hart said, "I think that that is workable and there would be reasonable absorption at that rent level."
Apartment developments typically need occupancy rates of 82% to 85% to break even, Hart said, and an occupancy rate of about 90% is usually ideal.
Other factors in The Madison's favor are its location and the scarcity of higher-end apartments in that part of the metro area, he said. "There are very few upscale apartment projects on the south side."
Once the apartments are done, The Madison's developers will turn their attention to other housing types at the site.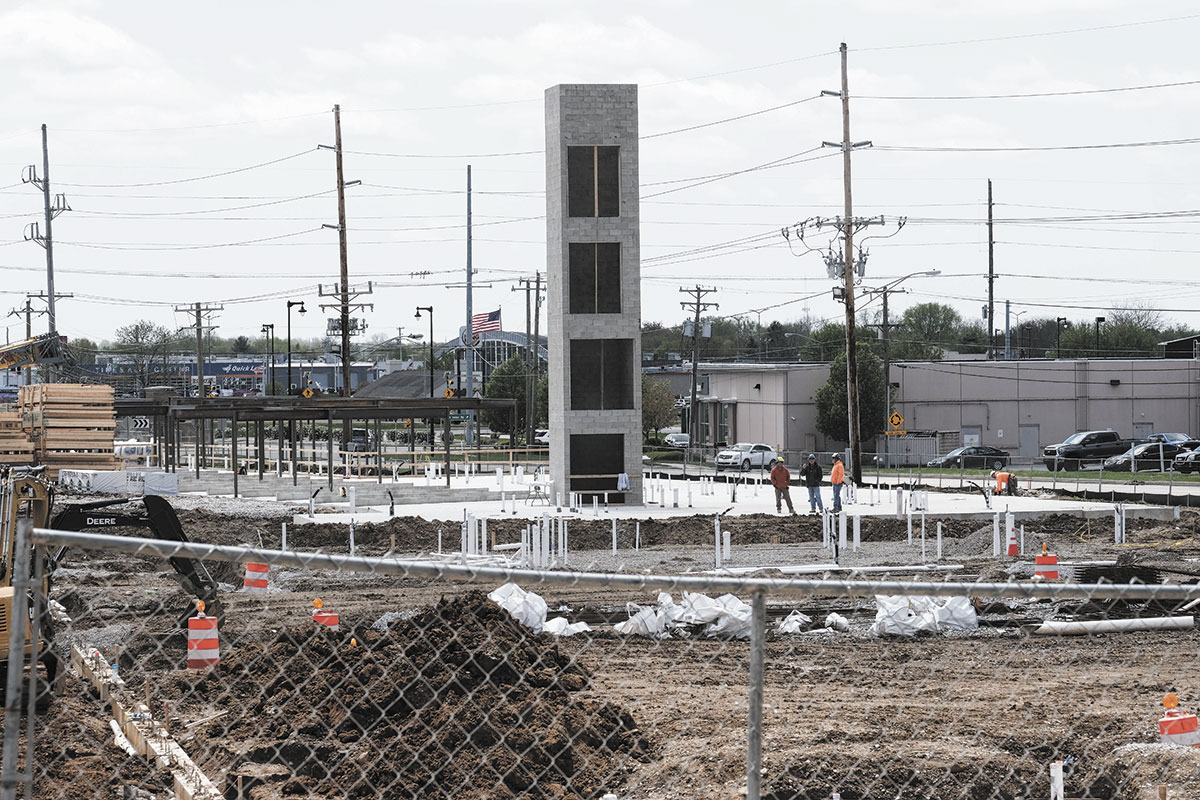 Scheetz said Great Lakes and CRG expect to begin construction in August and September on two adjacent buildings that will contain a total of 18 town homes.
The developers also have an option to purchase a two-acre, city-owned parcel in the northwest corner of The Madison site, at the corner of Madison Avenue and Surina Way.
Plans call for a four-story building on that parcel, with ground-floor parking topped by three floors of condos—42 units in all.
Scheetz said Great Lakes and CRG are working on designs for the condos now. They want to do some pre-sales to gauge market interest before committing to purchase the additional parcel and move ahead with the condos, but Scheetz said all indications for the project are positive. "We still remain very interested in it."
Assuming the condo building proceeds, Scheetz said, construction would likely start in late 2023, with completion in 2025.
Taking a wider outlook, Griffin said The Madison could be a signal of things to come in Greenwood. He thinks the mixed-use development activity that has flourished in Hamilton and Boone counties in recent years might be set to shift to the south side. "The northern suburbs have gotten expensive, and the available land is sort of spoken for."•
Please enable JavaScript to view this content.