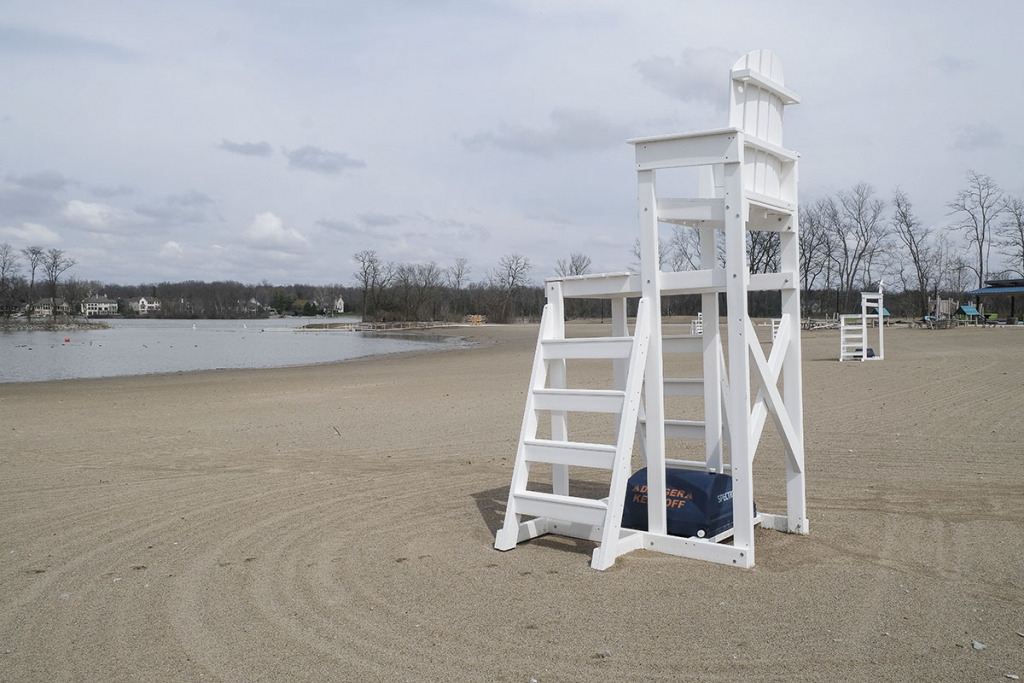 The Fishers City Council on Monday night approved a $50 daily parking fee for nonresidents who want to visit Geist Waterfront Park during the summer beach season.
People who do not live in Fishers will pay the parking fee from Memorial Day weekend through Labor Day weekend. Fishers officials will reevaluate the fee after this year.
The city council voted 7-2 to approve the $50 parking fee with Democratic council members Jocelyn Vare and Crystal Neumann voting against the ordinance.
Parking fees for nonresidents will apply to individual vehicles regardless of the number of occupants.
During beach season, the parking lot will be available to Fishers residents who registered for a free Fishers SmartPass and non-residents who pre-purchase a $50 parking pass at least 48 hours in advance.
Parking passes for the 250-space lot will not be sold on-site. Nonresidents who bike or walk to the park will not be charged.
Vare said the $50 fee sends a message to people who live outside Fishers that they are not welcome in the city. She proposed amending the charge to $10 per vehicle for nonresidents, but her motion did not receive a vote.
"I don't know the last time you spent 50 bucks to park somewhere," Vare said. "You don't even pay that much for Disney World, so it feels off and out of proportion."
Mayor Scott Fadness responded to the idea of lowering the parking fee by saying it would encourage people to not drive together, which would decrease the number of available parking spots at the park. He said the park does not have the capacity to support a larger parking facility with more spots.
"Imagine if it's $10, so now an individual says, 'I'll just drive my car,' and now you have 20 people that show up with one person in the car," Fadness said. "You're denying not only Fishers residents, but probably other people that would want to utilize that park because there isn't significant parking around. So, now all of a sudden, you could fill up a good portion of the parking lot with just individuals, so now you're not utilizing the asset to the extent that you could be."
Several councilors spoke in favor of the $50 charge for nonresidents with some comparing it to the cost of a family visiting Conner Prairie, Topgolf or The Waterpark in Carmel.
"I think $50 is an absolutely reasonable fee and to suggest that we go to $10, I think it is ridiculously low," Councilor John Weingardt said. "To me, as a taxpayer here in Fishers, I just I can't live with that. Fifty dollars, I think, is a good place to start."
The city expects more than 150,000 visitors will come to the park during beach season. Another 100,000 people are anticipated during the cooler months of the year when no parking fee will be in effect.
Visitors to the park at 10811 Olio Road will find a 100-yard-long beach along a cove with a channel connecting the cove to Geist Reservoir, trails, a boat launch, a playground with a pirate ship theme and vendors.
Geist Waterfront Park is open 8 a.m. to 6 p.m. until May 22. Beginning May 27 and running through Labor Day weekend, the park will be open from dusk to dawn with the beach open from 10 a.m. to 8 p.m.
Please enable JavaScript to view this content.