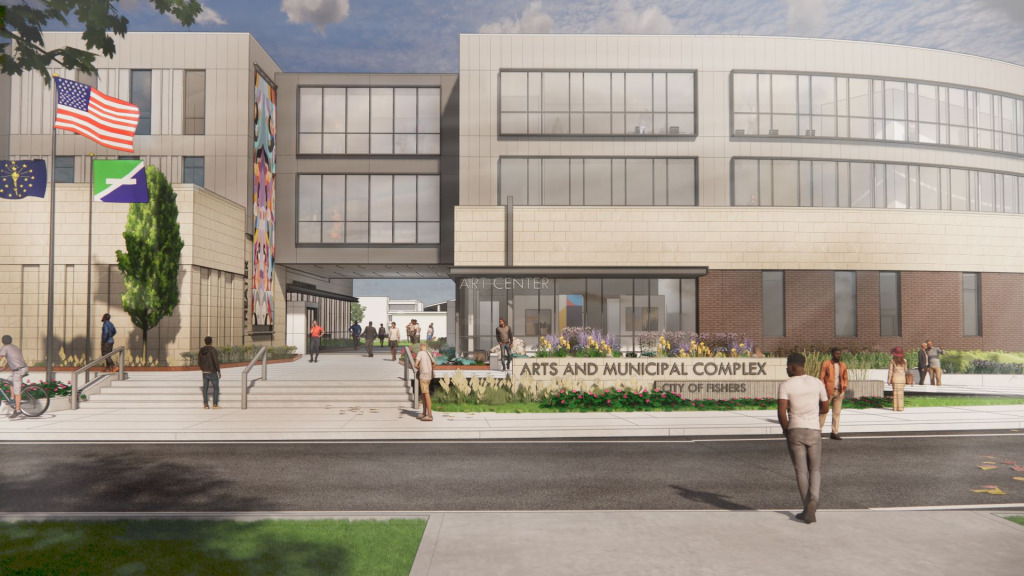 The city of Fishers on Monday revealed plans at its City Council meeting for new $22.8 million building that will replace its existing city hall and house the Fishers Art Center.
Construction on the three-story Fishers Arts & Municipal Complex is expected to begin this fall after the 31-year-old city hall building is demolished, with an estimated completion of March 2024.
Fishers requested proposals for a new building late last year after an engineering inspection found the existing city hall in need of millions of dollars in repairs to mitigate foundational and mechanical failures. The two-story, wood-framed building at 1 Municipal Drive has been slowly sinking into the ground for three decades.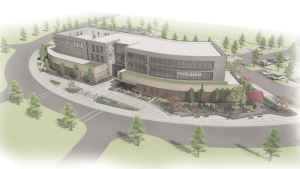 Plans call for the Fishers Arts & Municipal Complex to take over the existing footprint of the 37,000-square-foot city hall, with a slight expansion in area to the east and west.
The first floor will be dedicated to the Fishers Art Center, an arts education facility with exhibit, performance and gathering spaces. The arts center will feature a flexible studio-style theater with varying configuration options to accommodate different performances, meetings, and events.
The theater is expected to seat up to 250 for performances and more than 330 for flat-floor events. Fishers-based artists, performance groups and not-for-profits will have priority usage of the theater space, officials said.
Fishers said it plans to enter into an operator's agreement with the Indianapolis Art Center to program and operate the facility.
Officials said the Fishers Art Center was included in the complex after feedback indicated a desire for more arts education and experiences in the community.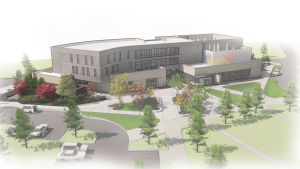 "We've been able to leverage an unfortunate situation into an opportunity to answer a longstanding need in our community and to continue making investments in arts and culture in Fishers," Fishers Mayor Scott Fadness said in written comments. "I'm grateful for the collaboration of Fishers' arts groups, the Indianapolis Arts Center, and the City Council to make this a reality. Upon completion of this building, our arts community will have a home, and city staff will be able to better collaborate and effectively serve our community every day."
The second and third floors of the complex will house city administrative offices, with about 60 office spaces available.
Officials said the office space will accommodate current municipal staffing levels while allowing for future growth if needed.
The Fishers City Hall houses offices for the mayor and the city's administration, customer service, planning and zoning, economic development, engineering and communications departments. About 20 to 35 city employees work in the building on a given day.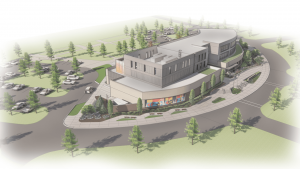 Fishers said current parking lot access and capacities would be maintained at the new building.
During construction, residents conducting business with the city will be able to use the City Services Building at 3 Municipal Drive.
Fishers-based general contractor Meyer Najem Construction and Indianapolis-based architectural firm Delv Design, who teamed up on the Fishers Fire Department's new downtown station and headquarters, were awarded a design contract for the municipal complex in December 2021.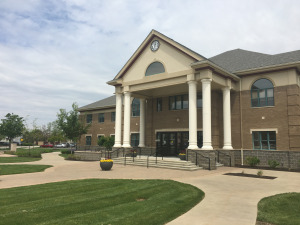 Designs call for a large pedestrian breezeway in the center to allow access to the Nickel Plate District Amphitheater and a façade featuring Indiana limestone, brick, metal paneling and glass walls.
Landscape architecture is being managed by Indianapolis-based Browning Day. New York City-based Theatre Projects will design the theater.
A budget proposal presented by Fishers Deputy Mayor Elliott Hultgren and City Controller Lisa Bradford includes $6 million in American Rescue Plan Act funds and $16 million in municipal bonds, with the remaining balance using city cash reserves. The city said no property or income taxes would increase due to the project.
Please enable JavaScript to view this content.