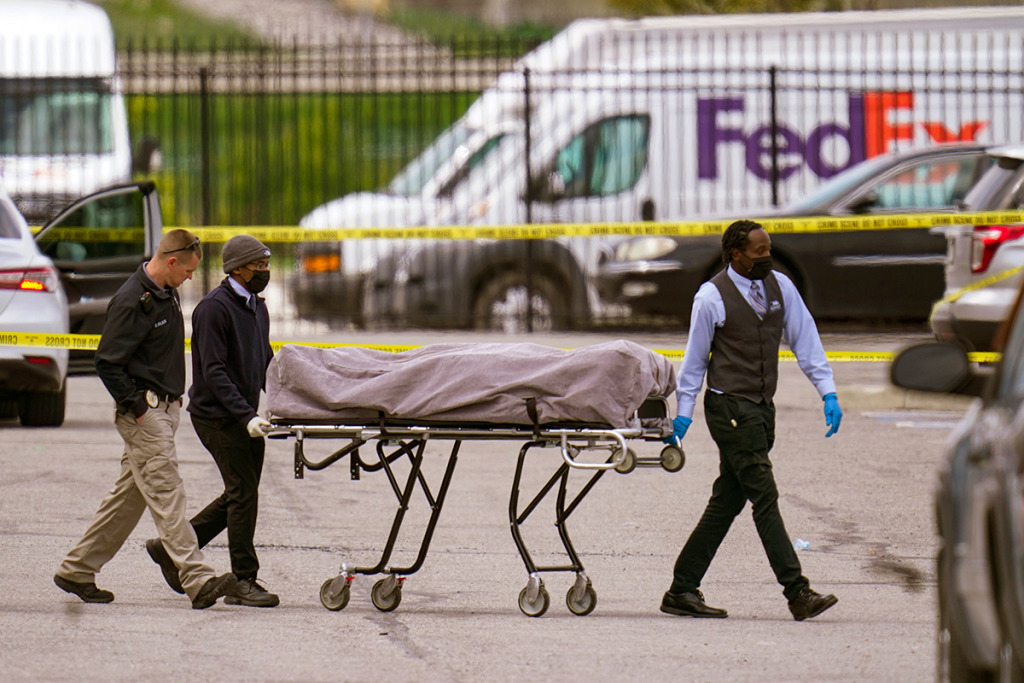 The families of five of the FedEx Ground employees who were killed in a mass shooting nearly a year ago at one of the delivery giant's facilities on Indianapolis' west side are suing the company and a security firm in federal court.
The suit, filed Monday in U.S. District Court for the Southern District of Indiana, names as defendants FedEx Corp., FedEx Ground Service System Inc., Federal Express Corp., FedEx Corporate Services Inc., and Securitas Security Services USA.
The plaintiffs cite six counts in the suit, claiming the defendants are guilty of various forms of negligence that led to the employees' deaths. The suit claims that Securitas, one of the world's largest security companies, provided unarmed security guards for the facility.
The defendants "failed to exercise ordinary care in the carrying out of their respective duties on and prior to April 15, 2021 and [their] singular and combined negligence and gross negligence was the direct and proximate cause" of the deaths, according to the suit.
Indianapolis attorney Daniel Chamberlain of Cohen & Malad LLC and Georgia attorney Melvin Hewitt of Isenberg & Hewitt, P.C. are representing the families.
"It is our pleasure to represent these folks in this devastatingly horrible situation that was preventable," Chamberlain said during a Monday press conference.  "Not only preventable, but these types of situations cannot continue in the U.S. — let alone in the state of Indiana. This is one of the worst mass shootings and frankly unnecessary."
The plaintiffs have requested a trial by jury. They are seeking unspecified damages, as well as compensation for attorney costs.
The shooting occurred at a FedEx Ground facility near the Indianapolis International Airport on April 15. Brandon Hole, a former employee, shot and killed eight people within minutes, before turning a gun on himself.
Those who died were Matthew Alexander, Samaria Blackwell, Amarjeet Johal, Jasvinder Kaur, Amarji Sekhon, Jaswinder Singh, Karli Smith and John Weisert.
The plaintiffs represent the estates of Johal, Sekhon, Kaur, Smith and Weisert.
Family members of Johal and Smith sat with their attorneys Monday to share their thoughts on why they filed the suit and what they hope will happen.
"Losing her is one of the biggest devastations in our life," said Gurinder Johal of his late mother, Amarjeet. "I'm still trying to process the whole situation. The only thing I keep processing is that this whole situation was preventable."
Matt Alexander said losing his daughter Karli has been a traumatic experience for his family and younger children.
"It is an ongoing process for me to try to comprehend because no one should ever have to bury their child," Alexander said. "But if something can be done to even slightly increase the procedures and policies not just at FedEx but everywhere else, to let people know that this can't happen again and to prevent any other family or person from going through this senseless tragedy, that would be a plus in everybody's book."
Johal noted that many members of the Sikh community who worked at the facility have not returned due to fear and safety concerns. However he said that he does not believe that the shooting was a hate crime.
Hewitt previously represented victims of a mass shooting at another FedEx Ground facility in 2014 in Kennesaw, Georgia. He says that the company has ignored safety concerns.
"FedEx can't say, 'Oh gee, we didn't know these things were going to happen,'" Hewitt said. "If we didn't believe sincerely in this case and the flaws in what happened that led to this, what we consider to be a clearly preventable tragedy,  we wouldn't be here."
A representative of FedEx Corp. said Monday that the firm was aware of the lawsuit and reviewing its allegations.
"We continue to mourn the loss of our team members in the senseless tragedy that occurred nearly one year ago," the representative said in an emailed response. "FedEx Ground's top priority is the safety of our team, and we have provided and continue to offer support in multiple ways to those affected, including employee assistance programs that are available 24/7, as well as the establishment of the Indianapolis 4/15 Survivors Fund in coordination with the National Compassion Fund."
A representative for Securitas Security Services USA said the firm does not comment on pending litigation.
Please enable JavaScript to view this content.