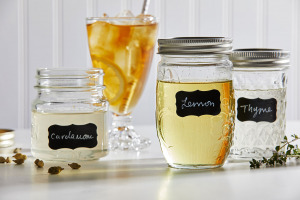 The Washington Post Food staff and food writer Charlotte Druckman recently answered questions about all things edible. Here are edited excerpts from that chat.
– – –
Q: I have some flavored simple syrup as a byproduct of making candied fruits: lemon, orange, and grapefruit. What should I do with it?
A: Cocktails and mocktails! For cocktails, all of these sound great added to tequila, lime juice, and triple sec for a citrusy margarita. Or just add the syrup straight to sparkling water for an instant homemade soda.
– Mary Beth Albright
Q: Could a sour mix be frozen? Would love to have some on hand in the freezer!
A: Yes, it can be frozen. You may want to do so by using an ice cube tray and portioning it out by ounces, rather than in a bottle (it may expand too much in a sealed container). The cubes may be a bit sticky, and you'll want to smell and taste for off-aromas depending on how long you freeze them for.
– Carrie Allan
– – –
Q: My husband and I have recently gone to a mostly vegetarian diet (we do add the occasional seafood, but no beef, pork, or chicken.) If I'm not adding seafood, what are the best ways to make sure I have enough protein in our diets? Neither of us likes tofu, so that limits us somewhat.
A: Is this a plant to get me to say "beans"?
BEANS! Seriously, they are the answer to getting enough protein – along with fiber and other nutrients. I've found that it's so easy to work them into your diet by adding them to all manner of dishes.
– Joe Yonan
– – –
Q: I'm planning to make vanilla extract and have seen various recipes calling for anywhere between 3 and 7 vanilla beans and letting the mixture sit anywhere from one month to a year.
A: Making vanilla extract is extremely gratifying, and you are guaranteed never to buy the premade stuff again because of all the money you save making your own. There's no right or wrong formulate on making it, but I like to use 1 bean for every 2 fluid ounces of alcohol. Most people prefer vodka for their extract base; I've enjoyed that as well as brandy and/or bourbon if I'm in a pinch. You cut your beans lengthwise, place them in a bottle or jar of your choice, add the alcohol and leave a little room to shake, shake, shake. I like to give my extract about a month before I use it, and I shake it twice a day, but if I skip a day, I don't lose sleep over it. I store it in a dark, cool place, and that's about it.
– Olga Massov
– – –
Q: Every recipe in a book of muffin recipes calls for superfine sugar, which I don't have. Is it okay to use regular sugar instead, maybe crush it with a pestle? Tomorrow's breakfast depends on your answer.
A: Do you have a food processor? You can process/pulse regular granulated sugar until it's the texture of superfine.
– M.B.A.
A: I feel like it won't really matter for muffins. I subbed regular sugar for superfine in a cake recipe a while back and it turned out exactly how it should.
– Kari Sonde
Please enable JavaScript to view this content.