Chef Kristine Bockman and her husband, John-Christian Bockman, opened GoldLeaf Savory & Sweet, a cafe and coffee shop, in June 2020 at 1901 E. 46th St., in what's become known as the SoBro neighborhood of Indianapolis.
Originally, GoldLeaf wasn't supposed to focus on coffee—and it certainly wasn't supposed to open during a pandemic. But construction delays and then an injury Kristine Bockman suffered while working on the storefront delayed its start and changed the mission from a wine-and-appetizer bar to something broader.
Today, GoldLeaf serves what it labels "snacks" (Wasabi Grilled Cheese, a Croissant with Gruyere and Ham, for example); offers an espresso bar (cappuccinos, cold brews, mochas, etc.) and serves beer and wine in an eclectic café filled with plants and art.
Bockman, 48, talked to IBJ about the business.
What is your background?
Well, I have zero background in coffee shops, other than I lived in Seattle for 17 years. But I have been in the restaurant industry for a hundred years, probably. My grandparents raised me. My grandmother was a baker. My grandfather was a chef. I went to culinary school. I owned a catering business in Seattle. I was a sous chef at an Italian restaurant in New York city. And I knew that I wanted my own restaurant.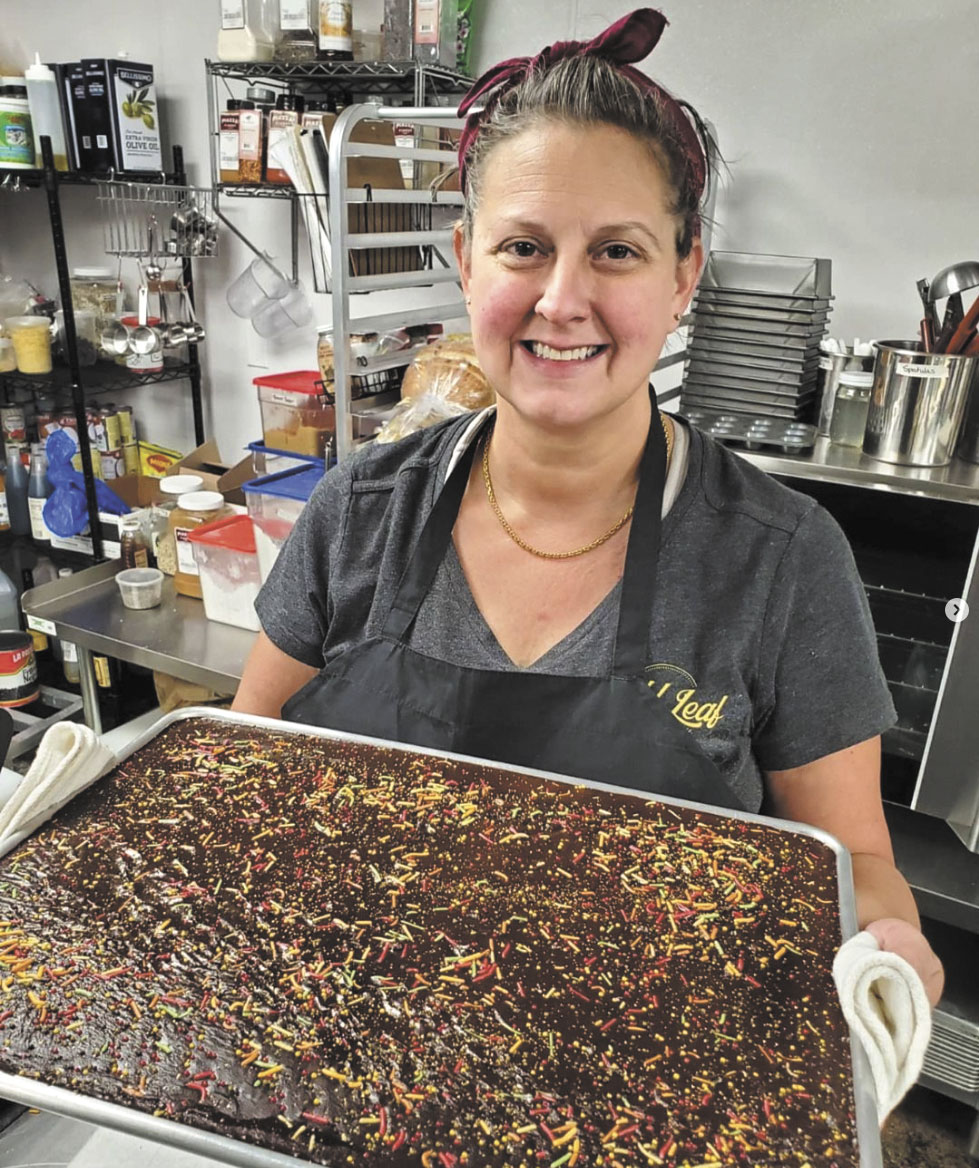 I knew I didn't want it in a big, big, big city, like New York. And I knew that we, we wanted to get back to the Midwest somewhere. My husband's originally from Indiana. And we knew we wanted to be closer to his parents because they're getting older.
We moved to this neighborhood, and I fell in love with this building. I was obsessed with it thinking that would be the perfect spot [for a restaurant]. And then it was available one day and I took it.
How long ago was that?
2018.
How would you describe your food?
Oh God, I don't know. Delicious. How's that?
It's simple. You know, in this neighborhood, we're not trying to be fancy. … My love language is food and I want everyone to love my food. I want to build the trust of my community. So when I do throw out something boujie and ridiculous, it's not going be scary, because you are going to already trust that I'm going to make you something good.
What brought you to this neighborhood?
When we first moved to Indy, … we lived downtown for about a year. But I just have always loved this neighborhood. When we decided to buy a house, we were looking to buy specifically where we hung out—and we hang out in South Broad Ripple.
So we bought a house about seven years ago, just up the street and on Primrose. And so here we are.
We would drive past here on 46th Street on our way to work [at Tiny Footprint Distribution] and it was so annoying there was no place to get coffee besides a gas station. I was like, "We should open our restaurant on 46th Street to offer coffee for people like us."
How do you feel like 46th Street is changing?
I think it's changing for the better. The small businesses that are on this street are really passionate. Most of them live in this neighborhood and they're really passionate about changing the neighborhood—not to change it, but to enhance it, to have places for people to come and congregate and hang out or have a service that's actually useful. We want the neighborhood to come together. And I think, I think that we are doing that.•
Please enable JavaScript to view this content.