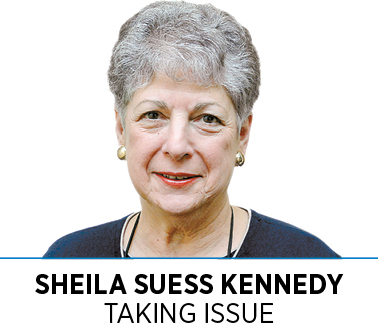 If you are reading this column in IBJ, good for you. IBJ readers are getting more information about the city and state than are most area residents. Unfortunately, the fact that this publication doesn't qualify as—or aim to be—a "mass" media outlet means the local information environment you occupy isn't widely shared, and that's a big problem.
It's bad enough that our national fragmented media environment encourages confirmation bias. Both Republicans and Democrats visit sources for national "news" that feed their preconceptions—one of the many reasons America seems ungovernable. But at least credible national news is widely available.
Local journalism, however, has been decimated.
Today, over 65 million Americans live in counties with only one local newspaper—or none at all—and so much of what ails us can be directly traced to the evisceration of what used to be an "information commons," a shared reality. Twenty or more years ago, when Indianapolis residents picked up their local newspapers, they might have been looking for different things, but at the very least, they saw the same headlines. It's true that they saw only reports journalist-gatekeepers had decided were newsworthy, but those reports were widely shared.
Since 2008, publishers have cut newsroom employment by about half, significantly curtailing the amount of news their staffs can effectively cover.
The collapse of the business model that sustained local newspapers is well-known; the consequences, however, are only beginning to be appreciated.
The Brookings Institution reports that the "declining capacity of newsrooms to investigate potential stories not only renders newspapers less valuable to news consumers, but also results in a newspaper that is less valuable to its community. When important stories are not told, community members lack the information they need to participate in the political process and hold government and powerful private actors accountable."
In The Washington Post, Margaret Sullivan reports that over 2,000 local newspapers have gone out of business in the past 15 years—and more significantly, many of those that are left are "phantoms of their former selves."
Here in Indianapolis, The Star's decline in subscribers is a result of the steep decline in its news coverage, and the recent merger between Gannett and GateHouse promises even more draconian cuts. (Politico points out that both GateHouse and Gannett have consistently cut staff and quality, and that additional layoffs are likely.)
PEN America, the free-speech advocacy organization, recently completed a study of the problem, its causes and its implications, and found that "across the nation, school boards are going unwatched, local contracts receive coverage indiscernible from press releases, and local and national politicians are seldom brought under the microscope."
Taxpayers suffer when there is no longer a media "watchdog." Cities without adequate coverage of government pay higher interest rates when they issue bonds because investors factor in the greater risk of incompetence or corruption. The loss of local coverage has been implicated in reduced turnout rates in state and local elections, and fewer candidates running for local offices.
Perhaps the most problematic consequence, however, is the loss of a trusted, shared information environment. As Sullivan writes, "One of the worst parts about what has happened is that local news sources are relatively well-trusted. In an era of deep antipathy toward the media, that's no small thing. They still are one of the ways that many communities maintain a sense of unity and shared facts."
When no one is watching and reporting, is there even a community?•
__________
Kennedy is a professor of law and public policy at the Paul H. O'Neill School of Public and Environmental Affairs at IUPUI.
Please enable JavaScript to view this content.