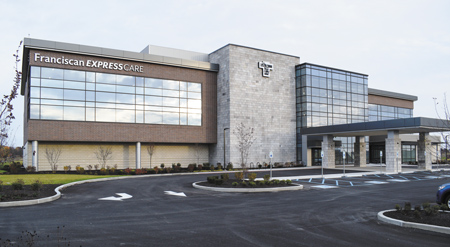 For the second time, Franciscan Health is extending the deadline for employees to get vaccinated against COVID-19, now giving them until Jan. 4 to submit proof of vaccination or to get approval for a medical or religious exemption.
The Catholic-based hospital system, with about 4,000 workers in central Indiana, confirmed on Wednesday afternoon that it was delaying its previous deadline of Nov. 15 to match President Biden's deadline for health care workers to get shots.
Franciscan issued a three-paragraph statement, saying it had "re-examined its next steps" for the COVID-19 vaccine and was now adopting a Jan. 4 deadline to comply with the federal mandate.
"Our policy is also consistent with many health care providers and other employers across the nation," the statement said.
It marks the second time the Mishawaka-based system has set a deadline for employee vaccines, only to push it back.
In July, Franciscan said it would require employees to get vaccinated or submit tests show they have immunity to the virus, with a deadline of Aug. 31, contingent with federal regulators issuing full approval of the vaccine, instead of authorizing it for emergency use.
The Food and Drug Administration gave full approval of Pfizer vaccine on Aug. 23. It has given only emergency use authorization for the Moderna and Johnson & Johnson vaccines.
In September, Franciscan said employees would need to be fully vaccinated by Nov. 15 or submit to weekly testing. Failure to comply would result in termination, the hospital system said.
Now Franciscan is extending the deadline by seven weeks to match the Biden administration's policy that workers at health care facilities participating in Medicare or Medicaid get fully vaccinated by Jan. 4.
The federal rule covers approximately 76,000 health care facilities and more than 17 million health care workers.
On Monday, a group of 12 states, including Indiana, filed a federal lawsuit challenging the vaccine mandate for health care workers.
Last week, a federal appeals court blocked another part of the Biden administration's vaccine mandate that businesses with more than 100 workers require employees to be vaccinated by Jan. 4 or be tested weekly.
The parent of Ascension St. Vincent announced in July it would require all employees to get vaccinated for COVID-10 by Nov. 12.
The St. Louis-based organization, the largest Catholic health system in the United States, employs about 14,700 people in Indiana at more than 20 hospitals and dozens of outpatient clinics and doctors' offices.
An Ascension spokeswoman in Indiana did not answer Wednesday when asked how many workers here had been vaccinated by the deadline. Instead, she provided a five-paragraph statement that spoke in general terms about the vaccine requirement.
"We want patients to be assured and comforted with the knowledge that Ascension St. Vincent  doctors and nurses, other clinicians and associates, working in one of our hospitals or other sites of care, will either be vaccinated against both COVID-19 and influenza, or in the limited instances of exemptions, be complying with additional infection prevention protocols," the statement said.
In recent weeks, other hospital systems in central Indiana have confirmed they have parted ways with employees who refused to get the vaccine.
Indiana University Health, the state's largest hospital system, said that 125 employees, or less than 1% of its workforce of 36,000, departed. Community Health Network said that less than half of 1% of the workforce of 16,000, or fewer than 80 workers, refused to get vaccinated and have left the system.
And Health and Hospital Corp. of Marion County, the organization that includes Eskenazi Health and the Indianapolis Emergency Medical Services, said 39 employees, or less than 1% of its workforce of about 5,7000 had left over the vaccine requirement.
Please enable JavaScript to view this content.