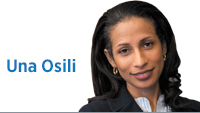 As we approach the end of the year, there is growing anxiety about a new variant of the coronavirus—omicron.
The pandemic has already claimed more than 5 million lives, with devastating consequences for communities and economies worldwide.
The World Health Organization has named omicron a variant of concern. Researchers from various nations are racing to study omicron, including transmissibility, severity of infection and vaccine efficacy.
It might take time to understand the impact of the new variant.
However, what is abundantly clear is that we will need to accelerate global partnerships to combat pandemics.
Several countries—including the United States, Israel, Canada, the Netherlands and South Africa—have now reported cases of the new variant. However, South Africa—where omicron was first identified—should be applauded for its leadership role in detecting, sequencing and reporting the variant. Instead, the U.S. and other nations have imposed costly travel restrictions on South African and several southern African countries.
Our best lines of defense are the heightened need for global collaboration in research, sharing of effective strategies and vaccination distribution. Of crucial importance is the widening gap in vaccine access, which, in contrast to border closures, has been shown to be highly effective in curbing the spread of COVID-19.
To date, more than 80% of the world's vaccines have gone to high-income countries, while low-income countries, many of them in Africa, have received just 0.6% of all vaccines. Vaccination rates in Africa are shockingly low—less than 1% of the population has been vaccinated, compared to about 40% of the population in high-income countries.
The global pandemic has taught us that expanding access to vaccines is not just the right thing to do; it is in every country's best interests.
Global collaboration should prioritize vaccine equity and the sharing of effective public-health measures. Expanded partnerships should emphasize working with non-governmental and civil society organizations to ensure that vaccines and lifesaving treatments are accessible to low-income countries and individuals.
With the evolving nature of the pandemic, the Lilly Family School of Philanthropy partnered with an international group of experts to share insights on how countries can improve their responses to the global health crisis. Their insights and recommendations are timely and relevant.
First, increased partnership between not-for-profit sectors and governments and regional and global institutions is required. Global partnerships will be critical to societies' ability to respond to the pandemic's cascading health and economic impacts.
Second, there is an urgent need to involve grassroots organizations in responding to the health crisis. Grassroots organizations, local communities and volunteers have shown efficacy in spearheading local initiatives to provide public-health information and distribute vaccines.
Third, less-restrictive funding sources will help organizations respond quickly to areas of greatest need. Not-for-profits require more flexible funding sources and reporting requirements to address the health crisis.
Finally, funders must address long-standing disparities. The pandemic has disproportionately hurt vulnerable groups, including women and girls.
We will need bold action to end the pandemic. We must build effective governmental collaborations with the private sector, enlist the assistance of grassroots organizations and expand global collaboration.
We are all in this together.•
__________
Osili is professor of economics and associate dean for research and international programs at Indiana University Lilly Family School of Philanthropy.

Click here for more Forefront columns.
Please enable JavaScript to view this content.