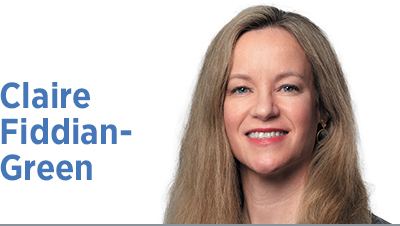 Today's headlines present a barrage of bad news: yet another mass shooting, high inflation, signs of recession, and a growing schism between the political left and right on issues such as global warming. It's hard not to let feelings of anger, fear, cynicism and hopelessness take root.
But despite our differences and the complexity of the challenges we face, we must remember that each of us has a role to play in creating a nation where all people have the opportunity to live a good life. That starts with our own actions, within our local communities.
The first step to achieving this is cultivating a willingness to understand the perspectives of people with whom we disagree. Understanding other people can help us gain empathy and begin to imagine solutions that multiple stakeholder groups can support. Finding common ground enables us to move forward together, rather than splinter further apart.
Understanding different viewpoints should take into account confirmation bias—i.e., the tendency to seek out information that confirms our beliefs. Confirmation bias leads to poor decision-making, because it reflects a limited perspective. To combat this common mistake, we should all make an effort to source news from both right- and left-leaning media.
We should also take steps to grasp the full scope of a challenge by meeting with multiple stakeholders, who often experience the same circumstances very differently. These steps can help us formulate a more comprehensive picture of an issue and start to identify root causes. But understanding is only the first step toward creating an environment where all people have the opportunity to thrive. We must also take decisive actions to remove the barriers that prevent too many people from achieving the American dream. The two places where Indiana should focus with laser-like intensity are helping people obtain a good education and find well-paying jobs. Education and employment won't guarantee happiness, but they are crucial foundations for living a life characterized by opportunity rather than despair. When people believe their future is hopeless, they are more likely to act in ways that tear their communities apart. Economic security, on the other hand, provides hope and the wherewithal for people to engage in strengthening their communities.
The Indiana Commission for Higher Education's new College Readiness Report provides a road map for where we can start. According to the report, the college enrollment rate for high school students in Indiana has plunged from 65% to 53% in the past five years. This rate is even lower for Black and Hispanic/Latino students, at 43% and 44%, respectively.
These outcomes are alarming, because more than 60% of jobs in Indiana require education after high school. Moreover, adults with only a high school diploma have higher unemployment rates and earn lower median wages than those with some form of postsecondary education.
The report outlines policy recommendations for increasing college enrollment. Employers can also help by implementing work-based learning programs for high school students that incorporate an ability to earn postsecondary credits and industry credentials. These programs provide students with pathways to college and well-paying jobs while also addressing an employer's staffing needs. Local workforce intermediaries Ascend Indiana and EmployIndy can assist employers with turnkey programming offered in partnership with K-12 schools and higher education institutions.
Our nation appears more divided than ever. Instead of giving in to anger or hopelessness, each of us must take action to help our communities come together and help more people achieve the American dream.•
__________
Fiddian-Green is president and CEO of the Richard M. Fairbanks Foundation, whose mission is to advance the vitality of Indianapolis and the well-being of its people.

Click here for more Forefront columns.
Please enable JavaScript to view this content.