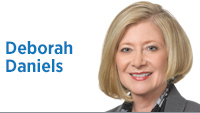 Striking the precarious balance in our criminal justice system necessary to a civil society is a constant struggle.
In recent years, legitimate concerns have been expressed about the disproportionate imprisonment of non-violent offenders. Communities across the country have sought to manage them through probation with accountability, which reserves scarce prison beds for more dangerous offenders. Bail-reform efforts have sought to equalize the impact of arrest so the financially disadvantaged are not forced into lengthy pre-trial jail stays when similarly situated offenders are released before trial.
Recently, we have seen mobs of armed criminals rushing into high-end stores, stealing expensive items and terrorizing customers. Some blame system reforms, but the reform efforts are not the cause. Vigorous prosecution of these cases is appropriate and fully permitted under existing laws.
The civil unrest stemming from the George Floyd killing and other deaths of criminal suspects at the hands of police, as well as the failure of many police departments to properly differentiate between peaceful protesters and rioters and looters in their response to that unrest, have led to calls for police reform.
Positive changes have occurred, including the Indianapolis Metropolitan Police Department's decision in 2020 to improve its use-of-force policy. Legislation adopted overwhelmingly by the Indiana General Assembly this year provided additional common-sense reforms that were agreed to by both political parties as well as police representatives.
But some demands for police reform on the left have gone too far, with slogans such as, "Defund the police," and calls to do away with policing entirely. Fortunately, no legislative body in the country has taken such a drastic and ill-considered step.
Some on the right who have equated protests over inequitable treatment of minorities with rioting and looting, or who wrongly assume that minorities are more prone to criminal behavior than whites, have engaged in vigilante justice, endangering the lives of innocent people.
The criminal case of Kyle Rittenhouse, the then-17-year-old who armed himself with a weapon he was too young to purchase and traveled to Kenosha, Wisconsin, to "help the police," recently ended with a not-guilty verdict.
While I strenuously opposed Rittenhouse's actions, I was not surprised by the verdict of not guilty. Once he had inserted himself into a situation that endangered himself and others, provoking others to respond to the threat he posed, their emotionally charged response might have led him to fear for his life. It was impossible for prosecutors to prove otherwise beyond a reasonable doubt.
I want to be clear: Rittenhouse was dead wrong to arm himself and patrol the streets. But there is no criminal statute punishing stupidity and naiveté. And no one—no one—should consider him a hero. He was a fool who endangered himself and others, and unnecessary deaths resulted. He will likely be found liable in a civil lawsuit, and rightly so.
On the other hand, it was gratifying to see the guilty verdict of the men who chased and killed Ahmaud Arbery in Georgia. But that case was itself a travesty in that the police and prosecutor made no move to arrest the defendants for two months, and likely would never have charged them if one had not videotaped and published the video of the shooting.
The bottom line: We need to treat all people equitably, and there is room for legitimate police reform in our society. But firm law enforcement is a critical ingredient in any civil society, and there is never an excuse for vigilantism in the name of societal protection.•
__________
Daniels, an attorney with Krieg DeVault LLP, is a former U.S. attorney, assistant U.S. attorney general, and president of the Sagamore Institute.

Click here for more Forefront columns.
Please enable JavaScript to view this content.