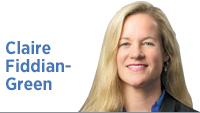 Who knew at the start of 2021 that we would enter December continuing to grapple with the impact of COVID-19 on our health, education systems and the economy? Not me. I was naively optimistic that the rollout of vaccines would help us put the coronavirus largely behind us by late summer.
Unfortunately, the sole purpose of any virus is to thrive, and COVID-19 has done a remarkably good job of doing so, while also wreaking havoc on people's lives. To date, more than 778,000 people in the United States have died from the coronavirus, including more than 16,970 in Indiana. Compare that with influenza, which led to the deaths of seven Hoosiers last flu season and 137 the prior year.
Throughout the pandemic, Indiana's health care professionals and educators have been shining examples of fortitude, adaptability and caring for others. Doctors and nurses have worked overtime to care for coronavirus patients with skill and compassion. Teachers and school administrators have pulled out all the stops to ensure children are continuing to learn, whether in person or virtually. State and local health and education officials have worked quickly to allocate federal relief funding and address emergency needs, such as access to vaccines and support for eLearning.
As we enter the holiday season, there has never been a better time to show our gratitude for these professionals. The most meaningful way we can do that is to help limit the spread of COVID-19 by getting vaccinated, wearing masks when appropriate and staying home when feeling sick so we don't pass along our germs to others. These simple mitigation steps will help unclog emergency departments and enable schools to stay open and functioning as close to normal as possible.
Another way we can support health care professionals is by donating blood. In late September, the American Red Cross announced that it faced an emergency blood and platelet shortage due to low donor turnout levels amid the delta variant surge. While it is too soon to know the potential impact of the omicron variant, it is conceivable that it or a future variant could also hurt blood donations. To help avoid future shortages, learn about becoming a blood donor at www.redcrossblood.org. Those who have been vaccinated against COVID-19 are eligible to donate.
We can show additional support for teachers by registering for the College Football Playoff National Championship Extra Yard for Teachers 5K run/walk taking place downtown on Jan. 9. Proceeds will benefit Hoosier teachers. While downtown, 5K participants can attend the other CFP Championship events taking place Jan. 8-10, including the family-friendly Playoff Fan Central at the Indiana Convention Center and the free concert series on Monument Circle. Learn more at www.indyfootball2022.com.
Finally, we can show our gratitude by helping to fund basic needs for those in our community who have been hurt by the coronavirus—including families with school-age children or those experiencing poor health—by donating to United Way of Central Indiana at www.uwci.org.
Although we have developed better tools for combatting COVID-19, the pandemic is not yet behind us. Among those who have shouldered the heaviest burden are Indiana's health care professionals and educators. As you are making your holiday to-do list, be sure to put showing gratitude for these professionals near the top of your list. We are incredibly lucky to have these everyday heroes in our local hospitals and schools.
Happy holidays, and here's hoping for better things to come in 2022!•
__________
Fiddian-Green is president and CEO of the Richard M. Fairbanks Foundation, whose mission is to advance the vitality of Indianapolis and the well-being of its people.

Click here for more Forefront columns.
Please enable JavaScript to view this content.