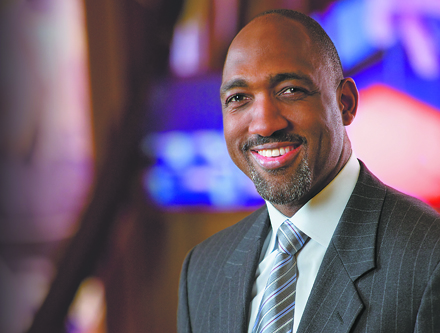 A former Eli Lilly and Co. executive and his wife are giving $1 million to the IU Kelley School of Business to help enhance diversity in business education.
The school announced the seven-figure gift from Derica Rice and Robin Nelson-Rice on Monday. It will support the Kelley School's Consortium for Graduate Study in Management.
Rice served as chief financial officer at Lilly from 2006 to the end of 2017 and then worked as executive vice president of CVS Health and president of CVS Caremark, the company's pharmacy benefits management business. He left that job in March.
Nelson-Rice has served in executive positions in marketing at Eli Lilly and AT&T.
The Kelley School helped found the Consortium for Graduate Study in Management in 1966 to try to increase the number of African American, Hispanic and Native American students pursuing management careers in business. More than 900 Consortium students have earned MBA degrees from Kelley since the organization was founded.
The donation from the Rices will create the "Rice Consortium Fellows" at IU to continue to enhance diversity in the Kelley School's masters program. The gift will fund fellowships for two first-year Consortium students and two second-year Consortium students annually.
Rice and Nelson-Rice are alumni of the Kelley School of Business and had Consortium fellowships while they were students.
"Their gift is a wonderful example of 'paying it forward,'" Idalene Kesner, dean of the Kelley School, said in a written statement. "The opportunities their gift provides to future business leaders—the gift of education—produces benefits far, far greater than one program or school or university. It is the gift that benefits entire communities."
This is not the couple's first major gift toward helping minority students. In 2018, they donated $1 million to the Center for Leadership Development, which helps African-American youth in the fourth grade and higher prepare for academic and career success.
Please enable JavaScript to view this content.