A former Eli Lilly and Co. executive and his wife are donating $1 million to the Center for Leadership Development, which helps African-American youth in the fourth grade and higher prepare for academic and career success.
The Indianapolis not-for-profit announced the seven-figure donation from Derica Rice and Robin Nelson-Rice on Wednesday morning.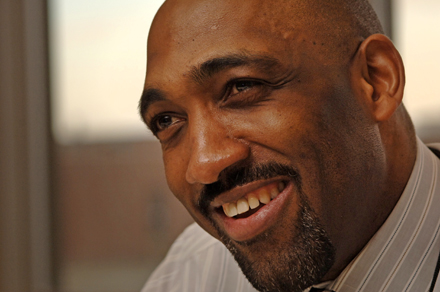 Rice (see image at right) served as chief financial officer at Lilly from 2006 to the end of 2017. His retirement from the Indianapolis-based drugmaker was announced in July.
The gift will support expanding programming and the organization's reach to local youth. The center was founded in 1977, and more than 20,000 participants and their families have taken part in its programs.
Students who are involved with the not-for-profit have a high school graduation rate of 95 percent, while only about 77 percent of African-American students statewide graduate high school. Seventy percent of CLD participants attend college and 40 percent graduate from college.
"The Center for Leadership Development is doing something that almost no one else in the nation is doing, and successfully. CLD is effectively breaking the cycles of poverty by providing a road map, tools, values and skills for young African Americans, allowing them to overcome the odds of each of their unique situations," Rice said in a prepared statement. "We have always enjoyed being a part of this transformative program and are excited to see CLD continue to grow and shape the lives of future leaders."
Rice serves on the center's board of directors, and Nelson-Rice is an alumnus of the center's programs.
"By connecting with schools, communities, businesses and higher education institutions, CLD inspires a level of academic and career achievement that is astonishing and unique," Nelson-Rice said in a prepared statement. "CLD had a profound impact on my life and I hope this gift can help impact the lives of others as well."
Please enable JavaScript to view this content.