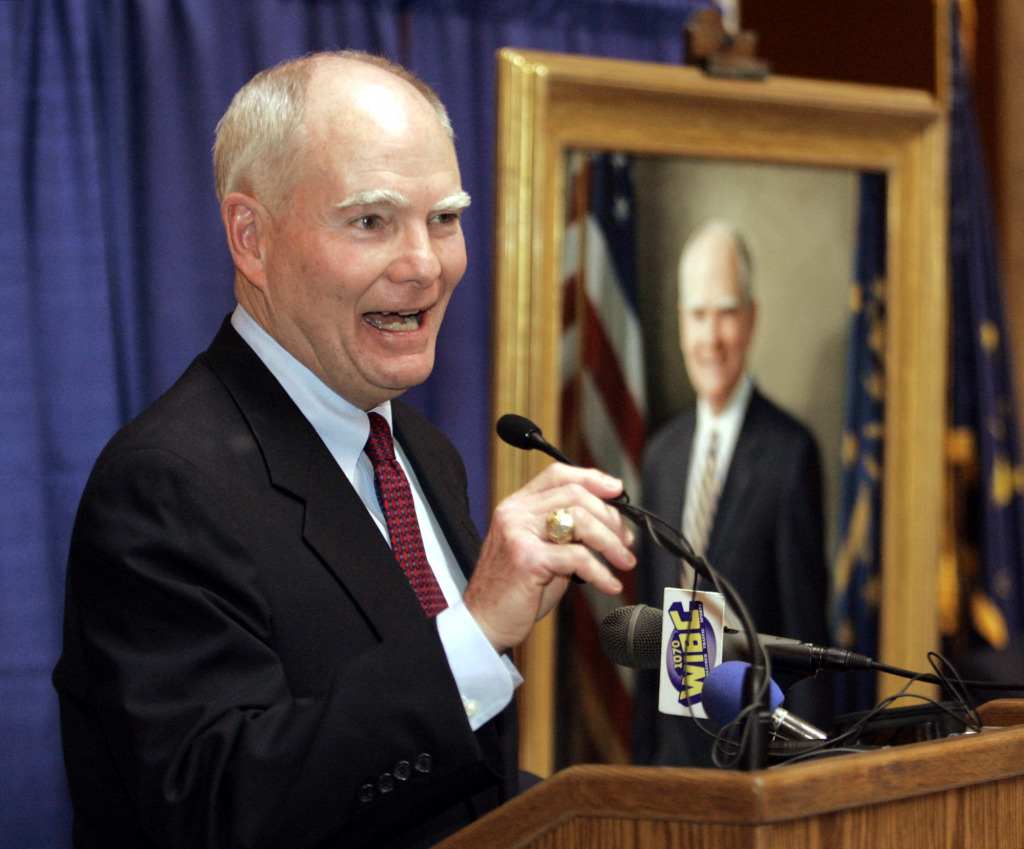 Former Indiana Gov. Joseph Kernan, a gregarious Democrat who spent 11 months as a prisoner of war in Vietnam and served as mayor of South Bend, died Wednesday morning after a battle with Alzheimer's disease. He was 74.
Kernan was elected lieutenant governor in 1996 running on a ticket with Democrat Frank O'Bannon. They were reelected in 2000, but O'Bannon died suddenly after a stroke in 2003, and Kernan ascended to the Governor's Office.
He appointed Kathy Davis to be his lieutenant governor, making her the first woman to serve in the office in Indiana history. Kernan had decided the previous year not to seek a full term as governor, but he changed his mind two months after taking over, declaring "I don't want to watch this from the sidelines." However, he was defeated in 2004 by Republican Mitch Daniels.
"Indiana mourns the loss of Joe Kernan, a bona fide American hero, decorated Navy officer, and truly selfless statesman who always placed the interests of his fellow Hoosiers first," Gov. Eric Holcomb said in a statement issued Wednesday morning.
"Distinguished isn't a strong enough word to describe him," Holcomb said. "Without regard for personal cost, Joe Kernan devoted every ounce of his life, time and again, to upholding the oath he took, and serving the country and state he loved."
Indiana mourns the loss of Joe Kernan, a bone fide American hero, decorated Navy officer, and truly selfless statesman who always placed the interests of his fellow Hoosiers first.

— Governor Eric Holcomb (@GovHolcomb) July 29, 2020
After leaving office, Kernan return to South Bend, where he had been a three-term mayor (he won his last election there with 82% of the vote), and—after persuading 50 other members of the community to join him—purchased the minor league South Bend Silver Hawks baseball team, saving the team from leaving the city.
"I was not as happy about the baseball thing but to him it was like a gift for South Bend," his wife, Maggie Kernan, told Notre Dame Magazine earlier this year.
The group sold the team a few years later to an owner who promised to keep the team in South Bend.
Kernan continued to work as an adjunct professor at the University of Notre Dame and through his own consulting firm until Alzheimer's disease robbed him of his ability to speak and to work.
The Kernan family announced Wednesday morning that there would be no public services at this time due to the pandemic.
Kernan was a Navy pilot in the Vietnam War when he and his co-pilot were shot down while on a reconnaissance mission over North Vietnam on May 7, 1972. He spent 11 months as a prisoner of war in Hanoi, including at the infamous "Hanoi Hilton" prison.
The worst day of captivity came early on, he said, when he talked with another POW.
"He told me that our escort had lost us and that we were presumed dead," Kernan said in a 2002 interview. "My family thought I was dead, and if the Navy thought I was dead, the thing that goes through your mind is that there's no reason for these guys to keep me alive."
For decades, Kernan marked every May 7 by playing golf, eating a pizza and drinking some beer. He said he remembered the date of his capture each year "without question," but sometimes he didn't remember the anniversary of his release until a day or a week later.
Kernan often said he didn't have many bad days after his time as a POW. Maggie Kernan said she often saw that perspective.
"Because of his personality and optimistic outlook, he has been able to take it and make something out of it that is positive," she said. "He will talk about doing something tough and difficult and say, 'What are they going to do, send me to jail? I've already been there.'"
After his POW experience, Kernan "could have been forgiven for feeling like he had done enough for this country," Indianapolis Mayor Joe Hogsett said in a statement. "But there was no 'enough' in his DNA, and he spent the rest of his life tirelessly serving his city, this state, and a grateful nation."
Kernan graduated from the University of Notre Dame, where he played baseball, and in 1980 became the city controller under then-South Bend Mayor Roger Parent. Seven years later, he ran for mayor for the first time.
Kernan's death drew remembrances from those who worked with him and around him.
Carrie Summers was an administrative assistant in the O'Bannon administration before moving on to work in other sectors of government and as a campaign manager and political director. On Twitter, she called Kernan "a hero, and a statesman, and a man of compassion." And she said he had "one of the best laughs I've ever heard."
Indiana lost one of its best. Joe Kernan was a hero, and a statesman, and a man of compassion. He also had one of the best laughs I've ever heard. Rest In Peace, Joe. https://t.co/YBX3srYEVt

— Carrie Summers (@CarrieSummers6) July 29, 2020
During Kernan's time as lieutenant governor, O'Bannon assigned him the duty of developing a tax restructuring program—eventually called the 21st Century Tax Plan—that led to a simplification of Indiana's business tax system, including the elimination of the gross receipts tax and the phase-out of the inventory tax.
The tax program also increased the homestead deduction, which significantly reduced homeowners' property taxes.
Although Kernan had only a short term as governor, he used it to continue O'Bannon's push for state funding for full-day kindergarten. Kernan persuaded lawmakers to fund a pilot program—the first time the state provided money for the program—that would eventually lead to more money statewide for full-day K.
He expanded Ivy Tech Community College, adding more campuses to a system that O'Bannon had created by converting what was then a technical school into a community college system.  And as co-chairman of what was then the Indiana Education Roundtable—a group that brought business and education interests together to set state policy—he helped begin the push for viewing education as preschool through college, rather than simply as K-12.
And he became the first Indiana governor in 48 years to spare the life of a death row inmate when he stopped an execution just days before it was scheduled to occur in 2004. Kernan said he decided it would be unfair to execute Darnell Williams for the 1986 murders of a Gary couple when a mentally disabled accomplice got a life sentence. Williams' sentence was commuted to life in prison without parole.
But Kernan's efforts to push a more aggressive agenda were largely derailed by budget problems following the 2001 recession. The state had plowed through much of its once-hefty surplus and delayed payments to schools. That left the governor focused more on shoring up the budget than advancing new programs, a fact the Daniels campaign exploited throughout the 2004 race.
Still, Daniels later appointed Kernan to co-chair the Indiana Commission on Local Government Reform, which the Republican created to try to root out inefficiencies in government structure. The commission made a number of recommendations, including the elimination of township government, although the Legislature rejected many of the efforts.
"Joe Kernan was at different times my ally, opponent, and adviser, but always a friend to me, and as far as I could tell to everyone he met," Daniels said in written statement. "In wartime and in peace, he embodied patriotism and the goodwill toward all we associate with the term 'Hoosier.' He was a true leader, and we have lost him far too soon.
"Those among us so ready to bear malice against those with whom they differ and either so ignorant or so ungrateful that they disdain those whose sacrifices gave them the freedom to express their views should pause and consider the life and character of Joe Kernan," Daniels said.
Kernan was known as much for his kindness and big personality (and his big eyebrows) as he was for his policy making.
Former first lady Judy O'Bannon Willsey told a story Wednesday about when she first met Kernan in 1990. Then-Mayor Kernan was traveling with the O'Bannons to Eastern Europe following the fall of the Berlin Wall.
"Joe carried with him a box from a family in South Bend, which contained a new pair of shoes, to give to their relative in need who lived in the former communist Poland," she said in a statement. "He carried that box in his luggage across several countries, including the Soviet Union, until we got to Poland and could hand deliver the shoes to the relative.
"His compassion and skill, along with his innate and genuine ability to bring people in to engage, comfortably, whether just in a conversation or in working together on a project, made him a leader Hoosiers trusted," she said.
O'Bannon Willsey said Kernan was a "best of friend to both of us and to his beloved South Bend and Hoosier state."
WSBT-TV Channel 22 anchor Bob Montgomery tweeted, "Forget the politics … he was truly a nice man."
Remembering the life and legacy of a war hero, local baseball star, SB Mayor and ultimately IN Governor. Joe Kernan passed away this morning after a long battle with an illness. Forget the politics… he was truly a nice man. pic.twitter.com/UvQZfWAqhJ

— Bob Montgomery (@BMontgomeryWSBT) July 29, 2020
Former Statehouse reporter Mary Beth Schneider, who covered politics for The Indianapolis Star, also remembered Kernan's big laugh.
Things I know about Joe Kernan: He loved baseball, so of course "Centerfield" was his campaign song. He hated pumpkin, because he'd been fed it daily as a POW. He loved South Bend and his alma mater, Notre Dame. He had a laugh that could fill the Statehouse Rotunda.

— Mary Beth Schneider (@marybschneider) July 29, 2020
Please enable JavaScript to view this content.