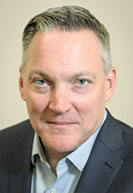 Robert Riesbeck, who was CEO of former retailer Indianapolis-based HHGregg when it filed for Chapter 11 bankruptcy in 2017, has been named chief executive of struggling national home goods retailer Pier 1 Imports Inc., the company announced Tuesday.
Riesbeck, 55, will remain chief financial officer, a position he took in July. He succeeds interim CEO Cheryl Bachelder, who replaced Alasdair James in December.
Retail industry observers are speculating that the appointment of Riesbeck is likely to mean a bankruptcy for Pier 1 in the near future, based on his track record.
After leading HHGregg through bankruptcy, Riesbeck joined FullBeauty Brands as CFO in 2018 and helped guide the company through what The Wall Street Journal reported was the fastest Chapter 11 case ever. It filed for bankruptcy on Feb. 3 and emerged on Feb. 7.
Pier 1, which has five stores in the Indianapolis area, has been struggling for a long time. In its latest quarter, ended Aug. 31, the 57-year-old retailer reported a $100 million loss and said comparable store sales decreased 12.6 percent over the previous year.
The company said it planned to close up to 140 of its 950 stores in the current fiscal year.
The Fort Worth, Texas-based retailer said it expects Riesbeck to lead "turnaround" efforts.
"Bob has quickly established himself as the right leader to successfully take the company forward," Bachelder said in a written statement. "While we recognize there is still much work to do, Bob has been instrumental in helping the leadership team advance our plan to reset and reimagine the future of this iconic brand and he has put in place a highly capable finance team to steward the company's resources."
Riesbeck previously spent eight years as an executive with private equity firm Sun Capital Partners Inc., including four years as CFO at former Indianapolis-based grocery chain Marsh Supermarkets after Sun acquired Marsh in 2006.
Pier 1 stock has lost 80% of its value over the last year. It reached an agreement this week with the New York Stock Exchange to avoid a threatened delisting. Shares traded at $6.68 each Wednesday morning, up 3.4 percent on the day.
Please enable JavaScript to view this content.