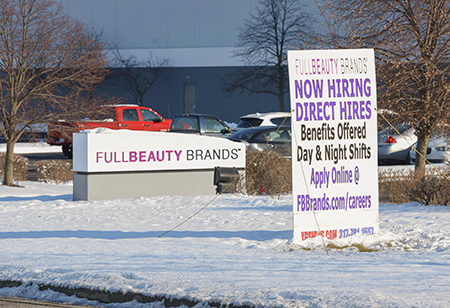 Freshly emerged from what's believed to be the fastest Chapter 11 bankruptcy case ever, online retailer FullBeauty Brands has hired a new executive to help the company reshape itself.
FullBeauty, which sells plus-sized women's clothing and other items, has more than 700 Indianapolis-area employees and ships items from fulfillment centers in Indianapolis and Plainfield. The company is based in New York City.
FullBeauty filed for Chapter 11 bankruptcy protection on Feb. 3, armed with a plan of reorganization that had already been approved by its creditors.
The court approved FullBeauty's reorganization plan in less than 24 hours, which The Wall Street Journal reported set a record for fastest Chapter 11 case ever.
The company emerged from Chapter 11 on Feb. 7.
On Monday, the company announced that it had named Can Yazicioglu as its chief financial and transformation officer. 
"We are delighted to introduce Can as the new leader of our finance organization and transformation efforts," FullBeauty CEO Emilie Arel said in a prepared statement. "His strong background in retail and consumer [goods] positions the company well as we embark on our next phase of growth and seek to create sustainable value for all of our stakeholders."
Yazicioglu joined FullBeauty in July as general manager of shared categories and of the company's Swimsuits for All brand. He previously worked at J. Crew Group; and at Ann Inc., the parent company of Ann Taylor and Loft.
Yazicioglu succeeds FullBeauty's former chief financial officer, Bob Riesbeck, who had previously announced his intent to depart the company following its restructuring. Before coming to FullBeauty, Riesbeck was CEO at Indianapolis-based appliance retailer HHGregg Inc.
Before going through bankruptcy, FullBeauty had a debt burden of $1.3 billion. Post-reorganization, the company eliminated about $900 million of debt by turning over company ownership to its creditors and secured $35 million in new financing.
FullBeauty's largest shareholders are now lenders Goldman Sachs and Oaktree Capital Management. 
 
Please enable JavaScript to view this content.