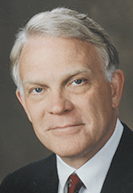 Longtime local businessman and former Indiana Lt. Gov. John Mutz has donated $2 million to Northwestern University's Medill School of Journalism in Evanston, Illinois, the school announced this week.
The donation will establish a newly endowed chair that will study and support innovation in local news at the school.
The John M. Mutz Chair in Local News will focus on local news sustainability. It will advance the aims of Medill's Local News Initiative, a research and development project aimed at providing greater understanding of how digital audiences engage with local news and finding new approaches to bolster local news business models.
"My political experience has dramatically shown me how important reliable local news sources are to local governments and economies," Mutz, 85, told IBJ. "Without it we may lose our democratic society and that would be a tragedy. I'm greatly concerned about local communities that are essentially news deserts. So I wanted to do something about that, and I have great confidence in Northwestern and the people who run the university."
Mutz said local news is critical for two reasons.
"First, local news outlets play a critical role as government and community watchdog," he said. "Secondly, without local news, community residents won't know what's going on not only in government but with many other local events and organizations. Local news outlets are a critical piece of the local information supply chain."
Medill Senior Associate Dean and professor Tim Franklin, a former editor of The Indianapolis Star and director of the National Sports Journalism Center at IUPUI, was named the inaugural holder of the John M. Mutz Chair.
Franklin joined Medill's faculty in 2017 after serving as president of The Poynter Institute, a leading international school for journalists and a media think tank.
Mutz didn't know Franklin well when he was editor of the Star two decades ago, but became impressed by him as they worked together on the Local News Initiative at Northwestern.
"Tim is just a super guy," Mutz said. "He's a guy with a lot of experience and a tremendous background in journalism. I found Tim to be a very sharp guy and extremely well connected in the industry. I'm really pleased he's the first [John M. Mutz] chair."
Mutz, a Republican who was lieutenant governor under Robert Orr from 1980 to 1988, is a graduate of Northwestern, earning a bachelor's degree in 1957 and master's degrees in 1958 in advertising and business management.
Born in Indianapolis, Mutz built a a long business career that included the management of a large group of Burger Chef restaurants and serving as president of PSI Energy—now Duke Energy, Indiana's largest utility. From 1989-94, Mutz served as president of Lilly Endowment, one of the nation's largest family foundations.
Mutz also served as a state representative from 1967 to 1970 and state senator from 1971 to 1980. He ran for governor in 1988, but was defeated by Democrat Evan Bayh.
Two of Mutz's children and two of his grandchildren also graduated from Northwestern.
Please enable JavaScript to view this content.